JOIN THE BOCA JAVA GOURMET COFFEE CLUB AND SAVE TODAY!
Roast-To-Order Coffee Delivered Fresh To Your Door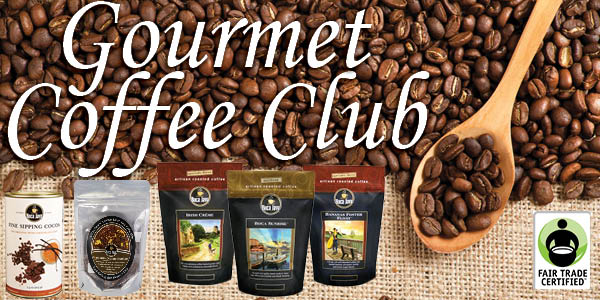 Boca Java has been providing gourmet roast-to-order coffee direct to our customer's homes since 2002. We invented the online coffee club subscription and have thousands of customers enjoying the automated home delivery coffee experience. If you want the freshest, best tasting coffee around,then you want Boca Java. Join the Club - set it and forget it - and we'll take care of the rest!
BENEFITS OF JOINING THE CLUB
1. Save 10% on EVERYTHING you include in your coffee club subscription offer

2. Get 5% back on ALL orders you place - recurring or one-time - in the form of Boca Bucks

3. Flat Rate Shipping of $3.95 on all coffee club orders

4. FREE SHIPPING ON ALL orders of $35+

5. Receive a FREE 2oz Baby Boca coffee sampler in EVERY Coffee club order

6. FLEXIBLE: You determine your delivery frequency and can make changes at any time

7. Risk FREE: You're never locked in - you can change your delivery plan at any time or cancel without penalty
HOW IT WORKS
Your coffee will be roasted to order -the way you choose- and shipped out the next day. It will arrive fresh and brimming with flavor in about a week. You are joining our industry-leading, risk-free home delivery subscription service, and you will continue to receive the fresh gourmet products you choose, at the delivery frequency you select. Enjoy FREE Shipping on all orders over $35 and only pay $3.95 on your Club Orders that are under $35. You are in control; you can log in to your account at any time to change product selections or adjust your delivery frequency to best meet your needs. Click here for more details.
To Top