The Boca Java Home Delivery Service provides you with ultimate flexibility. You can personalize practically every aspect of your account to suit your needs. Once you sign up, you'll be able to customize your account settings, get immediate discounts on every purchase, and gain access to an exclusive members-only catalog, which features club-only coffee roasts, new flavor releases and product sales!
Member Perks*

The Boca Java Process

We use a small-batch roasting process that provides coffee at the pinnacle of freshness. After you taste it, you will agree with our members who tell us that Boca Java coffee is "the best coffee they have ever had!"
*Member perks only apply to home delivery service orders.
Special Introductory Offer
For limited time
get 4 bags of specialty-grade coffee,
PLUS
a FREE 1 Cup Coffeemaker. All
for just $12.95
plus shipping! A $53 Retail Value.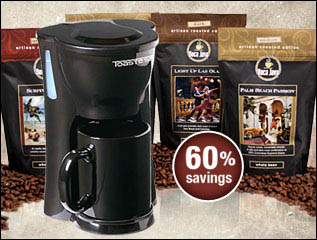 CUSTOMER SERVICE: 1-888-BOCA JAVA (1-888-262-2528)



Customer Care:
2002-2012 © Copyright Boca Java. All Rights Reserved
EXCLUSIVE E-MAIL OFFERS:
Receive exclusive discounts, coupons,
promotions and newsletter.