Contribute to a better world, one perfect cup at a time.
Support the Troops

Serve them fresh coffee,
straight from home!
8,503,508 cups donated!

Learn More

Coffee for a Cause

For every bag purchased,
we will donate $3 to Project
C.U.R.E. Nicaragua.

Learn More

Direct Trade

We purchase many of our
beans directly from the
farmers who grow them.

Learn More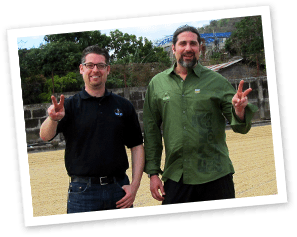 Two Brothers Redefining the Perfect Cup
Great gourmet coffee doesn't happen by accident, it is a labor of love. Before we started fresh roasting coffee, we began our coffee journey at origin on the coffee farms. There, we experienced coffee so fresh, with aromas that tantalized the senses and exploded on the palate. It was similar to the experience you have when you taste just picked fresh squeezed orange juice. These coffees were simply phenomenal, they were nothing like what is found in a typical American grocery store, and we had to find a way to bring these amazing coffees to you.
Today, our family owned business is committed to providing customers with the same experience that we had over a decade ago. It's an experience that is not only in our coffee products, but in our teas and hot cocoa. Once you too experience the perfect cup, you'll never be able to go back to stale store bought coffee again. Join us in Redefining the Perfect Cup. Learn more about us >
Douglass & Jasson Barrow
To Top