Guatemalan Adventure Coffee
$5.00
$8.49
You Save: 41.11%
A delicious single origin coffee from the highlands of Guatemala. Grown in the region's lush volcanic soil, these highly prized beans offer a nutty flavor with smoky undertones. Read More
This exquisite, single origin coffee comes straight from the highlands of Antigua, Guatemala.
Guatemalan Adventure is adored by our Coffee Club members. Learn more about our Gourmet Coffee Club & subscribe to your favorite coffees today!
We won't roast your bag of Boca Java coffee until after you order it, ensuring the freshest coffee possible. Each and every time!
A Little Bit More About This Coffee
Attributes:
Varietal:
Bourbon, Catura
Altitude:
1500-1700 meters
Region:
Huehuetenango, Antigua, Atitlan, Guatemala
Tasting Notes:
Citrus & Smoky Tones

Exceptional Sweetness


Lingering Toffee Finish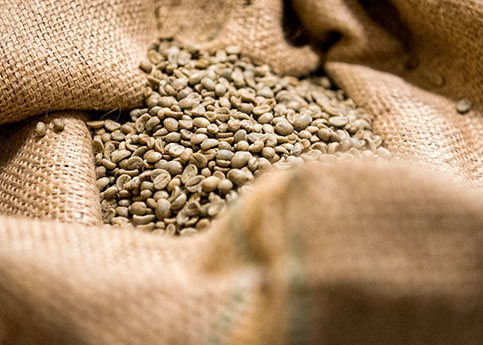 Top Selling Roast Coffees
I love love love this coffee
This is my go to morning coffee.
Coffee mommy
Georgia
I would buy this coffee again
I use a drip coffee pot as well as a French Press.
Carlsonbabe
Sun City West Arizona
The Guatemalan is my favourite thus far, and has taken the " every other bag" in my brewing rotation! A great cereal and nut taste with a solid roast that gives more flavour than most mediums, but without being as tart as a dark roast.
PewPewJosh
2nd star to the right
I would buy this product again. It's my favorite.
I love it with the use of my French press.
Carlsonbabe
Arizona
Drink this coffee with breakfast
Peggy
Florida
I do buy this product again and again
I use this product by drinking it. I do not add any pollutants like sugar and cream. No spirits, either. I have enjoyed and reviewed this product more times than I can remember and it would be good if I wasn't asked to review it ONE MORE TIME. Redundancy is not always useful. That is why this review is different from the several that I have already written about the product. It is a very good coffee. I expect it will be the next time I order it, and I will order it again. And again.
Twin Cities Guy
Twin Cities, MN
This is my favorite coffee
I love to wake up to this coffee every morning. I take a cup with me when I walk my dog each morning. I cannot live without this coffee in my life!
Carlsonbabe
Arizona
I do not own any accessories nor do I think any are needed
Joyces
North Carolina
Have used Guatemalan coffee since visit ti Guatemala
Drink this coffee every morning. Am not fond of other coffees.
Great Dad
Atlanta, GA
Nice Coffee, Too Many Reviews For It
This must be the 5th review for this product. 6th, maybe? I don't think it's my 7th. Boca Java keeps asking me to review it, I do, and then they ask again. Maybe they throw out the old ones, but I don't think so. I like this coffee because it's got a nice flavor, has an excellent mouth taste and a hint of nuts. I've been buying it for several years now; it is my recurring order coffee of choice.
Twin Cities Guy
Twin Cities MN
Excellent coffee. I would highly recommend it.
Great taste. Nothing bad to say about it.
Cedgar
Atlanta GA
Again I''m Reviewing This Product
I think Boca Java has asked me to review this product 6 or 7 times over the years and I have complied at least 3 times or more. But it seems so darn redundant and a waste of my time. I say the same thing each time. I really like the coffee. It has a solid flavor with a very slightly nutty taste that mellows bitterness. Until they discontinue the coffee, which I doubt will happen, I'll keep ordering it.
Twin Cities Guy
Twin Cities MN
Best Coffee I know of.
GreatDad
Atlanta, Ga
You can drink this coffee any time of day it is a great choice for good coffee
Cookie
Oklahoma
I have bought this coffee for several years - ever since a trip to Guatemala.
GreatDad
Atlanta
A really great tasting coffee.
Stu
Il
Sweet Smell in the Morning
Wonderful flavor. Excellent with breakfast roll, cinnamon roll, or buy itself
Cookie
Oklahoma
Great for my morning and afternoon coffee
Anna
Miami
This is without a doubt the best coffee I have ever had. I
One cup every morning brings me to my senses. The second cup is to feed the craving!!!
Dwest
Delmar, Delaware
has a great flavor for being different from my usual colombian...glad i took a chance
dulitl
Florida
I love this coffee. I buy a couple of bags every two months.
I love making coffee in my French press. The taste is a lot smoother than in a drip coffee pot.
Sweetpea
Sun City West, AZ
Redundancy Redundancy Redundancy
I have been asked to review this product at least 7 times and have done so 4 of them, so the story doesn't change and I keep saying the same thing over and over. If you want to know what I've said in the past, look it up.
Twin Cities Guy
Twin Cities, MN
I use this for my regular coffee
Mac
Owensboro.Ky
Best ever
Dave
Washington
Incredible Coffee Experience
I was very pleasantly surprised to see how fresh the coffee was. I usually drink coffee only in the morning but after opening the shipment from Boca Java and smelled the fresh ground aroma I went home and made a pot at 3 in the afternoon.?
Gary
Dallas TX
Guatemalan Adventure for awhile now and I love it.
I buy the coffee beans and grind up a bag of coffee and put it in the canister I bought from Boca Java. I use it in my French Press and it is smooth taste. There is no acidity at all. It's Avery smooth taste and I usually can drink the coffee with no cream or sugar.
Carlsonbabe
Phoenix, Arizona
Used this in my French press coffee pot. It's so good.
Ladybug
Hot Springs, AR
Makes for a great cup of coffee
Con
DE
I do buy this product again again!
Brew 2 mugs full in my Mr. Coffee. I drink it with breakfast. Great wake me up! Love the aroma as it brews.
Retired teacher
Bellevue, NE
Great Coffee. Arrived quickly. Great company to order from.
GreatDad
Atlanta, GA
I have used this roast a number of times and it is always super smooth and leaves a wonderful taste in the mouth. I use a plain ceramic pour over and sometimes use it in my Senseo pods. Either way, I love it!
Gary
Wilmington, NC
This is my favorite blend!
I have a health condition that prohibits me have having very acidic foods or drinks. This Guatemalian blend has not caused me to have any IC flare ups and I drink it daily.
Christy
Arkansas
Interesting and flavorful
Pleasing flavor
Bob
Texas
Now I have 3 favorite coffees
Now have found another single origin medium roast coffee. Now add it to my Kenya and Ethiopian coffee order.
Jagdallas
Scottsdale AZ
Delicious Central American coffee.
One of my monthly recurring orders.
LaddieD
West Milton, Ohio
I use it to make espresso. Usually I bland it with Espresso roast.
serious coffee drinker
Fort Worth, TX
Beautiful roast
Jessica
North Carolina
I use the product when I want to drink coffee, to answer your comments section ("When do you use this product?"). I have reviewed this coffee before, so you'll find the review(s) elsewhere, making this very redundant. It's the coffee I usually buy on their recurring order system, so it makes this coffee my favorite. I like the slightly nutty flavor (and they don't add nuts!) and the mellow taste that I get when I brew it to be a strong flavor, which means it isn't bitter when it's strong.
Twin Cities Guy
Twin Cities, MN
Love this coffee- so happy to get my order everytime
Delicious to the last drop!
My favorites are the Central American coffees.
LaddieD
West Milton, OH
Very smooth. Fresh tasting.
Peacegal
Va
I tried the rest and always come back to the best!
This is my favorite everyday coffee. Perfect for my morning cup and weekend lattes I also use it for iced coffee in the summer. I used to think I had to go for the darkest roast to be great flavor but what I really need was the freshest beans expertly roasted. I
Bentley
Philadelphia PA
Like it enough to join the Gourmet Coffee
I tried one bag of whole beans to see if it stood up to the ground Guatemalan I had been drinking. It did, and even beat the ground: this is freshly roasted, and I grind it cup by cup. Couldn't be better. Happy knowing I'll have regular deliveries of this.
Joe Dee
New York
My daily fix
Sergeant Major
Converse In
I really enjoy this coffee.I order it all the time
none
none
Shermans Dale,PA
Third Review on This Product
I use the product by drinking it. After all, it's coffee. I don't like adulterated coffees, just black and not decaffeinated, so the coffee has to be somewhat robust, have a good flavor of its own that stands on its own, and, for me, should be strong enough to provide good taste on the tongue, but not heavy after-taste. This one does it for me; it is the 3rd or 4th coffee I tried from Boca Java before I settled on it. I've been ordering it consistently thereafter.
Twin Cities Guy
Twin Cities, Minnesota
Perfect for getting me going in the morning
I can't think of anything negative about this coffee; It's one I continue to buy with every order.
topcat1263
Overland Park, KS
This is our everyday coffee
Kim
Arizona
Just an enjoyable cup of coffee.
Chairborne Ranger
Charlottesville, VA
Guatemalan Adventure Coffee
89.7