Pumpkin Paradise Coffee (DECAF)
Pumpkin spice and everything nice! Decaf coffee with the sweet, enticing flavor of a heartfelt holiday favorite, pumpkin pie. Read More
Pumpkin spice and everything nice! Gourmet decaf coffee with the sweet, enticing flavor of a heartfelt holiday favorite, pumpkin pie. Hints of cinnamon, ginger, allspice, and nutmeg combine for the comforting taste of homemade pumpkin coffee.
Pumpkin coffee has a base that is full-bodied and complex, and its mouthwatering aroma and sweet spiciness is like a slice of warm pie at the kitchen table!
If you enjoy our Pumpkin flavored coffee, our Roastmaster suggests you try our Tropical Tricks & Treats Decaf Coffee.
We won't roast your bag of Boca Java coffee until after you order it, ensuring the freshest coffee possible. Each and every time!
A Little Bit More About This Coffee
Attributes:
Varietal:
Catura, Mundo Novo, Bourbon
Processing:
Blend of Wet/Dry
Altitude:
1400-1600 meters
Aroma:
Pumpkin Coffee, Hints of Sice
Region:
Jinotega, Nicaragua, Cerrado, Brazil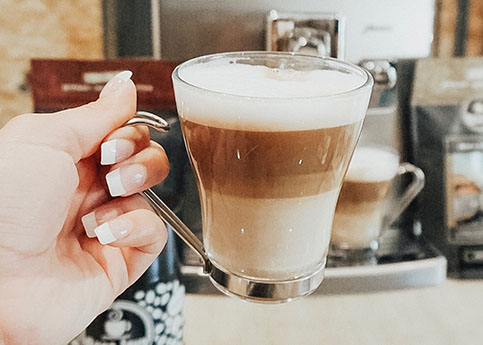 Top Selling Roast Coffees
I always order this coffee every year and it's the best
Sherbear
Thornton , CO
I always buy this coffee @ this time of year. It gets me in the mood for the holidays
Sherbear
Thornton , CO
Pumpkin Paradise is my go-to coffee flavor all autumn long. Since I use the decaffeinated selection, I can easily enjoy the cozy goodness morning or night, sometimes perked up with a squiggle of whipped cream on top instead of dessert!Cioci
Cioci the Coffee Lover
Clifton, NJ
'Tis The Season For Pumpkin Everything
I love this Boca Java Pumpkin coffee! I couldn't wait for Autumn to arrive so it would be available. The aroma fills my home and the flavor is rich, smooth, and delicious. I recommend stocking up, since it's only available seasonally. I did!
ShariMichel
Boston, MA
Wonderful coffee--a must have when Fall arrives!
I love Boca Java! Coffees are great, easy to order, no complaints!
Nurse Kathy
Livermore, CA
WONDERFUL FOR FALL GREAT FLAVOR
Wonderful flavor for fall. Smells delicious and is with cream and alittle sugar
Ziggy
Michigan
Delighted with your coffee
Really love all your coffees I've tried and especially enjoy the flavored ones for specific holidays.
Nurse Kay
Livermore, CA
I love it !! Delicious !!
I love this time of year because I love anything pumpkin flavored. This coffee is spot on if you are looking for a great pumpkin flavored coffee. I especially like the fact that I was able to get it in decaf.
ptgirl
Cleveland, Ga
The pumpkin spice blend has just the right amount of flavors blended together to make brewing a great cup of coffee easy. I will reorder once my "stash" gets low.
Mimi Rose
Branford, CT
wish it was available 12 months a year
Rich
Lower Gwynedd, PA
Has a wonderful aroma while brewing. Just a hint of pumpkin but not over powering at all, in aroma or taste. Perfect.
Chewbacca
Littleton, Colorado
Received this coffee as a gift as pumpkin is my favorite flavored coffee....I am hooked on the delicious smooth flavor. Since I have to drink decaf coffee I was not able to find this from other makers. I cannot use any sugar based creamers so that also eliminated that option for the pumpkin flavor. It is simply delicious. Keep in mind you need to use 1 1/2 tbls. per cup, but that's fine with me! Will certainly stock up before this flavor is over for the season!
Coffee lover
St. Petersburg, FL
This coffee has the rare quality of the taste matching the aroma, both delicious. The only drawback with all of boca java's coffees are that they must be too finely ground for my automatic drip coffee pot. If I make more than 2 cups at a time, the coffee filter overflows with grounds & makes a mess.
rachelsmaid
PA
Love it.....great aroma and taste.
This flavor is great for breakfast as well as all day long.
Maire
California
Great crowd pleaser. Whenever I have guests over they ask for that pumpkin coffee. Everyone happily chats for some time about the aroma and flavor while discussing their days.
Duane, coffee pourer
New Orleans, LA
The aroma beckons you and the taste keeps you returning for more.
shivering
nny
Cannot wait to get up to enjoy my first of several cups of Boca Java aromatic, delicious, warm or cold coffee
lainie
bridgewater,nj
I always buy this at the holiday time because it adds to the season making it even more special!
Tammy
Plano, TX
Really good coffee with pie.
I love coffee in the morning with breakfast and also fix it to accompany a piece of pie. It goes well with pumpkin pie.
Barbie
Dundalk, MD
This is such a great brew. It captures all the flavor that makes pumpkin so tasty during this holiday season. Very velvety and a little goes a long way. This has excellent body and was so flavorful I could drink it black. In 1o years I have never drank a coffee black. The aroma is so enticing I could wake up to it or have a cup before bed and any time in between!
Freshly brewed
torrington, wyoming
I was surprised it was not a strong flavor at all which I like very much. It was smooth and subtle.
mom of 3
south fla.
I would buy this product again!
Tastes great
rhondarue
Faribult,Minnesota
I buy a lot of this coffee in both decaf and regular. It iis great to have on hand during the fall and winter seasons. I use half decaf and half regular so those in my family that need to cut down on caffine can still enjoy a good cup of coffee.
Coffee Lover
Porter, TX
What an interested flavor and good to the last drop!
Deb
Tucson, AZ
what a way to welcome fall
The flavor is great
JC
mid NC
Nearly as good as a Pumpkin Spice Latte - but without the calories.
Cindy the homeschooler
aurora, co
This coffee is a real treat. You can definitely taste both pumpkin and the same flavors that make pumpkin pie so good. I'd recommend it to anyone who loves pumpkin pie. This may become my new favorite!
Marie
VT
I'm pregnant & not drinking caffeine, but am still craving coffee. For the holidays I treated myself to the Pumpkin Paradise Decaf and boy am I glad I did! The flavor is sweet and full but not sugary-sweet nor too strong. It also didn't lack anything in the way of body. I shared it with my extended family over Thanksgiving and they were very impressed. Most of us usually refuse to drink decaf because it lacks in flavor & strength, but Boca Java decafs lack in nothing. I would recommend this to people who like flavored coffee without artificial sugary taste; as well as those needing to take a break from caffeine but not quality.
Jcapps
Springdale, AR
Great dessert coffee; it marries nicely with eggnog.
Jerry the old carpenter
Las Vegas, NV
One of the best pumpkin spice I have had
philly
WI
Boca Java has the best selection of flavored decaf coffees. I especially love the holiday blends.
KG
Redwood City, CA
Wish it was available year round!
The aroma and taste of this can allow you to even skip dessert!
Jersey Woman
Verona, NJ
Really Nice Holiday Coffee
This coffee is especially enjoyable around Halloween and Thanksgiving time. That whole theme thing, you know. The entire family enjoys it - decaf and regular.
Snowbird
Lake Orion, MI
A Great Thanksgiving Staple!
Unusually spicy with a great cinnamon edge. I looked forward to each cup! I should have bought more than two packages!
Realtor for You
Tampa Bay area, FL
Absolutely love this flavor
This is my all time favorite flavor. I usually stock up before it is removed as a seasonal flavor. One of the reasons I enjoy this coffee so much is that it perfectly blends the flavors with the coffee, so that you can smell the wonderful aroma but still taste the coffee.
Angel
Porter, TX
This pumpkin spiced coffee will fill you with the warmth and flavor of the holidays. It has a spicey finish to it that will make you want to start baking your pumpkin pies! I personally enjoy it as my weekend morning coffee because I have more time to relax and enjoy the complexities of the spices.
Tamela
Carslbad, CA
My husband and I both love coffee and fall, this coffee is a great addition to the season. We wait for it every year. We drink it on the weekends in the morning and serve it at dinner parties.
coffeelover
Porterville Ca
WISH IT WAS available year round
THis can be used instead of dessert, as an afternoon treat, or anytime you want to be nice to yourself.
Flavor Coffee Maven
NJ
I always enjoy this coffee in the fall. I usually prefer a darker roast, but the Pumpkin Spice flavor makes it worth buying each year.
777Tracy
Hobe Sound FL
Always enjoy it this time of year.
777tracy
Hobe Sound, FL
It's pretty good but flavor could be a bit stronger or the roast could be maybe medium. I've been using it with a pour over method, not strong enough to use with a reusable pod in my Keurig. Glad I found the Pumpkin in decaf so I can drink it in the evening.
marbux01
Henderson, Nv
This is a great fall coffee.
Tam the crafter
Mi.
A little heavy on nutmeg and/or cloves, however I think most would enjoy
Susan
Pa
This was a pleasant change for visitors. They loved the cinnamon and pecan scent and flavors taking them from their pumpkin addiction.
Duane
New Orleans, LA
The aroma was so intense that I couldn't hardly wait for it to be ready.
Kat
Chanute, Ks
It has a great fall/winter taste.
Heath
Cullman, AL
I would purchase this item again!
Love this one!!
rhondarue
Faribault, Mn.
Tasty & satisfyinly sweet but not sweet
Great taste without the hyped up feeling
baby cheeto
South San Francisco
I wait all year for the seasonal coffees to become available. Pumpkin Paradise is well worth the wait!
Zinga
Illinois
Wonderfully spiced coffee!
I have been using Pumpkin Paradise coffee from Boca Java for over fur years. I come back time after time to buy more when I am running low. I belonged to their auto ship club and got overstocked - the coffee lasted through a couple of years without losing its strength and flavor. I now usually just order from their web-site to avoid overstocking.
Classy Lady
Wheat Ridge, CO and severas points in TX
Pumpkin Paradise Coffee
92.3