South Beach Rhythm Coffee (DECAF)
A dark roast decaf coffee blend from South & Central America, with a full body, caramel and smoky notes and a smooth finish. Read More
Decaf South Beach Rhythm is a unique blend of prized mountain-grown Arabica coffee beans from the Andes and Talamanca mountains in South and Central America.
If you enjoy our Decaf South Beach Rhythm coffee, our Roastmaster suggests you also try our Decaf Light Up Las Olas Coffee.
We won't roast your bag of Boca Java coffee until after you order it, ensuring the freshest coffee possible. Each and every time!
A Little Bit More About This Coffee
Attributes:
Varietal:
Colombia, Catura
Altitude:
1600-1900 meters
Tasting Notes:
Full Body

Caramel and Smoky Notes

Smooth Finish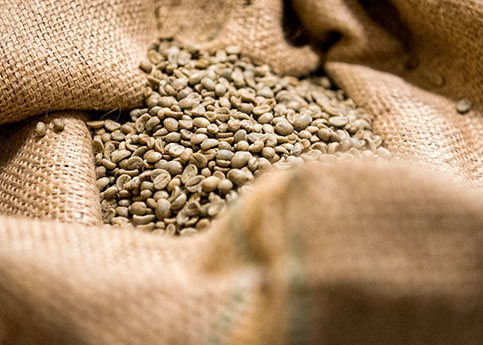 Top Selling dark Roast Coffees
Love this roast and flavor
Coffee Lover
Dallas TX
taste just as good as the caffeinated
I recently had to switch to decaf and was worried that decaf wouldn't cut it but this coffee is just as good as the regular stuff. So glad my wife found Boca Java!
JB from Atlanta
Kennesaw, GA
Great for a quick evening coffee
Sandy Lu
Austin TX
This is my second favorite dark roast coffee with rich Latin Flavors, if Light up Las Olas was not available this would be my choice.
Lou
Wayne, NJ
THIS COFFEE WORKS ANY TIME OF DAY OR NIGHT.
VENDMAN
CHICAGO, IL
An excellent coffee considering it is decaf. I liked the beans over the ground because of the flavor but both are good.
Lois Hurd
Payson, AZ
I look forward to my cup of coffee each morning. I find that he robust flavor of this coffee to be satisfying.
easel girl
Santa Fe, NM
I don't always order this one, but I may in the future. South Beach Rhythm has a balanced yet full dark roast, great for a wide variety of fresh brewing technologies.
Nevin the French Press Guy
Washington, DC
Great coffee, terrible customer service
I really love many of the Boca Java coffees, and I buy a lot for family anf for gifts. The only criticism is Boca Java needs to improve theoir phone system, and their customer service... before they drive away their loayal customers
Paul
Vail, CO
We drink this coffee every day, for breakfast, lunch and dinner.
Coffee lover in North Carolina
Durham, NC
I buy this product all the time.
We drink this coffee all times of the day. It is a very satisfying brew.
Coffee Lover
NC
Nice deep roasted flavor.
This coffee reminds me of a well known named brand coffee (that I will not mention) and it's decaf. The best of both worlds.
annaeb67
Dallas, TX
I call this my "mud" coffee. It's rich & earthy and holds up exceptionally well over ice.
D
Rochester, NY
This is one of my favorites! I would recommend that everyone try it.
kg4wxv
Nashville, TN
Great Decaf to Mix with Regular
We love this coffee and use both the regular and decaf--and sometimes mix them for late night drinking.
Coffee Lover
Durham, NC
I love this coffee iced with some vanilla chai soy milk.
D
Rochester, NY
Beats out Starbucks any day!
One of my favorites
LillyMay
Washington, DC
I use it plain or I combine it with the regular to make a bold 1/2 caff - great coffee
grandpajoe
new york
I didn't even realize that it was decaf!
Very tasty. Perfect for a beditme cup of coffee without the wake up.
Jril
Oklahoma
I would prefer to drink regular dark roasted coffees all the time, but health problems force me to decaffeinated every afternoon. Boca Java's decaf dark roasts are all 100% wonderful. I use a cup-at-a-time pour-over type coffeemaker and add non-dairy and sweetener. I love the smell - it permeates the whole house with that lovely bookstore aroma - and I love the tastes. I am perpetually on a diet, and in those times when I am craving sweets, I can add a little bit of extra sweetener to the coffee and - along with a handful of walnuts or pecans - the low-fat combination allows me to skip the tiramisu or the cheesecake. I love ALL of Boca Java's dark roasts, but their decafs are exceptional for flavor.
EJ
Texas
Really enjoyed the smooth taste
I poured my cup and sat down at my PC. Took a sip and expected the sort of bitter taste that often comes with flavored coffee. It was not there and I sat and sipped the cup before really starting my work
Granny Sandy
Austin TX
proud to serve to company
I like it after meals, with or instead of dessert.
Jackie
grass valley, ca
This blend is my most favorite Columbian on the market and don't you know it is by subscription only...Thank the coffee gods...
Gailymvt
Burlington, VT
Voluptuous, dark, and smooth.
I explore the relm and find this my favorite coffee to date. I find this coffee pleasing in all repects.
A Hand
Saguache
South Beach Rhythm (SBR) is robust, but smooth not bitter. Usually coffee with this much flavor is on the harsh side, not so with SBR. It's what I'd serve to friends who say they don't drink decaf. Will definitely be ordering again.
Mr. C
Nyack, NY
a very good morning brew
debb
new mexico
It's got a wonderful aroma every morning and a great taste to go with it.
Lake Bum
Sterling, KS
All of the dark roasts that I order from Boca Java are exceptional. The *most* exceptional quality that they share is that none of them tastes any different as a decaf than they did in their full caffeine states. Most other coffees I've tried have lost some vibrancy when I transitioned to decaf, a huge blow to someone like me, who calls coffee her "drug of choice." These taste full and rich and delicious. And the packaging is wonderful! Just the right size to keep the coffee in use perfectly fresh for the week, and lovely to look at to boot.
Christina from NY
Santa Barbara CA
This is my favorite coffee. One that I save for a treat, after dinner especially.
BELTING
Central Florida
this is just really good coffee
lawtoad
New Mexico
I get to enjoy a little different taste because when I remove the foam on top when using the clever drip but of course the french press includes this foam.
Tim Gotta have my Boca
Waxahachie TX
Great for a quick cup or as a desert
Rick
Grover Beach Ca.
Cost for amount + shipping and not getting the e-mail befor getting the next shipment. I had 4 different flavors that I didn't get to change for another flavor in time when the next shipment was on it's way. For the best I test for your coffee you should send more different samples (I got none). Was I terested in trying more of your coffee.
LYNN
ST PARIS, OHIO
smooth
The Sull
Spring, Texas
Would definately use this again
South Beach Rhythm Coffeee (DECAF)
I would recommend to a friend
steve
Alameda, CA
I also purchased this flavor in the regular non-decaf variety and I mix half reg and half decaf and it is pretty darn good, the best I have tried so far from Boca
Andrea618
Mt. Kisco, NY
I make this coffee in the afternoon for lunchtime
Jean
Barre, MA
This is high quality stuff. I recommend grinding it fresh for your own drip machine.
Dr. Dave
Louisville, KY
I can't believe it's decaf!
I use the whole beans for our office's coffee grinder. It's very hard to tell that its a decaf coffee, save for the fact that it doesn't give the caffeine buzz. It has a pretty strong flavor for a decaf and a decent aroma. There is a bit of an odd aftertaste that is hard to describe, but then again our drip coffee machine is old and tends to give coffee a strange aftertaste in general.
Charles the Scientist
Philadelphia, PA
Not good for iced coffee.
Margie
New York, NY
Just a bit too dark for my taste. Would not order again.
tsmax
Hobe Sound, FL
This item had a bland watery aftertaste which ruined the otherwise good flavor.
bearwarren
arizona
Just not my cup of coffee
I usualy lean toward dark roasts but this one seems on the acidic side and just doesnt have a flavor that says "whoa! Drink me!"
The Old Lady
Texas
South Beach Rhythm Coffee
93.3