Atomic Cinna-Buzz Coffee
The strongest coffee you'll ever find with 50% more caffeine than regular coffee - it's an explosion of energy and cinnamon flavor! Read More
Not your average cup of Joe, this gourmet coffee is the strongest coffee you'll ever have with zero calories and a deep cinnamon flavor. This high caffeine coffee will perk you right up and keep you awake throughout the day! You'll never need an energy drink again nor experience the sugar crash that comes with it.
Atomic Cinna-Buzz flavored coffee is made with only specialty grade, 100% Arabica beans from South America, offering a coffee-drinking experience you won't soon forget!
If you like our Atomic Cinna-Buzz coffee, our Roastmaster suggests you also try our other Atomic High Caffeine Coffees.
We won't roast your bag of Boca Java coffee until after you order it, ensuring the freshest coffee possible. Each and every time!
A Little Bit More About This Coffee
Attributes:
Varietal:
Catura, Mundo Novo, Bourbon
Processing:
Blend of Wet/Dry
Altitude:
1400-1600 meters
Region:
Jinotega, Nicaragua
Tasting Notes:
Heavy Body

Cinnamon Finish

Smooth Complexity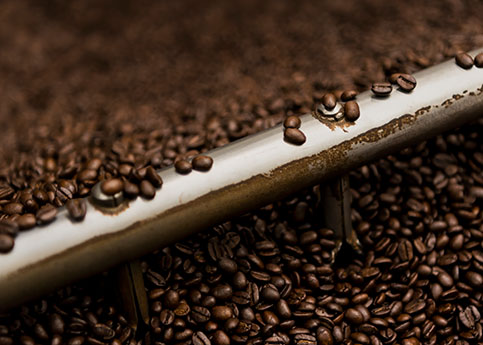 Top Selling flavor Roast Coffees
Love the taste and the extera buzz
livewire
Illinois
Get me through the work day
This is a little strong and a little acidy... But I imagine it's because of the extra caffeine. I add a tablespoon of their Carmel coffee to balance it out. I've been drinking it for YEARS and it's always consistent. I have it on a subscription I cant live without it.
Max
Pa
We like the cinnamon flavor.
Todd
Cleveland, OH
I love this cinnamon coffee. Very spicy.
Jack
California
Nice ice coffee
Ice coffee enthusiast
PA
This coffee is amazing!! I thought it might be a bit too acidic for me given the cinnamon and double caffeine, but it doesn't even taste acidic at all. It's like a beautiful cinnamon/coffee party in my mouth! ?
Aut
TX
Makes the work day fly by!
H-Bomb
Gulf of Mexico
This coffee is amazing on its own or mixed to add a little while Xtra to your morning brew.
Lena
Arizona
The taste of this coffee is amazing! Sooo delicious. And I only need one cup in the morning instead of two or three.
Chel68
Toledo OH
Boca Java is my favorite coffee!
Love cinnablast
No nicks
No nickname
I love anything cinnamon. This coffee hits the spot.
Dimples
Elgin, SC
I just love the extra buzz this has and also has the BEST CINNAMON flavor!nibor
nibor
Arkansas
Really like Cinna Buzz. Switch from Double Dark which I adore. A bit mire bitter than DD but love the flavor! Great job as always ?
Dot Digger
Flagstaff, AZ
I decided to add this to my monthly subscription - hadn't had it before, and wanted a little extra kick in the morning. This coffee did not disappoint! While grinding, the cinnamon smell was very appealing. While brewing, it also smelled magnificent. I'm not one to add cream or sugar, so when I find a flavored coffee that tastes good without those, I deem it a keeper! This is one coffee I will keep on my monthly subscription. I also doubled the amount, so that I don't run out through the month!
Just Dave
MA
I miss the kurigs but so happy the coffee is still available
I used to use these in kurig form, a great taste which is a plus when having extra caffeine, the only coffee that can wake me up in the morning. My local store suddenly stopped selling this in kurig form, leading me to find this online store. Thank God they still at least sell the coffee, I have a regular coffee machine too. I was panicking! Now I've stocked up lol!
Max
PA
It's all about the "Buzz"
Goes well with other flavor blends
Roger1
Northern Neck, Va.
Oh my goodness!! Love! Love! Love this coffee!! It has a great taste! You really do not need to add anything to it! So yummy! Smells wonderful! Oh and it will give you that extra boost that is needed!! Did I mention how much I Love this coffee?
Laura
Garland Texas
Love Bova Java Coffee!
Coffee lover
Dallas pa
Delicious and energizing!
Great coffee I use it on those days I need an extra lift but it tastes so good I have to be careful not to create a tolerance for the extra caffeine!
sophisonja
Massachusetts
Favorite Boca Java coffee
It has a rich flavor which is enhanced by the cinnamon
Westsign
Pittsburgh
It has a great taste and fills the room with a cinnamon smell as it is dripping. Love the additional caffeine!
Ruggedly Handsome Robin
Traverse City MI
Great start for anything.
Railgo
Wyo
My go to coffee addiction quencher
My go to for when I need that extra oomph in my morning coffee (or anytime).
BamaHeel
Huntsville, AL
This is one of my favorite coffees
RL
87413
Exceptional flavor and a great buzz
A great mid afternoon pick me up beverage.
Big Red Bike
Ludington, MI
I would buy this coffee again and again.
I am an admitted coffee addict. I love strong flavors like espresso and French roast. I also like to mix flavored beans with these strong flavors. Cinnamon is probably my favorite.
gmput
Morrisville, NC
Delicious and great for the mornings
This is my go to morning coffee
JenE
Ohio
I would love a free coffee canister
Coffee lover
Dallas Pa
Love the cinna and extra caffine.
Great use whole bean and put with spiced vanilla bean. Really tastey.
Sharlyn
Marblehead, OH
Amazing coffee and a boost in caffeine. This coffee is really good
Kozmyk21
Bloomfield nm
We use in single cup coffee. We grind when we are ready to use. Like the aroma from the beans.
Active in Minnesota
Columbus, MN
This is my go to coffee on those tough mornings!
The White House
Williston VT
I use it in a one cup coffee maker. Love the flavor.
Denise the health nut
Columbus, MN
This smells so good when grinding and brewing, and had a smooth, delightful flavor.
Westsign
Pittsburgh
Great brew!
RD
Montross, Va.
Kazow! Awesome cinnamon punch!
High power, smooth to the last drop taste. One of the staples in my refrigerator for the morning wake-up!
Dan H
Cedar Rapids, IA
Love coffee.Love cinnamon;this brew a blast! perfect name!!
this brew is perfect for morning wake-up.................keeps me going until lunch-time, time for next cup......throughout day I consume bout 4-5 cups oF cinnamon coffee..........................LOVE IT!!!
grannibabe
LAS VEGAS, NEVADA
I use this in both my Keurig and my expresso maker. K cups in the morning and an expresso for a lift in the afternoon.
Surf City Gal
Surf City, NC
Use every morning. Love the taste and added caffeine.
Livewire
Chicago
My coffee maker is very basic so it's surprising how strong the flavor is, not in a bad way. When I have a busy day I make sure to take this coffee with me. Love this stuff!
Phoeni
AZ
This is one of my favorites. I feel like it is an eye opener for me. I love the strong flavor of this coffee. I will be buying more of this. :)
Denise
Ruskin, Florida
A great Monday morning pick me up
Athladik
Enid OK
Love, Love, Love, Cinna-Buzz
My favorite coffee. Extra Caffeine with a light cinnamon flavor & I love the picture on the package :).
Cinna-Buzz
Upstate NY
it will get you going if you need it! loved that it go me going! I needed it! ha!
Laura
Dallas Texas
for those mornings when the pillow is more interesting than the shower. This is my go to coffee.
Jan
Olympia
I love this product, more caffine and a good taste
Flamingo Jen
Winter Springs, fk.
Great flavor!!! Awesome pick me up. Just perfect!!!
Pam
Powhatan, Va
Seriously the best coffee ever. Makes a great gift too. Everyone I give it to loves it.
jayaych
California
The 50% more caffeine is great and does not distract from the cinnamon flavor. The blend is excellent, always a consistent roast and very tasty.
Andrew with the Java Geek Squad
Orange Beach, AL
Atomic Cinna-Buzz Coffee
93.2