Hightide Hazelnut Coffee (DECAF)
The best gourmet decaf hazelnut coffee freshly roasted with medium roast beans. Read More
Looking for the best decaf flavored coffee? Give our Decaf Hightide Hazelnut Coffee a try and savor the smooth and creamy hazelnut flavor.
This fresh roasted decaf coffee has the perfect combination of hazelnut flavor and medium roast coffee.
If you enjoy Decaf Hightide Hazelnut and you like chocolate flavored coffee, we suggest you try Decaf Chocolate Hazelnut Heaven Coffee.
We won't roast your bag of Boca Java coffee until after you order it, ensuring the freshest coffee possible. Each and every time!
A Little Bit More About This Coffee
Attributes:
Varietal:
Catura, Mundo Novo, Bourbon
Altitude:
1400-1600 meters
Region:
Jinotega, Nicaragua, Cerrado, Brazil
Tasting Notes:
Subtle Nutty Flavor

Enticing Aroma

Nice Finish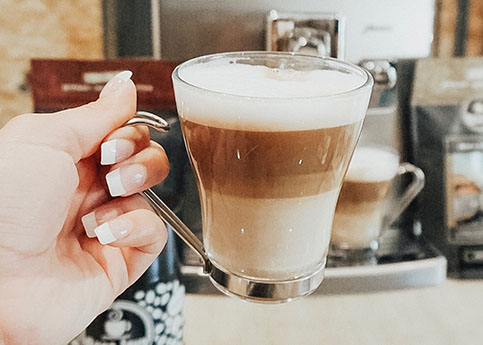 Top Selling flavor Roast Coffees
Yes- My favorite- I love the flavor and aroma
Definitely keep re-ordering it!
Mae
Deerfield Beach Fl
The doctor said to cut back on caffeine. Since we switched to Decaf Hazelnut, there is very little difference in taste compared to regular coffee. Certainly am happy about this.
Ron the coffee lover
Hanover, Maryland
Decaf Hazelnut at it's best
The doctor said to reduce caffeine intake - period! The decaf Hazelnut is good enough not to even notice that it isn't regular coffee.
Backpacking Ron
Baltimore Metro, Maryland
The doctor said to reduce caffeine intake - period! The decaf Hazelnut is good enough not to even notice that it isn't regular coffee.
Backpacking Ron
Baltimore Metro, Maryland
Hightide Hazelnut is the flavor that got me hooked on BocaJava coffees!
Dan the drummer
Cincinnati, OH
My morning coffee relaxing time
GrandmaG
Mamaroneck, NY
My husband and I enjoy this decaf in the evenings. We both like it a lot.
Lydia
Kansas
If you like Hazelnut this is for you
Great coffee to start my mornings
Marisa
Phoenix, AZ
Never had a better decaf coffee
Really enjoyed this coffee. I am trying to cut back on caffeine but love coffee.
Tara
Pennsylvania
None
Grandma G.
Mamaroneck NY
I would buy this coffee again.
I use this coffee daily.
Jim
Lanham MD
Wife loves this Decaf Flavor
My wife absolutely loves this flavor. She drinks decaf and drinks this on the weekends.
Ronald
Hanover, Maryland
Very smooth flavor with just a hint of hazelnut!
Use in my electric percolated ecveey morning. Love the pleasingly aroma that fills the kitchen.
Grandma6G
Mamaroneck, NZy
Great breakfast coffee..
Cathy
Indian Lake, NY
My wife and I get this in our regular order without fail. It is our favorite flavored coffee
Army Vet Ron
Hanover, MD
First Hazelnut coffee that I have ever liked
Love this coffee, this is the best hazelnut coffee I have ever tried. Usually I do not like hazelnut coffees because it always seem to be too strong in flavor. I would recommend this coffee flavor to anyone, even if you are not a hazelnut fan.
Suntouched
Kissimmee, FL
None
Grandma G
Mamaroneck, NY
i think my wife would not be happy without her cup each day.
Keep it up, Job well done
gary
Belen, New Mexico
I use boca sunrise, high tide hazelnut and surfing safari together.
Annette Stoker
Senath, Mo
I buy this coffee a lot, It has the best taste of any coffee
Best tasting flavored coffee made. We but it regulary and enjot the great tast and flavor!
ER
Bonita Springs, FL
Drip coffee maker
Grandma G
Mamaroneck NY
Best tasting coffee
Grandma G.
Mamaroneck, NY
This is my favorite flavor
I love making this coffee in the morning. The aroma is so awesome. And then I add some hazelnut creamer and sit down and enjoy this special treat.
VIKKI
Denver colorado
My family likes this flavor.
Liz at the keys
Castro Valley, CA
love this coffee. Would like it even better if it was a stronger hazelnut flavor!
BT
Hilton Head Island, SC
My wife got this for me as a gift . Love the taste and it doesn't bother the blood pressure
LawnMan 72
Temecula , Ca.
Great flavor for special times or every day
I use a drip coffee maker and always like to get the whole beans for a fresher flavor. Been drinking Hightide Hazelnut, along with a few other flavors, for several years and have never been disappointed with the aroma or the flavor.
Dan
Arkansas
Definitely will buy again
My husband loves hazelnut flavor so this coffee is a perfect choice. It is delicious!
Bethany
Imperial CA
Very good coffee. It's hard to find flavor decaf in the grocery stores so this is going to be a purchase I will make again at this online business.
linda at home
Columbus GA
Love this Hazelnut decafe coffee
All our guests have enjoyed this brew
Hawk
AZ
If this coffee (Along w/ shipping cost) wasn't so expensive, I would order it all the time :(
Nana Ro
Rochester, NY
we buy this product over and over
I have to drink decaf and this is the best for flavor
lilly
sarasota,fl
Almost always part of my breakfast
Bode
Cincinnati, OH
Great for relaxing around the house...not just at breakfast.
CornyBob
Valdosta, GA
More than a hint of Hazelnut.
The first cup in the morning sets the pace for a beautiful day. Deep, rich Hazelnut flavor that is unmistakable. Very, very flavorful.
CornyBob
Valdosta, GA
I mix half and half high tide hazelnut and banana coasters float. They make an amazing cup of coffee with hazelnut creamer.
Annette
Senath, MO
This is my favorite morning coffee, I use it will a variety of other unflavored coffees and it is a pleasant tasting experience.
MissFitz
Glendale, CA
Very pleasant smell & delicious, smooth taste
Maggie
Mamaroneck, NY
Perfect cup of morning coffee!
GrandmaG5
Mamaroneck, NY
I make a pot of the Hazelnut decaf, have some hot and then refrigerate the rest for a lovely evening drink. I do add a good bit of cream and stevia sweetener. The flavor lasts even diluted by ice
Sarah
Lebanon, Ohio
I only drink about two cups of coffee per day, but I love this flavor and have for a few years now!
Coffechick
St Helens,or
This is my favorite coffee. I drink it every morning on my way to work (I can't have much caffeine). Whenever we have a party, I offer it as an after dinner selection for those who prefer decaf and more often than not, people who don't drink coffee or who prefer regular request this coffee. I recommend it with a small amount of a vanilla-flavored creamer to enhance the flavor just a bit. Highly recommended.
Scott & Liz
Bethpage, NY
My main choice to drink during the day, bad thing is that I have cut down on my water consumption.
berrygoodstuff
Wilmington, NC
Loving Boca Java's High Tide Hazelnut
Coffee is made in our house as a breakfast drink.
JWC
Commack, New York
We use a drip coffee maker and love the fragrance of the beans as they are being ground and the coffee as it is making.
Laine
Arkansas
This product and the Espresso are my favorite coffees I have ever tried from Boca Java.
Lequita
Whitwell,Tn
Hightide Hazelnut is a family gift favorite especially the decaf, you can drink it all day and enjoy that mellow nutty taste. Holidays in my family circle mean lots of Hightide Hazelnut in gift boxes, stockings and brewing in our family coffeemakers. If you are a hazelnut fan, the tide for your real coffee enjoyment has just come in!
The taster
Washington, DC
Nice blend
Joe Kid
Woodbridge,Va.
Hightide Hazelnut Coffee
90.0