Irish Creme Coffee
Gourmet Irish Creme and chocolate flavored coffee. Read More
This gourmet flavored coffee is sure to impress. Combining classic flavors of Irish Creme liqueur and chocolate this coffee is a perfect after dinner coffee for any occoasion.
If you like dessert coffees, be sure to try our Caramel Kiss Island Coffee.
We won't roast your bag of Boca Java coffee until after you order it, ensuring the freshest coffee possible. Each and every time!
A Little Bit More About This Coffee
Attributes:
Varietal:
Catura, Mundo Novo, Bourbon
Processing:
Blend of Wet/Dry
Altitude:
1400-1600 meters
Aroma:
Irish Creme Liqueur, Chocolate
Region:
Jinotega, Nicaragua, Cerrado, Brazil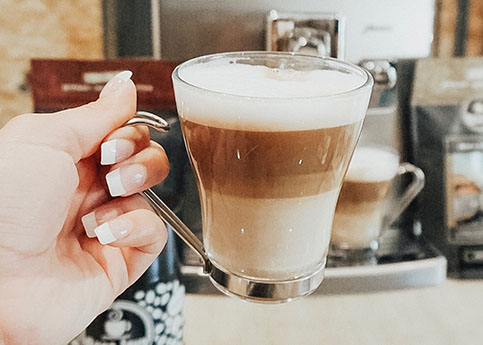 Top Selling flavor Roast Coffees
Great taste
Framgirl
Scurry tx
We only buy beans. Recommend storing in glass jars
Dcbbow
Patillas pr
No accessories.
Kimo
Hilo, Hawaii
Irish Creme coffee. Love it!
I have been using Irish Creme coffee for many years. Love the flavor!!
SHARON
DAVIE, FL
I will buy this product when I can.
I enjoy your product. What I like most is that I can smell the flavor. I also can taste it. I always look for bargains and you had one.
Joy
Seaside,Oregon
My Irish husband and I love this coffee.
Jack
California
Boca Java Flavored Coffees are very good! I hate when I run out!
Rae
Harrisburg, PA
Love the flavor, just wish it was a bit stronger. I may add Irish Cream liquor.
Jim Bob
Knoxville, TN
I have bought this flavor for years
This is one of my old stand-bys; a very pleasant way to start the day.
SueC78
Dahlonega, GA
love this one very much and it smells and taste so good
James CD
New York, NY
Delicious start to the day
I always get the whole bean coffee and it is so fresh. I haven't bought a bag of coffee from the grocery store in years.
Glossand80s
Hampton
My boyfriend accidentally threw away a k-cup sized amount bc he thought he had already brewed it when in fact he didn't. He literally cried. I thought he was going to dig through the garbage and collect every single tiny ground. It's that good.
Steve
Maryland
I have been purchasing this coffee for years!! Absolutely love it.
SHARON
DAVIE, FL
A Saint Patrick's Day Must-Have
It isn't St. Patrick's Day without Boca Java's Irish Creme coffee. It's a must-have for our celebration. We even drink it when it's not St. Patrick's day.
Tim
Dallas, TX
Just a bit of creamer and good to go
Amanda the not runner
MARYLAND
I use my Keurig with reusable cups.
LB
Culloden, WV
love this blend almost the most very smooth and love the flavor
James CD
New York, NY
Great Coffee with standing order for more.
Daily pot of Joe.
KC
Texas
I prefer a finer grind so I grind it more before using pour over. I also mix with a non flavored blend for a more subtle flavoring.
Dean
San Jose CA
I order this product in quantity of 2 when the Seasonal Flavors are done.
Jeannie
Dover PA
Yes, it is simply delicious .
Its smooth tasting and rewarding.
The zVulture
Bowie Md
With a little heavy cream it tastes like heaven
Jlemo
DuQuoin Illinois
I use a french press
Bookworm
Los Angeles Ca.
We belong to the coffee club and couldn't be happier! Love the choices and never disappointed.
Rich the banker
Corrales, N
Love this flavor! Buy it all the time
I use this as my morning cup of coffee.
Melissa
Gettysburg, PA
love love love this coffee
moondust
Kelseyville, Ca
Love the smooth taste of this flavor!
No one does Irish Creme like Boca Java! Smooth taste! Not bitter!
Momzncharge
Oklahoma City, OK
Capture the delight of Irish Coffee taste
lovely taste and aroma - thank you Boca Java
coffee lover
weymouth, ma
I love the Irish creme coffee, very tasty and smooth
We either brew it in k cups or I coarse grind it and make cold brew
Jessie
Topsham maine
This Irish Creme is one of my favorite flavors.
Jpwrglr
ST. Louis, MO
One of the best Irish Cream flavors.
Spotchy
Cedar Falls Iowa
Outstanding aroma. Very smooth.
Good recreational blend.
Jimmie Blue
Winchester Virginia
Delicious smell and flavor. Use it with our Ninja coffee brewer and it is exceptional
djarvis
Atlanta, GA
The best coffee in the world
I would buy this all the time so delicious
Michael Chiropractic
Burbank
My sister loves this one. Mom loves blueberry
Deb
Oklahoma
This is a favorite of ours - love the irish cream flavor
Rich
Corrales, NM
Loved the flavor and the great aroma while brewing
JayzNay
Canton, OH
One of my favotite flavors
Great flavor
Jeannie
Dover PA
Best Irish Creme coffee I've ever had. Pleasant aroma, smooth and flavorful, this is one that I will be going back for again and again!
LJinPA
Montgomeryville, PA
Love this coffee. Makes a great Irish coffee!
Missa
Gettysburg, PA
Pure Bliss.....perfect for a relaxing weekend!
Sue
Natural Bridge, NY
This coffee has a very special taste. One of my favorites
I like to bring this coffee out when friends are coming over. I usually bring out several of my favorites. They all seem to be a hit.
Lyn
Macomb, MI
I enjoy this coffee especially when I am in an Irish mood
Doc Cowart
Modesto, Ca
I have been purchasing my coffee from this company for years and the taste has me spoiled. The Irish coffee is a smooth blend that is a great taste to drink in the morning.
Jacki
Tucson, AZ
I like Irish coffee and this is the best one I have had.
Robyn
MI
I love the taste
A
Alakanuk
Good coffee to have with dessert!
Momma Mizell
Norton, KS
I brew 2 cups at a time
down to earth
PA
will be getting more of this
The flavor is very pleasantly well balanced
cat
chicago