Maple Bacon Morning Coffee
A rich, distinctive medium roast coffee with the dripping flavor of sweet maple and smoky home-cooked bacon. Read More
Reminiscent of a hearty Saturday morning breakfast, this sweet and savory coffee delights the senses with the smell and taste of home! This signature gourmet flavor is only available through Boca Java!
If you enjoy our Maple Bacon Morning flavored coffee, our Roastmaster suggests you also try our Bananas Foster Float Coffee.
We won't roast your bag of Boca Java coffee until after you order it, ensuring the freshest coffee possible. Each and every time!
A Little Bit More About This Coffee
Attributes:
Varietal:
Catura, Mundo Novo, Bourbon
Processing:
Blend of Wet/Dry
Altitude:
1400-1600 meters
Aroma:
Maple Syrup, Bacon
Region:
Jinotega, Nicaragua, Cerrado, Brazil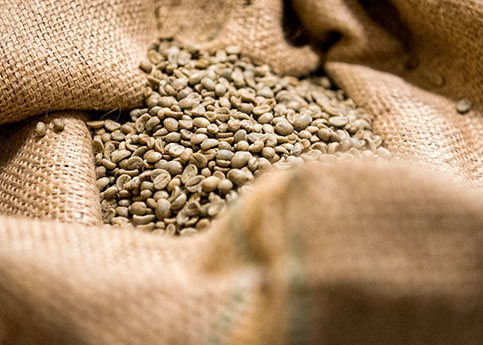 Top Selling flavor Roast Coffees
Yummy&delicious! I'll purchase this coffee over&over!
Smooth and delicious, sweet, tasty and aromatic
Coffee Betty
Beach Park, Illinois
My son favorite
Ninny
Hubbard o
This coffee is delightful!
I really enjoy this coffee! The aroma is delightful. A perfect blend of coffee, maple syrup, and bacon filled my kitchen with the smell of waking up at my Grandma's house on Saturday mornings. And it was all from the coffee! The flavor is rich, but not too strong (I don't like a strong coffee). With just the slightest flavor of maple and bacon, it doesn't wash over you with the sweetness you'd imagine. I was so impresses to see that the date the coffee was made was the date that I ordered it! I've never purchased coffee to make at home that was that fresh! I highly recommend this product! This review was collected as part of a promotion, and the thoughts and opinions are my own.
Regina
Staunton, VA
fantastic breakfast blend. wonderful smell
I recommended to a friend and she is on auto ship now
Gem
Dayton, OH
I had a cup of this coffee one day at work, and someone commented "I smell pancakes!" What smells better than pancakes in the morning, except for bacon?
Retired CR2020
Hilo,HI
Great smelling smooth coffee
When first opening this bag it smells strongly like actual maple bacon. When sticking my nose in the bag and when brewing I get a more sweet coffee smell. It has a smooth flavor and tastes great with a little milk, how I usually prepare my coffee. I also love that the bag is resealable. This review was collected as part of a promotion, and the thoughts and the opinions are my own.
Lauren
Santa Barbara, CA
This is a smooth coffee with subtle bacon and maple flavors. it's not overwhelming which was a concern of mine. it's a lighter roast than I'm used to but a nice blend. I highly recommend trying this one. This review was collected as part of a promotion, and the thoughts and opinions are my own.
Mandie
Upper Sandusky Ohio
I ordered the maple bacon breakfast. I loved the aroma. as soon as I opened the package I could smell the bacon and maple. The coffee had a nice smooth taste. the maple is more prominent then the bacon, which I prefer. I also love the fact that the coffee is made when you order the coffee. This review was collected as part of a promotion, and the thoughts and opinions are my own.
Dave
Weirsdale, Fl
I buy my son 2 bags every month he loves it
Boca Java best coffee ever
Ninny
Hubbard o
I use in my K cup refill for my Keurig Love how it makes my office smell!!!
Bill
Elgin, SC
Just what we were looking for.
Everyday
Toni the Trainer
Princeton mn
I love the aroma and the hint of maple in the aftertaste.
KC
Maine
I have a Ninja coffee bar and I use it and my built in frother on all my coffee's. I use evaporated milk mixed with 1 can of water for all my froths. I even have my hubby drinking coffee again
Oldhen
Elberton, Ga
Wake up to breakfast aroma
Great morning flavor
Eld
Ny
I buy this coffee in whole beans. This way I can grind what I want to use for our coffee. These beans come fresh in there own sealed package. And they last for a few weeks or longer. This flavor has a unique taste and both the wife and I LOVE it!
average joe
Carol Stream, IL
breakfast brew
valley girl
burson ca
I love this one ?? I order it every time.
I love the flavor but I feel the roast could be just a bit darker.
Joan
Fargo
Nice on a weekend morning.
Nice on a weekend morning.
Drgoofy
Atoka Oklahoma
Our Favorite coffee to have in the morning!!
When I order from Boca Java, I receive the beans and grind them for a 12 cup coffee maker. Usually a quarter cup of beans. The taste of this coffee is very good. And smell when it is brewing, the smell is fantastic!!
Coffee Lover
Carol Stream, IL
Excellent distinctive flavor
valley girl
burson ca
We bought this flavor many times & even gifted it! Delish!
There is nothing like having this aroma coming from the kitchen when you first wake up!
Ann
Virginia
love the smell
Tater
Graham
This is a great breakfast coffee to go with your bacon and eggs!
BABS
Florida
Boca Java Flavored Coffees are very good! I hate when I run out!
Rae
Harrisburg, PA
I would buy this product again
The taste of this coffee is really great. No bitter taste left in your mouth after drinking this. This is one of our best beans that we purchase multiple times each year.
Ed
Carol Stream, IL
Addictive aroma and flavor!
I love the maple-bacon donut, and I love this too! I have to keep myself from drinking the whole pot. We have already recommended this to friends.
Coffee.GottaHavIt
Virginia
This has been my morning cup 'o' joe. I can smell and taste the maple, but no bacon. However, it's a pleasant coffee to wake up to.
SueC78
Dahlonega, GA
This has great flavor and is very smooth!
Granny Nancy
Canfield, Ohio
Everyone I've shared this blend with loves it. This is one of the few I drink black to enjoy the flavor.
Morning Jane
Colorado Springs, CO
Not as good as I remember
I used to order Maple Bacon Morning coffee about ten or twelve years ago when I was in the Boca Java club (I've recently rejoined), and I was simply mad for it. It still is a delicious coffee, but it's a lot less "bacony" than I remember it, less smoky if you will. I still plan to order more, but I long for the way it used to taste.
Andria
OH
Tasty, could use a little more flavor, but overall good.
Liz
Moore, ok
This coffee is so good. As so as I walk into work with my travel mug everyone turns around and asks what the great smell is! Its delicious. Doesn't taste like bacon, but its maple and smokey for the overall feel of a maple bacon breakfast.
Kim
New Hampshire
This is my favorite by far. Love the smell and the taste is
I love this coffee
Millie
Colorado
good for coc cake
crg
Colorado
This is my favorite by far. Love the smell and the taste is
I try to change my choice daily but can't get enough of the Maple Bacon.
Millie
Thornton, Colo.
Smells just like maple bacon, tastes so good.
Tammy
Shawboro, NC
Love this as a great weekend coffee with brunch!
Jen the coffee addict
Baltimore, MD
Great coffee I will buy it again
Good coffee
None
Lexington Ohio
Love, love, love this coffee!
Love everything about this coffee!
Shawnie
Las Vegas, NV
Definitely buy this again
Morning wake-me-up
Veronica
Sabattus Maine
Great taste and smell. Bacon and coffee lovers always win with this one! Will buy again and again.
Love my coffee!
Texas
i have bought for ever good for choc cake mix great ice coff
I love this flavor--the maple and bacon are a great pairing and the roast is just right. Absolutely recommend!
Caro
Iowa
all great very good for cooking cakes great cold
119
otis colorado
I felt that I owed it to myself to try something different. Bacon flavored coffee? I found it to be fantastic. The after taste is more maple than bacon and quite delicious.
Michael
Jacksonville Florida
Good coffee ... Nice maple flavor but not strong enough on the bacon
Red
Colorado springs
Love the smell and taste . I actually reordered more so I could send to my sister in NC . She absolutely loved it !!
Bon Bon
Streator
Absolutely loved this coffee
Loved this coffee , definitely on the to buy again list . The smell it's amazing. Not much bacon flavor but love the maple taste.
sweets
Streator Illinois
I said spring and fall because this is good times for the hearty maple bacon flavor. Breakfast is best
Stephen
New Ipswich NH
This is now a staple at my house.
Rachel
NM
Maple Bacon Morning Coffee
89.8