Boca Mocha Java Coffee (DECAF)
A medium roast decaf coffee blend from Africa and Indonesia, with a medium body, slight earthiness and chocolaty, berry fruit tones. Read More
Decaf Boca Mocha is a combination of Indonesian and East African Arabica coffee beans. This delightful decaf offers a nice bouquet and a rich, complex, buttery fruit aroma with hints of earthiness. It finishes with a clean, naturally sweet cocoa finish.
If you enjoy our Decaf Boca Mocha Java coffee, our Roastmaster suggests you also try our Decaf Sumatran Sunset Coffee.
Decaf Boca Mocha Java is extremely popular selection among our medium roast coffee drinking Coffee Club members. Learn more about how you can subcribe to your favorite coffees and have them delivered just days after roasting, directly to your door!
We won't roast your bag of Boca Java coffee until after you order it, ensuring the freshest coffee possible. Each and every time!
A Little Bit More About This Coffee
Attributes:
Varietal:
Heirloom, Typica
Altitude:
1600-1900 meters
Tasting Notes:
Medium Body

Slight Earthiness

Chocolaty & Berry Fruit Notes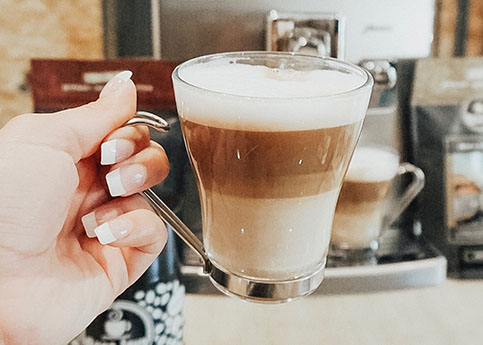 Top Selling medium Roast Coffees
ITS MY MORNING WAKE UP
barb
Florida
The best part of my day...multiple times a day!
I didn't even have the package open and I could smell the delicious!!! I brewed my first pot and was immediately impressed with the color/quality of the coffee. I ended up going through 3 pots of coffee with friends that afternoon!
Wiccanwriter
Nebraska
Pleasant, smooth roast
Nata
NY
Pleasure doing business with Boca Java
JJ
NH
We are enjoying this coffee.
Nan
NY
Smooth well balanced coffee; my favorite so far.
Nan
NY
Mix with any regular flavor/regular caffeine coffee for a nicely flavored half-caf.
Klh
Drexel Hill, PA
Smooth, filling and lasting taste
If you love the taste of a nice smooth, but filling coffee this is the one for you. Yes, you do get the mocha, but no it does not overwhelm. It is an extremely smooth blend of tastes.
Coffee Addict
Northern Ca
I will never be without his coffee
I use this coffee in several ways. Hot, iced, and even blend it with outer roasts to balance and smooth out the taste
Nanadoo
Brandon, Fl
Excellent coffee! Wouldn't start my day without it.
I like the whole bean so I can grind it myself, but I do cheat and get some ground already for those too busy mornings.
Chicken farmer
TN
Will get more soon!!
Gonic
New Hampshire
Never in my cup long enough to get a coffee warmer film.
My husband and I like our coffee 1/2 and 1/2 (decaf and regular). I like the ground kind that I make one cup at a time. He likes the beans to use in the big coffee maker. It is all good! This Boca Mocha Java doesn't stay in my cup very long. I really enjoy drinking it. It is my current favorite. :)
MtnKat
Conifer CO
I found this was the perfect coffee for making my own version of Frappuccino.
JOY
Cold Spring, Minnesota
This is my favorite of your flavored coffees.
I only have auto-drip with filter coffee makers.
Cinda
Arcadia, FL
I was diagnosed with a terribly big and deep ulcer in January, 2016. I was put on Nexium 40 mg capsules and a terrible diet -- bland food, soft food, nothing fried or pepper hot, no fresh vegetables or fruit, no salads, and worst of all, no caffeine. So I looked for decaf at my favorite coffee store and found Boca Mocha Java Decaf. I normally cannot stand decaf so I was reluctant at first to order this. I should not have worried. It is great decaf and I have grown to like it a lot. It comes only in whole bean but I already had a grinder so all was well. As of April 5, 2016, my EGD showed the ulcer was 99.9% healed and the Gastroenterologist allowed me to go back to a regular diet. But I have six bags of Boca Mocha Java in the freezer. I will keep a bag ground up in the kitchen for when I want a cup of late night Joe without a jolt. I recommend it to all coffee drinkers, even if they really don't like decaf because it is that good.
Retired CEO
Ada, OK
If you like chocolate, this coffee will satisfy for sure!
Rock and Roll Shrink
Atlanta, GA
I have been on a bland soft food diet for 60 days with another 60 or 90 days to go because of a terrible stomach ulcer that had nearly eaten through the left wall of my stomach. Of course, I can have no caffeine at all either. I drank no coffee at all for the first 45 days or so and that was really hard for a six to eight cup a day guy like me. Anyway, I ordered some decaf from Boca Java and it came in whole bean only. I had a grinder so it did not matter. Let me say I have always detested decaf coffee. However, this Boca Mocha Java is pretty good. I actually like it a lot and will buy more, maybe even after I am off the ulcer diet. Boca Mocha Java tastes good, smells good and does not hurt my stomach at all. I usually make a six cup pot now in the mornings and drink a couple cups after each meal to help with digestion. I've been a Boca Java customer for several years and really like most of the coffee I have gotten from them.
Retired CEO
Ada, OK
I can grind these beans and serve/enjoy this coffee anytime of day/night. Every time, we go through the whole pot. If you had to choose an anytime bean, this would be it.
PJ in KC
Missouri
Best decaf chocolate coffee around!
I drink half decaf and regular coffee. So, this chocolate decaf helps me to keep the same flavor or the other coffee I use without all the caffeine.
Michele
Jacksonville, Florida
I use my aero press and the flavor is great
Lovely Golfer
Maple Grove, MN
Very pleasing taste and aroma. Easy to drink.
Sharon
Potomac
I usually drink it every morning. But if it's cold outside, I've been known to drink it all day.
teari
colorado
This is Dad's favorite coffee.
Blanche
IN
I make a pot 2 times a day
Grandma
Lincoln Ne
Who doesn't like chocolate and coffee? I order this whole bean blend every month!
Linda
Brooklyn, CT
I would buy this product again and again
I love the chocolaty aroma and flavor of this coffee
Patricia
Naperville, IL
Yum!!!
Anne
Vancouver, WA
not chocolate , just great coffee.
to impress friiends and give my morning a few minutes to savor
the mum
Ithaca, NY
This is my favorite coffee. Whenever I am in the mood for just a good cup of coffee with just a hint of flavor this is the one I reach for or serve to guests.
Joy
Detroit, MI
Great all around medium roast coffee. Very flavorful. not bitter and unlike most Starchuck's blends not over-roasted! A great accompaniment to everything from breakfast to dessert. My all time favorite.
Schroedertlc
Holly Springs, NC
Wish Boca Jave would offer a course ground for all their coffees so that there would be less waste in my French Press. It's so yummy I hate to loose one drop!
Suzworks
Murphy, Texas
This is my favorite of all of the coffee's I've tried. I keep re-ordering it. Even folks that don't like flavored coffees like this one. It gets rave reviews at dinner parties.
joy
Detroit, Michigan
I like this decaf coffee after dinner in the evening. It's great with dessert or just by itself.
Hooked on Coffee
MI
Great tasting decaf. We mix this 50/50 with Peaberry Player's Club when we want to have a little caffeine, but it's great on it's own. Wish Boca Java would offer 50/50 caffeine/decaf blends already bagged!
early riser
Barre, VT
Recommend this to everyone
Buy this for my Dad all the time. It's his favorite of the non-flavored coffees
water lady
southern IN
Great coffee
Anne
Vancouver, WA
we love the taste and aroma
Grind it fresh for the best
Gruncle
South East Tn
This is my all time favorite coffee. Whenever I want a good, rich coffee to serve with a meal this is my choice. Everyone that has tried it compliments me on my coffee. It is almost identical to the coffee served at a five-star restaurant that I dine at for special ocassions.
Joy
Detroit, MI
I buy several of the flavored decafs, but I think this one is my favorite. I mix my coffee half regular and half flavored decaf and this works perfectly with BOCA SUNRISE. I drink coffee every day and totally enjoy this flavored decaf.
Donya, coffee lover
Grants Pass, OR
GREAT!!!!!
Grandma Peg
Erie,PA
love it love it love it!!!
kat1azRN
Mesa, AZ
Boca Mocha Java Coffee (Decaf)
None
DeeDa
Slatington, PA
This is my favorite Boca Java Blend-rich and smooth-stands up to the sugar and cream I add-Highly recommend
Dobie Mom
Lincoln CA
I love the taste of this coffee.
Delicious
Linda
Brooklyn, CT
Love the Chocolate Flavor
Love this with a little Splenda and Mocha Mix
Debbie
Tucson, AZ
Love the Chocolate flavor
Love this with a little Splenda and Mocha Mix, Yum Yum!
Debbie
Tucson, AZ
The Mocha Java has a rich flavor without the aftertaste or bitterness. Most mocha coffees have a sweet taste for which Boca Mocha Java does not. I have been and will continue to purchase this product over and over again.
ksmiller67
Lexington, North Carolina
My Absolute Favorite Anytime
A great coffee anytime of the day. If people show up they, I serve this coffee.
PJ
KC
Have it every morning! Strong, full body and deliciously smooth.
Suzworks
Murphy, TX
This blend is a delight to make, as it's chocolate and coffee aroma blankets the room, and a delight to drink. This flavor works well with both a nutty soy milk or creamy half and half. When I brew this blend at work I make instant friends. The smell alone will put a bump in your stride...the taste will get you through the morning.
Robin
Jupiter Florida
Boca Mocha Java Coffee
92.2