Brew of Bravery Coffee (DECAF)
A medium roast decaf coffee blend with a full-body, citrus fruit and honey notes, sparkling acidity, and a clean finish. Read More
A bright and subtly sweet medium-roast decaf coffee with a blend of Arabica coffee beans from Africa, Central and South America. As a part of our troop donation program, every bag of Brew of Bravery that is purchased is matched with the donation of a bag of coffee to our troops serving overseas.
If you enjoy our Decaf Brew of Bravery coffee, our Roastmaster suggests you also try our Decaf Ocean Drive Coffee. To learn more about how you can help to support the troops, please visit bocajava.com/troops
We won't roast your bag of Boca Java coffee until after you order it, ensuring the freshest coffee possible. Each and every time!
A Little Bit More About This Coffee
Attributes:
Varietal:
Catura, Colombia, Bourbon
Altitude:
1600-2000 meters
Tasting Notes:
Full-Bodied

Citrus Fruits & Honey

Sparkling Acidity

Clean Finish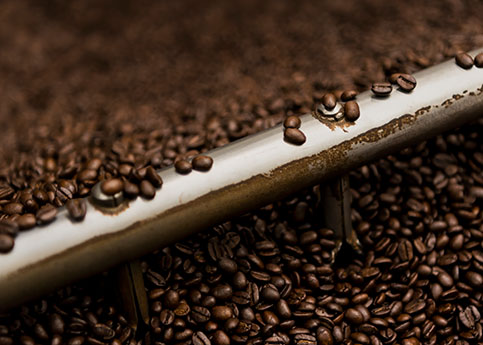 Top Selling medium Roast Coffees
Fantastic coffee!
Preston
Pelham Al.
We like this one.
Nata
NY
I use the Ninja coffee maker to make my coffee. I enjoy the flavor of this especially in the morning.
Maddy
NY
Use this product for meetings and for home. Great tasting coffee.
PRESTON
Pelham, AL.
I make a pot of coffee
Dody
NY
i always add half & half
ro
ny
A consistently smooth brew
I brew this before work. It's become a daily favorite.
NC-Delta Lady
Delta Region USA
I'm just a regular gal but I am particular about my coffee. I enjoy Brew of Bravery everyday! It tastes like what I want coffee to taste like. I use an infuser in a mug and pour hot water from my Kureg on the coffee. Three minutes later...a great morning cup of joy! I also like the idea of sending some to our troops!
Dody
Brooktondale, NY
I thought only a dark roast decaf would work for me, but I love this medium body roast which is smooth and rich. This is my true favorite go to on a daily basis. If you are looking for a great decaf, try this one.
Wilmetterunner
Wilmette IL
I usually drink a dark roast decaf to get enough body and flavor, but this brew is even better and less bitter after taste
JB
Wilmette IL
taste good and we support our troups with each purchase
none
coffee lover
Lomita CA
You know when you have that PERFECT cup of coffee in your hands and you are like "just ahhh". This is it! This is the cup that makes you feel like you are starring in your very own coffee commercial.
avery taylor
New York, NY
I seldom drink anything with meals but I always enjoy at least one cup of coffee immediately after I eat any meal. I think it helps with digestion. I also drink coffee all day long, at least six cups a day. I tried all the blends Boca Java has that appeal to me and I chose two as my favorites with Brew of Bravery being one of them. It is very good coffee and I really enjoy drinking it.
Retired CEO
Ada, OK
Great coffee first thing in the morning.
Carol
Boynton Beach Florida
Perfect afternoon/Evening Brew
Perfect decaf brew for adding to regular coffees to lower caffeine or by itself in the afternoon /evening to enjoy that same full bodied flavor in a decaf version.Never bitter or too strong as many decaf beans are.Very enjoyable.I can drink this all day when decaf is called for.Love the name!A decaf for Patriots!
SourdoughSue
Royal Oak, MI
This brew is just perfect....mellow....no acidity.
BeeBear
Las Cruces, NM
Extraordinary, terrific blends
We love this coffee. We often use it in blends to amend the taste of some of the flavored varieties when we want just a hint of them. Well rounded staple and our favorite.
Mikee
Newnan, GA
We drink this every day
BeeBear
Las Cruces, NM
Great Roast, keep this one long term
Wabash Cannonball
Darlington, WI
This is my favorite blend !!! Great taste and it helps get coffee to our troops overseas!! What else could you ask for?
Linda
Brooklyn, CT
I use this product at my church & everyone likes it.
Grandma the dog sitter
Lyons,NE
I brew this every morning....blended with Brew of Bravery regular for my first two cups of the day!
grammie5
Rochester Hills, MI
I would buy this coffee again & again
We enjoy our Boca Java decafs every night after dinner, it finishes a meal perfectly!
BeeBear
Mesilla Valley, New Mexico
I could drink it all day long!!
mamabeck
Commerce, Ga
Great Tasting Decaf & Support the Troops
We have to drink decaf at our house. This coffee gives a nice bold taste, so you don't miss the caffeine!
ProudNavyAunt
Plano, TX
It's just right !
Grandma the dog sitter
Lyons,NE
Our family loves the Brew of Bravery Blend! We originally bought it to help support our U.S. Troops overseas but have continued to buy it for its wonderful flavor. I am not a coffee fiend but I do know that this is my favorite coffee.
The Neal Family
Rex, GA
great name with an exact expectation
what a coffee. very unusual roast. never had a coffee so different. great blend. i couldn'd find an issue. tto busy enjoying it!
french press addict
castro valley, ca
This is one of 2 Boca Java that we enjoy every evening, It tastes the way it smells.
BeeBear
Mesilla Valley, NM
It is use at my church.
Grand ma the dog sitter
Lyons NE
For the Curious Java Consumer
This coffee is one of my favorites, as well as my family's too!
Cool Beans
Philadelphia, PA
Tastes identical to the regular product. NO decaf taste at all.
Laminitagirl
Avon, IN
Use this at my church at fellowship time.
Grandma the dog sitter
Lyons NE.
MY WIFE AND I ENJOY THIS COFFEE EVERY SATURDAY AND SUNDAY MORNING WHILE SITTING IN OUR SCREEN ROOM OVER LOOKING THE LAKE. IT DOESN'T GET MUCH BETTER THAN THAT.
ROY
HAMPTON, GA
I buy this product again and again.
I love this coffee. I blend it with Palm Beach and it is a perfect blend for my family.
Mimi
Hopkinsville, KY
This has become my all time regular coffee. Brew of Bravery comes out perfect every time and never gets boring.
Deanna
Poland Spring ME
I LOVE this coffee. I have tried almost all of the blends, both flavored and unflavored, and this is by far the nicest blend. It is smooth and tasty, medium bodied. I drink at least a pot a day by myself, sometimes more, and I never tire of the flavor!
busy work at home mom
Rutland, MA
I purchased thhis for my husband. He only drinks decaf and feels it tastes good.
Grandma Nancy
Carpentersville, Illinois
As a mother of a recently returned soldier. I love what you are doing for the troops.
GA Girl
Georgia
I love just smelling the aroma of your coffee when it's delivered to me.. I take a few minutes to inhale and close my eyes and enjoy the freshly roasted beans.
Linda
Brooklyn, CT
This is our favorite coffee of all of them! It has a nice roast and a nice flavor. Never bitter!
busy mom
Rutland, MA
I have tried many brands of Decaf coffee which we drink in the evenings, Boca Java Brew of Bravery is by far the best of the best.
BeeRose
Mesilla Valley, NM
Delicious meduim to light cup of coffee
An enjoyable cup of coffee, ending with a delicious aftertaste. Most importantly, the title of the coffee always promps me to pause to think/pray/be thankful for all our soldiers that make personal sacrifices in order to protect us Americans wherever we are in the world ever day.
Bryn, the java drinker
Blue Bell, PA
great coffee
tcprst
wilmington
Best coffee I've ever had
I used to think Dunkin Donuts had the best ground coffee (since I could no longer get the US Navy's coffee in the big silver can). Their quality has decreased in recent years, and a friend shared Brew of Bravery with me. I mix it 50% with the regular Brew of Bravery and it makes a perfect cup of coffee. I have enjoyed coffee for over 50 years, so I know from whence I speak. I sure would be nice, though, if Boca Java would include this mix in your specials.
Tudie
Jacksonville, FL
One of the best decafs we have ever enjoyed!
BeeBear
Mesilla Valley, NM
This coffee is my favorite in the world. I've learned to use fewer beans to brew it because it's so flavorful. I love it.
Pot a Day Pat
Atlanta, GA
My family loves the product. It always tastes as wonderful as it smells. We bring coffee for workplace settings and church gatherings. Everyone enjoys it. I also appreciate the fact the our troops recieve a supply of this flavorful coffee.
Tasha
Rex, GA
It didn't take any bravery to drink this
Love the coffee. Love what it stands for more. Most don't do enough for our service members. Boca Java is over and above one of the best supporters of the Armed Forces. Our area has had several physicians go to Iraq. Boca Java sends LOTS of coffee just because I sent an address. They were all surprised and grateful. Thank you for the coffee and the support of our troops.
Retired Army Nurse
San Antonio, Texas
A coffee that's far above rest
I use as an everyday coffee. I actually use half Brew of Bravery and half Caramel Kiss Island Coffee when I brew.
Decaf Jess
Richmond, VA
Brew of Bravery Coffee
96.1