Coastal Costa Rica Coffee (DECAF)
This decaf Costa Rican coffee is a single origin, medium roast. This fresh roasted coffee yields a delicious and well balanced cup, every time. Read More
This gourmet decaf coffee yields an excellent body, a complex taste, smooth finish and is touted as an extremely well-balanced cup.
If you enjoy our Decaf Coastal Costa Rica coffee, our Roastmaster suggests you also try our Decaf Sumatran Sunset Coffee.
Decaf Coastal Costa Rica is our most popular single origin coffee subscription by our Coffee Club members. We freshly roast every bag of coffee, and deliver it directly to your door at a frequency of your choosing.
We won't roast your bag of Boca Java coffee until after you order it, ensuring the freshest coffee possible. Each and every time!
A Little Bit More About This Coffee
Attributes:
Varietal:
Caturra and Catuai, Sarchimor
Altitude:
1100-1450 meters
Region:
Central Valley, Costa Rica
Tasting Notes:
Clean, Winey Acidity

Medium Body

Chocolate, Almonds & Citrus Notes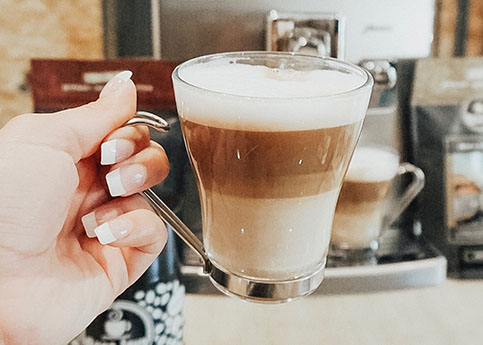 Top Selling medium Roast Coffees
yes I will buy this again!
just good ole morning coffee. Smooth and perfectly roasted
ck
st. louis MO
Want a little taste of Costa Rica ? The coffee is pleasant, good tasting.
Nat
NY
Great for breakfast and dessert
I like this flavor as a change of pace from some of the stronger flavors.
Thumb
Nashville, TN area
Live bocco java its the only coffe we drink now. It wakes us up every morning!
Carole
Fredericksburg VA
Won't make this mistake again...Universal Grind only!
Helen M
shrub Oak
Perfectly balanced medium decaf
I have to drink decaf for health reasons and this is a great medium roast. Not too dark, not too light, not watery and smells good even with my thermal carafe.
gamerchic
Colorado
This is hands down one of the best Costa Rican decaf coffees
I love this blend. It has a great aroma and a deep rich flavor without being bitter. I wish the product came in different size options.
Yoopie
United States
Very pleased with this decaf. Will definitely purchase again.
BSS
AZ
I love Costa Rican and Nicaraguan. My favorite coffees. This coffee is the best Costa Rican I've had (and their Javanica is excellent Nicaraguan as well). Rich, smooth, flavorful.
Tesgin
PA
Great any time of day
Mike
Goodyear, az
I will definitely buy this again and again
Great any time or after the evening meal.
mike
Goodyear, AZ
Tastes like caffeinated coffee!!!
I LOVE the taste of coffee but have found I can do without the caffeine. I have searched for the perfect decaf coffee that DOESN'T have that weird decaf aroma and aftertaste. I tried Boca Java after reading previous reviews and the Coastal Costa Rica Coffee (Decaf) is hands down the BEST. I have used and made this coffee using a french press, an automatic drip and cold brew method. It always turns out PERFECT. Rich, bold flavor without any bitterness. Smooth and delicious. I don't know how many decaf brands and varieties I tried before giving Boca Java a try as I thought I was just never going to find the perfect decaf beans. However, I am happy to report and sing the praises of Boca Java's Coastal Costa Rica Coffee (decaf). Give it a try, you WON'T be disappointed!!!
Yoopie
Finksburg, MD
IN MY OPINION SUPERIOR TO COLOMIBAN
HELEN M
SHRUB OAK NY
SMOOTH, SLIGHTLY SWEET OVERTONE
I prefer a bold roasted coffee - Coastal Costa Rico tends to be just past the 'medium roast' it is labeled as. This one fits very well with my preferences.
Classy Lady
Brownwood, Texas
This is a wonderful coffee. It is very smooth, has a good mouthfeel, and is NOT bitter or acidic. I really enjoy it.
Grandma Judy
West Palm Beach, FL
Really enjoyed this coffee.
KC Girl
Kansas City
Every night after dinner, just as it comes out of the pot, nothing added, ever!
BeeBear
Las Cruces, NM
Costa Rican Tarrazu...simply the best.
There simply isn't a better cup of coffee out there. I buy whole bean and grind it fresh whenever that craving comes over me...which is frequently. Whether it is the first cup of the morning or the evening cup sitting on the balcony looking out at the sun as it dips below the horizon. That's what I love about Coastal Costa Rican, it is perfect any time of day. Lastly, just a plug for Boca Java, I only drink decaf coffee and I have not found a better selection of perfectly roasted coffees anywhere! Cheers!
Mystic Java
Okinawa, Japan
Coastal Costa Rica Coffee
Morning drink!
Bob
Pottstown Pa.
Always come back to this one
Great tasting coffee, I have tried most of the decaffs, and always end up coming back to this. The taste is classic, just like what you would get on a high end restaurant. Love it!!!
elpapotz
Dallas, TX
Taste is better than regular!
Mornings always!
Bob the best
Pottstown Pa.
Boca Java coffees are the best. Love them all especially the Bananas Foster. Delicious
LOGAN
Mountville, PA
Great coffee, tastes the way it smells.
Old Carpenter
Las Vegas, NV
The gal I work with cannot drink regular coffee. She thoroughly enjoys this coffee for its wonderful flavor. I have no such restrictions but I can enjoy it right along with her.
Maggie the cat lover
Harrisburg, PA
I switched to a French press recently, and this is my absolute favorite coffee in the French press. It smells yummy and tastes great even after it sits in my insulated travel mug for an hour or so.
Pam
Torrance, CA
Shared with others a few cups...very nice decaf
Storekeeper
Binghamton, New York
I would buy this product again and again
I just like it--it tastes more like regular.
Bob
Pottstown Pa.
This is a wonderful coffee!
This coffee is so smooth and delicious. Perked it, used it in a dripolator, and a one-cup. Was great in either.
Shoe crazy
Jefferson, Ga.
"I Can't Believe It's Decaf"
Pleasant coffee for late night craving, without the worry of the extra caffein.
Beisen
Granite Falls, NC
This is really good coffee. I usually drink at least one pot per day.
Jerry the Pilot
Lexington, KY
nice when i just want an uncomplicated cup of delicious coffee
stxgal
bulverde, tx
Great in the morning, a lot of flavor and a terrific aroma
Decaf afficionato
Poughkeepsie,NY
We love all your coffee's we've tried so
Though I am an average Joe, I am very picky about my coffee.
hot grandma
San Jose del Cabo, Baja, Mexico
Great any time of the day
Just a great cup of coffee
Donnalya
NJ
I love the stong flavor that doesn't leave a acid-like taste in my mouth.
MT
Wisconsin
My "special occasions" coffee.
To me, this coffee has a true "nutty" flavor and satifies the taste conscious coffee drinker.
Coop
Brownsburg, Indiana
i would b uy this product again
i use it wheenever have friends o ver . or with my husband ron.
WendyMacA
West Bloomfield,MI
I love strong flavorful coffees.
I make it and drink it the best way------Black. This way you can taste the coffee, not the flAVORING.
Pet lover
Indiana
Great!! No one Can't tell its decaf.
Mommy of Two
Antelope Valley, CA
best coffee taste.
am coffee drinker
miami florida
Taste--better than caffine coffee!
All my children drink caffinated coffee--but they visit us they get the above. They like it!!!
Bob
Pottstown Pa.
I have enjoyed this blend for years. Costa Rican coffee is my favorite
Chris the Pastor
Ossian, IN
I prefer Sunrise, but this too is good !!
Pammie
Delphos Oho
This is my regular blend when choosing medium.
Tim Gotta have my Boca
Waxahachie TX
Great taste. Wonderful aroma.
Great tasting coffee.
Aethena
Seattle, WA
After sampling a good number of Boca Java coffees, the Costa Rican blend was established as our favorite, our family standard. It possesses all the qualities listed above with very little to dislike.
Da Porge
Maumelle, AR
I have always used regular and was redisend to try decaf...it's GREAT.
pollyanna51
SHRUB OAK NY
We enjoy our decaf coffee after dinner. It finishes the meal perfectly.
BeeBear
Las Cruces, NM
Smooth, hearty, flavor, without the caffeine - yay!
BarristerBabe
Lantana, FL
Coastal Costa Rica Coffee
94.4