Panamanian Rainforest Coffee
A medium roast single origin coffee from Panama, with a rich body, and sweet cocoa, vanilla and nutty tones. Read More
We ethically source our 100% Specialty Grade Arabica, Direct Trade Panamanian Rainforest Coffee from the award winning Hacienda La Esmeralda family farm, located in Boquete (in the Province of Chiriqui, in the SouthWest region of Panama). Our Direct Trade coffee is shade grown at 1,100 to 1,250 meters above sea level on the slopes of the Baru volcano, in rich volcanic soils. 
Panamanian Rainforest coffee is truly one of the most exquisite coffees you will ever taste. If you enjoy our Direct Trade Panamanian Rainforest coffee, our Roastmaster suggests you also try our other Direct Trade Coffees.
We won't roast your bag of Boca Java coffee until after you order it, ensuring the freshest coffee possible. Each and every time!
A Little Bit More About This Coffee
Attributes:
Altitude:
1100-1250 meters
Region:
Hacienda La Esmeralda, Boquete, Panama
Tasting Notes:
Rich Body

Balanced Acidity

Sweet Cocoa, Vanilla & Nutty Under Tones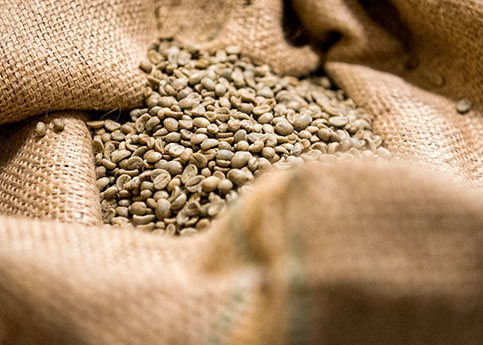 Top Selling medium Roast Coffees
No accessories needed nor do I have any
Joyces
North Carolina
Good coffee
Peter
Litchfield County CT
Incredible
Goomer
Upstate ny
Love Panamanian coffee...Bouquet is my favorite and it's hard to find for me here in TN
KB
Nashville, TN
To start my day
Star
Leicester, NC
Great flavor yet smooth taste
GML
Dallas TX
I have used this in a french press and automatic and everyone LOVES the flavor.
Jen
Racine, WI
Definitely a great flavor! Making it one of my regulars
I absolutely love everything about this coffee! The Aroma is fabulous, even when I am just grinding the beans it just makes my tastebuds tingle. The earthy yet full body flavor that is yet so very smooth is just perfect. It's definitely worth the try. You won't be sorry if you do!
Iris Chef A
NC
Great taste!
Lisa
Orlando, FL
Panamanian Rain Forest is as fresh as it Sounds!
It is a nice change from my favorite morning coffee which is Javanica. I only drink freshly ground coffee.
piano8836
Lexington, SC
I buy this coffee 10 bags at a time. Love ii!
I make my morning coffee by combining about 10oz of this bean coffee with about 5oz of 2 per cent milk frothed. Heaven. Best coffee I have ever had even after a month in Europe. Takes only a little time experimenting to get the hang of it so as to suit your own tastes.
Bill
Kokomo, Indiana
I would buy this coffee again and again!
Don't be turn off by the medium roast this is a rich tasting coffee!
Ray
Scottsdale, AZ
Tastes wonderful in a french press.
Jen
Wisconsin
Great Coffee, Worthy Cause
Great way to start the AM e-mail check at work
Osprey
Hudson, MA
I love this coffee!!! It is so good...I would buy it again.
I just love this coffee!!
Sandy
Zebulon, NC
One of the products we occasionally add to our regular order. We purchase several flavors with each order for variety
Tovah T
Stafford, Va
it good
pete
Fryeburg Maine
You will love this Rainforest Blend
Awesome whole bean grinding
Johnwaldo1
Kingston, NH
I'm glad I tried this coffe. It's one of my favorite beans
Pascal
Newport News, VA
This is a delicious,light to medium roast coffee.
I am the only one that drinks coffee in the morning.I make it in my 4cup perculator,but I only make 2 cups at a time,it fits perfect in my large coffee cup.I can't drink coffee that has been sitting for a long time.It makes me nauseous.But this coffee isn't like that.Its not bitter at all,if you leave it standing,it still tastes the same as if you just made it.Thats what I Love about it,and the Panamanian Rainforest is my favorite.I have joined the coffee club,and I'm waiting to get my next order.please put a RUSH on it,I'm all out.LOL Thank you,Mary Ann Mayo
Mary
Chicopee,Massachusetts
I take it to work to share. Everyone loves it.
Kelly
Madison, AL
The Selection Novices can Show Off!
So here's the deal...Do you know how some hotshot says try this and enjoy the "cocoa" or "fruit tones" blah, blah, blah. So you taste it, like it a lot and aren't really sure why? Try this blend...even us "untrained palettes" will actually detect the cocoa and fruit tones, and they're great!
Paulie Walnuts
Tallahassee, FL
Great Medium Roast Coffee!
I use this in an Impress Coffee Brewer Mug...awsome for a person on the go, and brews an nice cup with this coffee.
Marcus
deployed far far away
Superb Coffee Done Right!
I love when "doing it right equals instant gratification!" Rich, smooth and wonderfully interesting taste from a family owned plantation in balance with the rain forest. Highly recommend this brew to anyone regardless of "aficionado" development.
Paulie Walnuts
Tallahassee
brew 1-2 cups daily. love the smell of grinding whole beans. not bitter. TASTY!
coffee nut
adrian, MI
Good
Daredevil Bob
Billings, Mt
Definately a great cup of coffee
An exceptional coffee. I have not had a good tasting coffee like this since I was in Ecuador.
Streikende
Rochester NY
Mostly morning to midday . Then we switch to Decaf.
Biggin
Ky
Great tasting coffee. One sip gets you hooked on its smooth and satisfying flavor.
Ranokia
Webster, MA
As I said Smooth and Mellow
loydgolf
Milwaukee, Wi
I would buy this product again and again
It's great for an afternoon cup and a peace of cake
hawiko
Hanover, PA
everything is great
ned
livermore
Best Coffee I ever Tasted
I enjoy it both hot coffee with breakfast and iced coffee the rest of the day.
Ice coffee
Surfside Beach, SC
This is one that I always have to buy extra of; my boyfriend likes it as much as I do, so I have to share!
topcat63
Kansas City, KS
Panamanian Rainforest is my all time favorite coffee! I must have expensive taste because it is one of the more expensive flavors but it is well worth the price! I will buy this flavor again and again. And I don't like to share! I keep this one all to myself!
Mary RN
West Central Ohio
It is a smooth moderate coffee. But you can make it very strong if you wish. But, I think is a waste of flavor.
YumYum
Oh
Panamanian Rainforest Coffee
I love this coffee first thing in the morning. It's a great way to wake up. The pleasant aroma fills the kitchen and the taste is superb with no bitterness. A great full-bodied coffee that starts my day off right.
Judy the nurse
Conyers, GA
Great coffee, for all occations. I use it when I have guest over for dinner and this goes great with after dinner. Never had any complaints!!!!
Bazzy
Englewood, Fl
Thsis a rich roast that delights the palate. I will definitely be getting more of it and it will be a regular in our house.
Annie
Austin, TX
What else can I say? I love all the high $ selections that Boca Java offers, but for my buck this coffee is #1. It is as smooth as it gets. Love it again and again! Thanks for the selection.
QBall
York, PA
Beautiful as the rainforest
I absolutely love this coffee. I love the bag and the artwork on it. It is as special as the coffee inside. I would love to go to Panama like my friend did on a birding trip. It is amazing, so therefore this coffee gives you an idea what to expect, Beauty and Amazement.
Hippo the Connoisseur
SI, NY
loved this coffee
Barb
Edgewater, Fl
light bright rich flavour
wolf brew tester
wisconsin
my favorite morning cup!!
stevie g
new hampshire USA
The most appetizing coffee scent I have ever had the pleasure of sniffing.
darrwess
Raleigh, NC
This coffee has a nice balanced flavor and body that leaves behind no acidic reminder on your tongue only the desire for another sip!
Sandyshoes
Palo Alto, CA
Best on a leisurely Saturday morning!
Di
Kingwood, TX
A Favorite, full of flavor
This coffee is one of my favorites...just enough kick to get you going, smooth taste...nothing but an awesome review on this one from me!
Joan
Auburn, GA
There's something about this coffee. It's one of my very favorite morning coffees. I don't normally like heavy acidity but the complexity of the flavors and the boldness of the coffee makes it work.
Midwest Jim
Columbus OH
Wakes you up when your dragging
Loydgolf
Milwaukee
Panamanian Rainforest Coffee
85.1