Project C.U.R.E. Coffee - Direct Trade Nicaragua
A medium roast coffee, made with Direct Trade beans from Nicaragua. Proceeds from every bag sold help benefit Project C.U.R.E. Read More
Help us make a difference one cup at a time!
Project C.U.R.E. Nicaragua Coffee is a rich, slightly sweet and remarkably smooth blend of estate grown 100% Arabica Nicaragua coffees.
For years, Boca Java has partnered directly with the Nicaraguan coffee farmers and Project C.U.R.E. to offer you fresh roasted, delicious coffees that deliver critical medical relief to the people of Nicaragua. When we work through direct trade, this allows us to pay a premium price for the best coffee beans available directly to the farmers for each coffee crop, rather than paying a middle man.
Each bag of the Project C.U.R.E Nicaragua coffee sold provides $60 of Medical Relief.
To learn more about our relationship with Project C.U.R.E. check out the video here.
We won't roast your bag of Boca Java coffee until after you order it, ensuring the freshest coffee possible. Each and every time!
A Little Bit More About This Coffee
Attributes:
Varietal:
Catura, Pacamara, Java
Altitude:
1400-1600 meters
Region:
Jinotega, Nicaragua
Tasting Notes:
Mild Acidity

Soft Chocolate Undertones

Buttery, Smooth Finish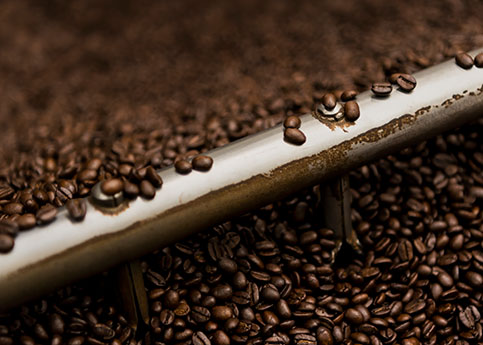 Top Selling medium Roast Coffees
My favorite go to coffee to start the day!
To start the day!
Ray
Scottsdale, AZ
We are so glad we decided to give this coffee a try!
Fran
Florida
Excellent blend. Very pleasing flavor.
Liz
West coast Florida
LOVE this COFFEE love this CAUSE
Our service organization brewed and sold this coffee to raise funds and awareness for Project C.U.R.E. and everyone on campus LOVED it!!
PKSserviceorganizations
Nashville, TN
has been a favorite since the first time.
We use a "auto timed" grind/brewer.
Judy
Illinois
This is our go to coffee. It is great and we have given it as gifts as well, to introduce friends to Boca Java. We especially like Project C.U.R.E. project.
Sue
Northeast Missouri
Love to wake up and smell the coffee!
coffee lover
Missouri
I really enjoy this coffee!
This is a really good coffee, and I would recommend it to anyone who likes coffees from different parts of the world.
Shannon
Norman, OK
Great coffee for a great cause
Great taste and it helps a great cause
heatherdarren
Colorado
this was my first time trying this coffee I made it for my sister and I on an early morning run to the MVC to take a test. We both found the coffee very Tasty and gave us a nice start to the day. I will definitely be buying this again and again going to be a regular in my home.
Cubanita
Jersey City, NJ
The finest coffee I have ever tasted & profits going back to ProjectCURE that in turn delivers health care medical supplies BACK to the very farming community that grew & harvested the beans? This is a serious no-brainer!
Jimmy
Littleton, CO
This coffee is wonderful!
This is a smooth, delicious coffee that is extra delicious in my Grind and Brew! The fact that it's Fair Trade just adds to it's appeal!
Xansnana
Avon, ny
Yes. I have purchased in past and enjoy it.
I have a drip coffeemaker which grinds to my specification. I usually start with med strength and move up or down as needed to suit my taste. This is a great coffee for both med and strong. Flavor enhanced and is not bitter when strength increased.
Grams
KCMO
Enjoy this Roast from Nicaragua
Drinking it anytime!
Ron
Minnesota
Nice coffee with a smooth flavor
Reed
Marysville
Excellent
Liz
Florida west coast
Had it for breakfast this morning
I enjoy this coffee on a regular basis. It is one of my favorites
777Tracy
Hobe sound,FL
Consistent quality of Boca Java products
Very good coffee - quality consistent with other Boca Java products.
Allen
Cincinnati,OH
I would buy this product again
I enjoyed the cups of JOE
Vick
Denver, Colorado
Excellent flavor, very pleased
Cold water ,drip
Lizzys
Weeki wachee Florida
I enjoy this Direct Trade Coffee a lot!
JT Free
Gypsum, CO
I love the aroma in the morning while waiting for that first cup
Gerry
RI
My breakfast starts with coffee. While I usually don't drink caffeinated in the afternoon, this made a very nice iced coffee on our picnic this weekend.
Ken
Albany, NY
A very good, respectable, but not to remarkable cup of coffee.
jtb
Paducah, ky
Somewhat smooth taste but not as expected
I used this in an automatic drop. Perhaps a pod using the strong setting would be better. Or, better yet, dark roast instead of medium like I ordered.
Lola
San Francisco
brewed in a grind and brew coffee maker.
none
nc
I really did not care for this blend. It just did not connect with me and I found little to like about it. The "cause" is good, though.
Retired CEO.
Ada, OK
Not as good as it should be
This should have been better.
Markus
Midwest
Project C.U.R.E. Coffee - Direct Trade Nicaragua
92.9