Jamaican Blue Mountain Reserve Coffee
A medium roast, rare single origin coffee made from certified Jamaican Blue Mountain beans with a delicate, light body, hints of hazelnut and honey, and a subtly floral finish. Read More
One of the world's most sought-after coffees, Jamaican Blue Mountain Reserve coffee is characterized by a mild, slightly sweet flavor with an enticing nutty aroma and a long finish. Our 100% authentic, limited-reserve Jamaican Blue Mountain Arabica coffee beans are some of the rarest available.
This specialty coffee is not refundable once roasted. If returned unopened within 30 days, a store credit will be applied to your account minus a 25% handling charge. All store credits are valid for 90 days.
We won't roast your bag of Boca Java coffee until after you order it, ensuring the freshest coffee possible. Each and every time!
A Little Bit More About This Coffee
Attributes:
Varietal:
Jamaica Blue Mountain Cultivar
Altitude:
1500-1700 meters
Region:
Blue Mountains, Jamaica
Tasting Notes:
Delicate & Light Bodied

Hints of Hazelnut and Honey

Subtly Floral Finish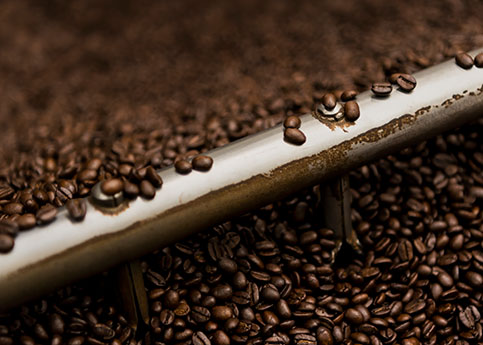 Top Selling medium Roast Coffees
Heaven in a cup. Worth every penny. Always my favorite. Mmmmmmmmmmmm
MarchRocket
Central Oh
Love this coffee. Vacation in a cup!
Best thing about my morning when I need a treat for myself & family.
DK
Laurelton, NY
This has got to be one of the most wonderful coffees I've ever tasted. The flavor is rich and full with no bitterness or acidity. I bought two bags on sale and gave one to a very picky coffee concourse friend. This is the email I just received: I REALLY LIKE JAMAICAN BLUE MOUNTAIN COFFEE! And that sums it up nicely. If you like good coffee, I highly recommend that you try this. You will not be sorry!
Linda M
Harrisburg PA
This a nice, smooth, pleasant tasting coffee however for the price I would have liked a more exceptional taste.
Sha
NY
I'll will always have this on hand!?
This is my all time favorite coffee! It's expensive but so worth the taste and experience!
Jillbecker314
Phillipsburg, NJ
I have and will buy this again
i drink this flavor every day
Scott the coffee drinker
Houston Tx
This coffee is never disappointing. Worth every penny.
Lena
Tucson az
Wonderful cup of coffee.
Jeb
NC
Gorgeous coffee! Would buy and buy, if I could...
This expensive coffee is costly only because it's supply is very limited, not due to a "designer" nature. I would buy this again and again if it were more affordable but, because it's not, getting it occasionally is a delightful and refreshing experience each time. I wholly recommend it at least for those special occasions!
Kay Kaye
Williamstown, NJ
Smooth and delightful. Would definitely buy again.
We use coffee maker or it can be used in Keurig if using K-cup replacement.
Aeng
New Jersey
EXCELLENT As good as Jamacia
tastes Wonderful ...but very expensive
Scott
Sugarland Tx
I Recommend buying
Mike805M
Santa Barbara, CA
I would recommend this one for sure.
Don't have any
KrazyKat57
Effingham, KS
I first had a version of this coffee on a cruise of the Caribbean. I'm not a breakfast person but I got up every day for breakfast just to get the coffee. This was every bit as good as I remember from the crise
TessD
San Antonio TX
This is a special coffee and deserves special occasions.
Thumb
Nashville TN
Jamaican is a wonderful, luxurious treat that makes the day special.
Pat the Breakfasteer
Atlanta, ga
Always good. My favorite.
I use a Hario ceramic burr hand grinder with a Chemex pour over 12 cup pot. Amazing coffee every time. I have been buying Boca Java for 8 years now, and have gone from automatic drip to french press to Chemex pour over with a hand grinder. The Jamaican Blue Mountain is the smoothest of all of the single origin coffees in my opinion.
spartytx1994
Modesto, CA
Love, love, love this coffee!
Expensive? I thought so. Worth it? Most definitely. Had this (using our grind and brew) for a special treat Christmas morning and I couldn't stop smiling. Smooth. No bitterness. Perfect blend for me!
new england girl
Portland, ME
"The Best Wake-Me-Up Ever"
I use this particular coffee when I need a little extra something in the morning to get me going. It is simply my favorite. It is somewhat expensive so I use it as a treat about once a week.
Coffee Drinker Since I was Twelve Years
Alma, Arkansas
Too Expensive
MisterRobert
North Carolina
Simply put it's the best on the planet
big mike
palm bay florida
Best Coffee - nothing comes close
This is expensive coffee, but it is great to use for guests, particularly during the holidays. I even have people who are not "coffee drinkers" have a cup when I make this for holiday gatherings. The roast that has been selected for this coffee is perfect, a medium-light roast.
Randy the tax man
Arvada, CO
love the flavor and taste. Great to serve to special guests.
quiltingkarenfaye
eau claire, wisconsin
Truly Great, Although Pricey
Except for price it is a perfect 10. Rates along side of Cool Breeze Columbian.
jtb
Paducah, ky
Everything I hoped it would be
Blends well with liquid Creamers or wonderful without
Nana x 3
Fort Worth TX
this is the best coffee i have ever had it is so smooth! even if you get it a little too strong the coffee still tastes so good and its not bitter
viper
agra,ok
This is an amazing coffee. It is my favorite!
Allie
Fort Smith, AR
This is a VERY good coffee. The thing that strikes me is how smooth it is. It is a very well balanced coffee. If you are looking to splurge or find a gift for that hard to buy for person try this out. However, I got it to drink a little at a time...it was gone in just a few days!
Mike
Columbia, TN
a true coffee lover's dream- low acid with a smooth taste
beach bum
fort myers beach fl
I have to confess sin every time i drink
I drink it after meeals
Andy
Tucson AZ
I was in awe. Best coffee
This is oone of the best coffees I have tasted. It is not bitter and is I really enjoyed this coffee
omomador
Cedar Knolls, NJ
EXCELLENT JAMACIAN BLUE MOUNTAIN COFFEE
This is the very best coffee I have ever tasted in the world. I recommend this coffee to everyone who is reading this comment. You will not be disappointed in the taste or aroma.
Greg
San Diego, CA
My favorite coffee. Satisfying aroma & taste, and acidity is just right. More expensive than other coffee but cheaper than buying those mediocre ones at any of the coffee stands, I bet.
momotigger
Glendale, CA
Hands down the smoothest coffee I have made at home. I absolutely love it, wish I could afford it year round!
MapMom
Pennsylvania
Despite being persona non grata with Boca Java, I feel compelled nonetheless to add my two cents and report that having purchased several different versions of Jamaican Blue Mountain coffee over the years from reputable purveyors, this version rates at or near the top. Only J. Martinez & Company can consistently compete. Even when including only genuine 100% Blue Mountain coffees for comparison, they unfortunately and for reasons I do not understand, do not exhibit uniform taste or quality from company to company. Worse yet, the price paid also demonstrates no relationship with taste and quality. Perhaps then, the answer predominantly lies with the art of the roaster!
Doc
Livingston, NJ
Best coffee In the world!!
I would love to buy this coffee from Boca Java, but will not.. I don't mind paying alot more for it, but I do expect to pay a FAIR market price.. I can buy 1 pound for the price you charge for 8 oz from many other reputable companies. If you ever decide to be more cost competitive, please let me know. I would come back to Boca Java to buy it.
Liz
Pine Bluff AR
This my Sunday coffee or for an award for getting up earlier than I want coffee. Even though this is an expensive coffee I reccomend that you use it regularly when you get it, other wise it will lose that special aroma and taste. It's REALLY good.
talent
Los Angeles, CA
Subtle, smooth, sweet and delicate. The best coffee I have ever tasted. I've had Jamaican Blue Mountain before, but either my palate hadn't developed enough to sense the exquisite subtleties of JBM, or it wasn't as good as Boca Java's--which is first-rate.
Lightly-Cooked
USA
Makes Kitchen Smell Delicious
A great compliment to the morning newspaper
Cen Tex Tom
Austin Texas
I was lucky to be apart of the free bag of coffee (whole bean), upon receiving it I decided to get the new roast a test. I was absolutely amazed at how good this coffee was. The aroma was incredible, the smoothness and bold flavor of the coffee was incredible. Shortly after finishing the bag I mentioned to my wife it was probably the best coffee I ever had, then I went to order more and saw the price. Though it is expensive, it is worth it, and the price makes sense for the unique and rich flavors of this coffee. At a minimal, it's worth buying just to try. But I will say, it is one of the best roasts I have ever tasted.
Chris
Allison Park, PA
Being an avid Green Bay Packer fan who recently returned from Jamaica, I decided to treat my friends to dinner and watch the PACK DESTROY the Bears. I cooked a gourmet meal and served the Blue Mountain coffee------MY GUESTS RAVED AND WHEN TOLD WHAT THEY WERE SERVED WERE ASKING FOR REFILLS ALL AFTERNOON!!!! GREAT OFFERING !!!!
Mike the Packer Fan
Somers,Wisconsin
This is a great present for a friend or for yourself, it is just truly the best coffee I and my family have ever had, we cannot rate this high enough
TJ
Texas
Jamaican Blue Mtn Reserve
Jamaican Blue is a smooth, non-bitter coffee, with no aftertaste.
CALI
Fort Worth, TX
I can now understand why the price on this coffee is what it is. It is the best coffee that i've had.
ottogoss
Ft Wayne, IN
The best Coffee in the World
This is the best Coffee in the world.
Dan
Hurst, Texas
Great eye opener in the morning. Awesome throughout the day, also. I sit and relax and imagine I am on the beach in Jamaica.
Sunnshine
TempleTX
This coffee goes down easy. Nothing even comes close to the flavor and smoothness of this coffee. THE only problem with this coffee is the price. Unfortunately, I only get to have it a couple of times a year.
Rexter
Fort Worth, Texas
Would serve this to anyone.
DavidM
San Diego
Excellent coffee full of flavor
Very pleased with the quality of the coffee.
Rob
Kansas City
Hands down, the best coffee I have ever had.
Jon the Conquerer
Saint Louis, MO
Jamaican Blue Mountain Reserve Coffee
72.4