Deep Blue Blueberry Coffee Baby Boca
Mouthwatering blueberries. Read More
Bursting with delicious blueberry flavor, our Deep Blue Blueberry flavored coffee combines 100% Arabica coffee beans with the juicy, sweet tartness of blueberries.
It has a base that's full-bodied and complex, and its intense berry flavor is both unique and delicious at the same time.
If you enjoy our Deep Blue Blueberry flavored coffee, our Roastmaster suggests you try our Coastline Creamsicle Coffee.
A Baby Boca is a 2 oz sample of our gourmet coffee that brews one full 8-cup pot. Simply pour the contents of this small envelope into your coffee maker and enjoy 8 delicious cups of Boca Java Gourmet Coffee.
We won't roast your bag of Boca Java coffee until after you order it, ensuring the freshest coffee possible. Each and every time!
A Little Bit More About This Sample Pack
Attributes:
Varietal:
Catura, Mundo Novo, Bourbon
Processing:
Blend of Wet/Dry
Altitude:
1400-1600 meters
Region:
Jinotega, Nicaragua, Cerrado, Brazil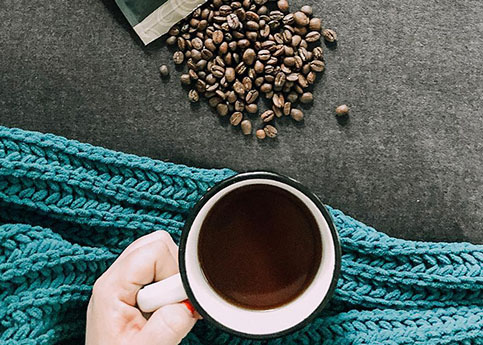 Top Selling flavor Roast Coffees
I thoroughly enjoyed the deep blue blueberry coffee's taste and smoothness.
Sue
Glen Allen Virginia
Purchased to give to a friend
CJH in Dayton
Dayton, Ohio
Finally I have found a coffee that actually tastes as flavorful as it smells! Too many times in the past, other brands we have tried smell so appealing---and then don't really taste like anything beyond a "regular" cup of coffee. This is not at all so with Boca Java. We are really pleased with all the flavors we have tried so far, and will definitely order again.
smallp
Pennsylvania
I love that I can have it delivered to me. Blueberry coffee has been pretty hard to find.
Jo
Mountain View, CA
Very great tasting coffee
peoriaangel
Peoriaq,AZ
Love the blueberry flavor!!
Truly a great blueberry brew of coffee. Not too overwhelming and more than a hint of flavoring. Perfect flavoring for my taste. This is one of my regular shipments now.
Brenda J
Terre Haute, IN
This is one of the best tasting coffees my husband and I have ever tasted. We weren't sure if we were going to like it at first, but after we tried it, we became hooked! This coffee tastes like fresh blueberries exploding in your mouth. It's mouthwatering and so delicious. Words can't do this coffee justice. It's indescribable!
coffee4life
Des Moines, IA
Very smooth blueberry coffee!!
This was the tastiest, blueberry flavored coffee I've ever had...not too over-whelmed with blueberry & not too over-roasted with coffee. Excellent combination of the two...Kudos to Boca Java!!!
Brenda J
Terre Haute, IN
This coffe has a real blueberry taste that lingers in your mouth! Wonderful!!!
Sandy-the newbie
Forest City, NC
A VERY PLEASANT SURPRISE!
As a general rule, I dont drink flavored coffee due to the unpleasant aftertaste. My daughter asked me to get this for her. It was one of the best tasting coffees I have ever had! The flavor was just like FRESH blueberries. My daughter and I both loved it! Cannot wait to order the large size bag!!
ATACAROL
Kennesaw, GA
This is a unique flavor that goes well as a dessert or breakfast coffee, but you must like blueberries.
Jersey woman
verona, NJ
Definitely mouthwatering!
Not much need for cream or sugar to enchance the taste. I enjoyed every last drop.
Jlee
Oakland, Ca
This is a great flavorful coffee! Wonderful blueberry flavor, though not overwhelming.
sweetsharon
Ashtabula, OH
I have it in the mornings - love it
Kate
Palo Pinto Texas
good stuff
deb
millington mi
The best blueberry coffee I've had .
Missie
Meadville, PA
I would never have thought to combine the flavor of blueberry with coffee but the result is amazing! It hits all the right notes both aroma and taste. Just different enough that it perks me up and awakens me faster than any of your other blends. Good job and keep it coming in 2009.
Susie Blueberry Basketcase
Tucson, AZ
I tried this coffee because blueberries are healthy. I don't know how many blueberries are in the roast, but the aroma makes me smile and I seem to feel better . . . ?
Coffee Lover
Camp Humphreys, APO AP
the description says it all
the only thing i would change is next time i will buy a full size bag
racecar00x
indiana, pa
My husband really enjoyed this coffee
I ordered a sample and my husband begged me to order more. It has a pleasant aroma that filled the morning air like fresh blueberry muffins.
Happy Housewife
Atlanta, GA
I USE IT AS A TASTEFUL TREAT TO SHARE WITH MY CO-CORKERS
COFFEE JUNKIE
BOYCEVILLE, WI
This one I will buy again
Rev. Lowe
Jesup, GA
loved the smell but added creamer the first time and it does not combine well
T
colorado
I thought that the taste wuold be like fresh blueberries, but it was not.
kitkat5
Granger, Iowa
Was okay, just not for me.
jazzlover
omaha, ne
It had a great aroma and while it was brewing smelled just like blueberries, but the combination of coffee and blueberry just didn't do it for us.
katie
Kanab, Utah
Boca Java usually gets it right but this coffee was the worst one I have ever tasted. It is too sweet and too light. I had to drink it since I bought it but never again.
Philip
Charlottesville, Virginia
Deep Blue Blueberry Coffee Baby Boca
85.7