Palm Beach Passion Coffee Baby Boca
This combination of medium and dark roast of the finest South American and Colombia Supermo beans produces a full bodied cup with medium acidity and a delicious hint of dark roast flavor.  Its rich taste and smooth finish has made this one of our most popular blends.  Experience the thrill of this full bodied aromatic blend. Read More
Slightly sweet, remarkably smooth. A light and dark roast combination of South American beans blended together for a rich, full-bodied flavor. The marriage of light and dark roasts produces this aromatic coffee for a full body with soft chocolate undertones, offering a slightly sweet, smooth finish. It's one of our most popular non-flavored coffees.
If you enjoy our Palm Beach Passion coffee, our Roastmaster suggests you also try our Coastal Costa Rica coffee.
A Baby Boca is a 2 oz sample of our gourmet coffee that brews one full 8-cup pot. Simply pour the contents of this small envelope into your coffee maker and enjoy 8 delicious cups of Boca Java Gourmet Coffee.
We won't roast your bag of Boca Java coffee until after you order it, ensuring the freshest coffee possible. Each and every time!
A Little Bit More About This Sample Pack
Attributes:
Varietal:
Catura, Colombia
Altitude:
1400-1900 meters
Tasting Notes:
Melange Blend Creates Sweet, Soft Chocolate Flavors

Smooth Finish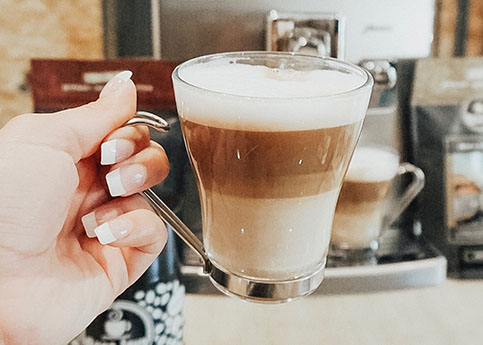 Top Selling medium Roast Coffees
Can't go wrong Very nice
Nan
NY
Nice combo Enjoyable
Nan
NY
an excellant coffee with that extra kick
a delicious brew for anytime really naturally smooth with a kick for a pickup at anytime!
withcywoman
plymouth nc
This is a great coffee for either breakfast time or after dinner. It is the coffee that got me into Boca Java and it continues to be my favorite. The convenient size also makes it a super gift to introduce friends to PBP. Highly recommended for those that like a rich, satisfying cup of coffee with hints of cocoa. Kona coffee is still my favorite, but this is a close runner up.
TwoPynts
Boca Raton, FL
Palm Beach Passion Coffee Baby Boca
100.0