Bali's Best Coffee Candy
From Bean to Cup to Candy - Made with Coffee! Read More
From Bean to Cup to Candy - Made with Coffee!
Deliciously rich, smooth and intense.... The flavor of these coffee candies just melts in your mouth. Enter a whole new flavor experience with Bali's Best Coffee candies, made with real coffee from Sumatran coffee beans. 100% natural. Soft filled center.
Individually wrapped for freshness
We won't roast your bag of Boca Java coffee until after you order it, ensuring the freshest coffee possible. Each and every time!
A Little Bit More About This Food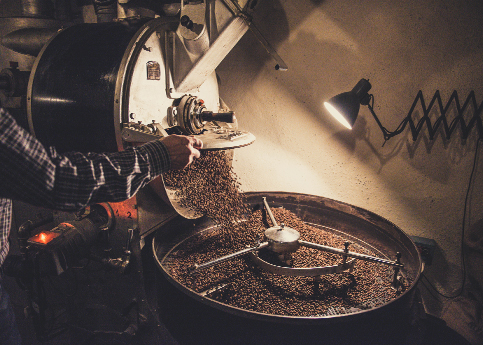 Top Selling Roast Coffees
I HAVE MY FAMILY EATING IT ALL BEFORE I CAN ORDER MORE
NANCY
HUBBARD OH
YOUR CANDY IS THE BEST
NANCY
HUBBARD OH
Great coffee flavored candy. Highly recommend if you're looking for a coffee break.
Kim
Nanticoke, pa
Everybody's Instant Favorite
Watch the look on coffee lover's faces as they are knocked out by this delish candy. Always a hit. Wish I can add it to monthly shipments.
Wolfy
Tampa, Fl
I use it as a snack and it is great because it lasts a while in your mouth. I also tend to have a dry mouth and throat and it helps with that.
JoMill
Grand Junction CO
Good coffee flavored candy. And just the right size.
Jack
Smyrna, Ga
Love it! Love it! Love it!
Carry it with me all the time. My friends beg for it.
Coffeehound
Mountainair, NM
I would definitly buy this again!
I loved these!! I will be purchasing more for Christmas gift baskets. I have not been able to find any coffee candies that match the flavor of these!
rhondarue
Faribault, Minnesota
Makes great gifts! Aren't too sweet, and perfect for coffee lovers or non-coffee drinkers!
faraboverubies
Knoxville, TN
It's like having coffee anytime!
I am no longer able to eat candy, myself, but I bought this for my boyfriend, who loves coffee almost as much as I do. He isn't usually a big candy fan, but he really liked this candy. Said it had great coffee flavor
Shan88
Gettysburg, PA
I rarely review products, but this candy is GREAT! It actually tastes like high-quality coffee, rather than "coffee flavor". Coffee connoisseurs must try this!
kat the fiddler
Chapel Hill, NC
Individualize packets are a big plus for stuffing purses with nice treats.
Chi
Denver
Real coffee taste in solid form
This candy has the taste of real smooth, creamy coffee. It is perfect for times when a cup of coffee is just what you want but hot liquid is unavailable or inadvisible. It helps with "dry mouth" due to medication since it is a long-lasting disk of flavor that isn't too sweet.
Nandel
Oroville, Wa.
These are so wonderful to have with you wherever you may go..a nice lift and beautiful flavor...
Polly56
La Mesa, CA
Thank You for helping me to find this product. They will make a Great gift, also.
Ruthie
Kersey,PA
IN A PINCH FOR COFFEE ? CARRY SOME CANDIES IN YOUR POCKET !
Vicki
IDA,MI.
These little hard candies are delicious. They taste just like having a cup of coffee and are so smooth and creamy. I like to have one in the afternoons when I am craving a little something sweet. These candies satisfy my sweet tooth without indulging in calorie rich foods that I dont' really need. My son loves them to and has asked if they come in more flavors....
CarolEsse
Manteca, CA
On my last break of the day when I'm too full to eat anything these are perfect. When I want a late night something watching tv, these do the trick.
goldie
upstate New York
These are wonderful. I have shared so much that they are now gone. And by the second day of having them. You need to put more in each bag. That way I may have some by the third day.
Nana
Struthers, Ohio
I love these when I'm with my non coffee drinking friends, yes there are a few of those left in the world, I pop one in and I get a quick fix.
momof4
Hamilton,OH
great coffee flavored candy, would recommend if you like coffee...
Hippie1969
Jonesville, Virginia
It taste like a real cup of coffee which was amazing.
Average Josephine
Queens, NY
Just sweet enough to satisfy that frequent "sweet tooth".
"Ell" the java addict
Kure Beach, nC
Dandy candy, handy coffee w/out the cup!
Also might be nice if they came in a roll (like mints or chocolates do).
Monterey Matt
Monterey, CA
When you want to enjoy the taste of coffee but can't have a cup then this candy is just right!
Patticake
Grovetown, GA
its okay but nothing special
rick
carolina beach nc
I hated it because it was so bitter but my family and friends liked it.
xstitch
Canton Ohio
Bali's Best Coffee Candy
96.4