Inner Peace
A soothing blend of the finest Egyptian chamomile, French lavender and lemon grass Read More
This fresh herbal tea, made from the finest Egyptian chamomile, French lavender and lemon grasses, brews to a beautiful golden yellow with an aromatic, apple-like character. Inner Peace is a soothing, delicious experience for both the mind and body; and conveniently packaged in our exclusive Boca Tea Pyramids. -18 count

- Tea Bio -

Steep Time: 2-3 Minutes
Water Type: Full Boil
Flavor: Soft Floral & Sweet Tones
Body: Light
Food Pairings: This premium, caffeine free Chamomile blend compliments a late night bready snack, and makes a great after meal elixir. This herbal tea can be enjoyed by itself, anytime you need to relax
Our extra fancy teas are curated blends with the finest ingredients. Choose from a wide selection of black, green, or herbal teas - you're guaranteed to love them all!
A Little Bit More About This Tea
Attributes:
Aroma:
Soft Floral & Sweet Tones
Flavor:
Soft Floral & Sweet Tones
Food Pairings:
Late Night, After Meal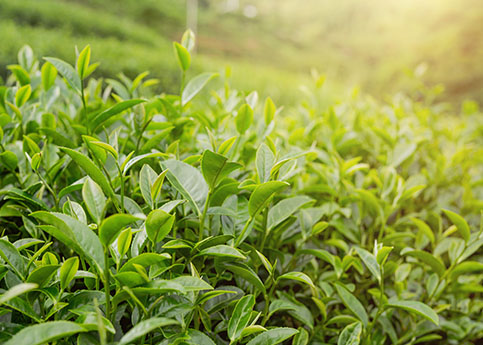 Top Selling Roast Coffees
Calming. Soothing blend with a wonderful flavor.
Will order again. Add to my favorites.
Op
Indiana
I like this tea as a bed time treat!
Eliz
Northern Arizona
I love this Tea! I drink a cup every evening before bed. Helps me sleep and I wake up feeling great.
Jackie
Delta Ohio
I will purchase this product again.
I love the different teas and trying them all, old and new.
Cookie
Hopkinton, RI
Delicious with some cookies, just like the ones I purchased along with my coffee/tea order,
Bucky
Auburn, MA
Light, calming cup of tea
Nice!
MaDay
Midlothian, TX
Best tasting tea I've eve had!
Katie
Chicago
great evening tea, gentle flavor, not overwelming
Deb
Pittsburgh, PA
Very crisp tea. Tastes great.
The flavor is mild, yet it is very nice. This tea is a great evening tea while you relax and watch TV, read a book, play a game...anything relaxing.
Chris
California
This is a real smooth tea, I would like to taste more lavendar and less lemon grass, steaping time is real important, if you steap too long the grassiness of the lemon grass becomes too bitter. Otherwise the Chamomile and lavender are a perfect combination.
Is I love Coffee too much?
Shannon Hills, Arkansas
THIS IS REALLY A GREAT TEA TO ENJOY ANY TIME (BUT I FEEL ALL YOUR TEAS ARE GREAT!)
REN
TORRANCE, CA.