Mandarin Orange Rooibos
Premium African Rooibos herbal tea blended with citrus zest and mandarin orange blossoms Read More
Chunks of real citrus zest, combined with delicate mandarin orange blossoms and blended with premium African rooibos herbal tea. Mandarin Orange Rooibos creates a sweet, aromatic cup. It is like drinking an orange creamsicle. This aromatic, captivating brew is addictive! Sensational hot or iced, it is naturally caffeine and calorie free, while also rich in antioxidants. -- 18 count

- Tea Bio -

Steep Time: 5-8 Minutes
Water Type: Full Boil
Flavor: Creamy Orange Tones
Body: Medium
Food Pairings: Rooibos tea is caffeine free and high in both antioxidants and vitamins. Rooibos can be enjoyed all morning, afternoon and evening and compliments any type of meal or snack. Orange Rooibos tastes great hot or iced!
Our extra fancy teas are curated blends with the finest ingredients. Choose from a wide selection of black, green, or herbal teas - you're guaranteed to love them all!
A Little Bit More About This Tea
Attributes:
Aroma:
Creamy Orange Tones
Flavor:
Creamy Orange Tones
Food Pairings:
Anytime with Any Meal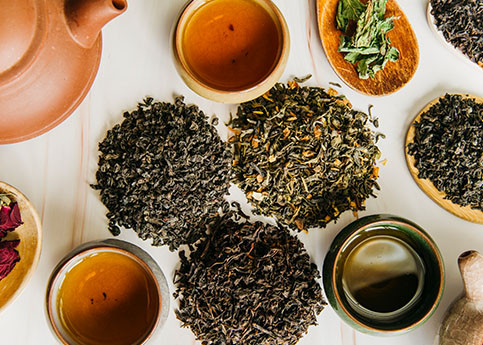 Top Selling Roast Coffees
I love how different it is from my other teas.
Toni the Trainer
Minnesota
I drink it in the morning, it make me feel good whole morning.
Connie the walker.
TX-Texas
Love it
Angel
Frederick Ohio
Finally Found a Good Rooibos Tea
I like to mix a little sugar and cream with this tea for an after work relax time.
Eliz
Northern Arizona
perfect Tea for a soothing day
wish the teabag string was a bit longer
workaholic
indianapolis, indiana
Really enjoy this tea, anytime.
Jeannie
Midlothian, TX
Mandarin Orange Rooibos Tea review
I tried the Mandarin Orange Rooibos Tea at my son's suggestion, and I love it! Rooibos is a stronger tea than your 'average' teas sold in stores, but if you like orange and a robust tea, than look no further as this is the tea for you! I prefer drinking it in the afternoons to help boost my energy and it goes great with scones.
Mom
Las Vegas, NV
I absolutely loved this tea. Had a really bad cold, drank it hot every day. Great flavor. Will be drinking this all winter.
junegem
Reno, NV
Using this tea if you like mild flavor you really can get two steeps with it or one strong steep.
Mike the Moose
NJ
Unique but interesting flavor profile. Has a strong undertone with an orange note that is refreshing.
Texas Tea
Dallas, Texas
Excellent flavor for decaf
Great complex flavor.
Deb
Pittsburgh, PA
A very flavor rich tea. Needs no sweetener. Good finish.
Jason
PA
Wife & her twin sister really like
My wife and her sister "special order" this tea because they like it so much. Those girls...
SirBruce
Tempe, AZ
I was surprised at how much flavor was in this tea.
Twoxalady
Shadow Hills, CA
Good tea
cougsrah
Olympia, WA
Really enjoy having this in the cooler during a hot work day.
BRoss242
Chalmette, LA
Very woody taste with very medicinal quality. Not a tea I enjoyed drinking at
Wyoming tea drinker
Laramie
Mandarin Orange Rooibos
88.2