Our Coffees from the Islands
With the many islands being formed by or hosting volcanoes, their soils are intensely nutrient-rich. Add optimal growing conditions and elevations, and you realize why many islands and island nations are able to produce some of the most exquisite coffees in the world, with each offering varying from one region to the next.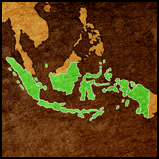 Indonesia
Indonesian coffees vary greatly in cup depending upon the particular island and on whether or not they are wet or dry processing the beans.
Although they can be quite distinct in terms of cup profile, they all tend to have varying degrees of good body and generally work well in blends and espressos, offering earthiness and a long finish.
The third largest producer of coffee in the world, it is interesting to note that only 10% of the crop is Arabica.
Capital:
Area:
Growing Alt:
Jakarta
735,355 sq mi
750m to 1250m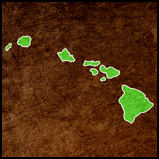 Hawaii
One of the most sought-after specialty coffees, Kona coffee is grown under optimal conditions on nutritious volcanic mountain slopes of Hawaii. The highest-grade Kona offers an extremely balanced cup with a combination of floral aromas and subtle hints of chocolate with a smooth, silky finish. At a premium price, consumers should bear in mind that many coffees sold as "Kona Blends" can contain only 10% Kona coffee, and they should do their homework before making an investment.
Capital:
Area:
Growing Alt:
Honolulu
761,606 sq mi
500 - 700m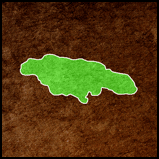 Jamaica
One of the world's most sought-after and controversial coffees, 100% Jamaican Blue Mountain coffee is often characterized by a mild, slightly sweet flavor with a nutty aroma and long finish. It has bright acidity and a slight beef bouillon flavor hint. Due to overproduction, lackluster attention to quality and profiteering, lesser-grade, over-priced product is abundant in the marketplace, and consumers should do their research before purchasing anything less than 100% authentic Jamaican Blue Mountain coffee.
Capital:
Area:
Growing Alt:
Kingston
4,244 sq mi
750 - 1,250m