Light Up Las Olas Coffee
This dark roast coffee blend uses beans from Brazil & Colombia. Its heavy body is balanced with the taste of caramelized sugars and hints of cocoa. Read More
Light Up Las Olas coffee is one of our darkest roasted coffees, offering an extremely aromatic experience with a great finish, due to its exotic mixture of high-grown Arabica beans.
If you enjoy Light Up Las Olas, our Roastmaster suggests you also try South Beach Rhythm Coffee.
We won't roast your bag of Boca Java coffee until after you order it, ensuring the freshest coffee possible. Each and every time!
A Little Bit More About This Coffee
Attributes:
Varietal:
Catura, Bourbon, Typica
Processing:
Blend of Washed/Natural
Altitude:
1600-1900 meters
Tasting Notes:
Heavy-Bodied

Carmalized Sugars

Hints of Cocoa with a Pleasant Bite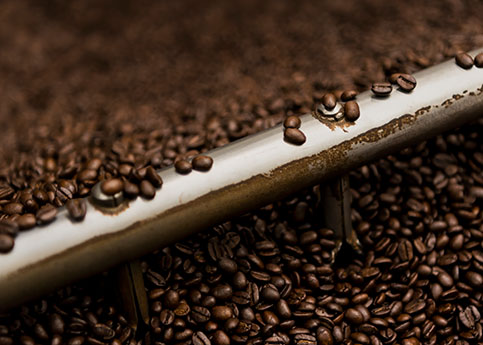 Top Selling dark Roast Coffees
This coffee is SO GOOD!
Scotty Dog
Wyandotte Ok
Nice! Good Coffee! Dark and Yet Bright!
Morning coffee. Absolutely! I actually mix in a little Peaberry with my Las Olas.
Raybro
Aliso Viejo, Ca
Wake up to deliciousness!
We brew this coffee in the morning and afternoon coffee. Also when friends come over!
Speechie
Houston Texas
Best blend ever.
Shanny
Diamondhead, MS
I purchase this every tiime I receive my regular shipment!!
This coffee is served every morning. Sometimes during the day or early evening with dessert.
Keena
Beautiful OHIO
I drink this about every third day . I rotate it with Boca Villa and Espresso.
Fred
Evansville In
Very balanced in acidity with exceptional, full flavor
I get Whole Bean for this blend because I like it extra fresh!
Nanajan
NC
Lights up my morning. My favorite ever!
Love this coffee. My go to coffee.
Robdbur
OH
Favorite coffee.... period!
My favorite coffee, period. I keep trying others or have them thrust upon me. Some are excellent. But I always come back to Light Up Las Olas. Makes me happy in the morning. But all this is a matter of taste. My son, who is a bit of a coffee snob, doesn't like it. Says it is bitter. And this from a guy who loves super bitter IPA's, which I hate for their hoppy bitterness. Go figure.
Chaser
Modesto, CA
Drink in the morning.
Ex. Runner
Franklin Ky.
Great coffee! My favorite.
My daily coffee. I use a drip coffee maker.
Wayne AZO
Richmond, TX
Great smooth bold flavor.
Boss Dogg
Plymouth MA
The best thing about this coffee is when someone else has gotten up and made it before I get up. Nothing like walking into the kitchen and smelling this brewing.
Retired
Brighton, TN
Great full body coffee.
Judy
Alexandria MN
This is a wonderful Dark roast. Smells absolutely wonderful brewing. Flavor is smooth and enjoyable.
Kim
Portland, Oregon USA
Consistent, flavorful roast. Deep coffee feel with cocoa and oak notes, pleasing after taste. Much better than Black Rifle.
Hungry
Atlanta
I have a home office and drink a few cups throughout the day. Can always count on this one to give me the pick me up I need in the morning or during the day.
Acct Cyn
Minneola FL
Great tasting coffee every time!
I grind my beans every few days so the flavor is fresher.
Sweetness
Georgia
I use Krups Moka Brew - coffee comes out perfect every time
elbmd
charleston
Where has this coffee been all my life?
This is one of the best dark roast coffees I've ever had the pleasure of tasting. I find myself thinking about it on my commute home from work, and how I can hardly wait to get to the house and brew a cup. This is my "comfort food coffee," and it tastes like it came from an upscale New York coffee house where you'd hear a live jazz band in the background. The aroma is practically a perfume that you don't ever want to stop smelling. Best coffee ever!
Andria
OH
This is our favorite coffee. We have tried others, but we always go back to this one.
Phyllis
Santa Clara
I like this coffee a lot. It has a nice full body & flavor.
Nata
NY
Very good flavor - not a lot of acid.
Fairs
Michigan
Definitely WILL buy again.
Use Drip coffee pot.
Keena
Wooster, Ohio
Just super!
Mr Pony
Western North Carolina
Like this product for my morning coffee!
Great for the first thing in the morning!
Ron
Minnesota
Great to wake up to.
Sarge
Marion, IN
Maybe our favorite coffee
Jim the Runner
York Pa
I was pleasantly suprised by this coffee. Very good
Roger
New Mexico
One of my favorite coffees ever!
This probably my favorite go-to coffee, and I have had many from around the world, The taste is full, not bitter. Just an all-around good coffee.
Wes
Kenosha WI
Of all the dark roasts, this one is my favorite ... full, rich and not bitter
K
Wyoming
It don't come no better!
MrPony
Western North Carolina
Boca Java is unique in being able to roast excellent dark roast coffee with no bitterness or burnt flavor. And of their darks this is THE BEST. My favorite by far. If i was limited to only one coffee roast and brand, this would be it.
ehm
Halfway, OR
This is a favorite - it is on the schedule order.
We have at least one cup of coffee for breakfast and continue to drink coffee all day long. Las Olas is only ONE of our favorites from Boca Java.
J Holland
Herndon VA
I would recommend this to anyone... even if you don't usually go for dark roasts. It's very smooth and not at all bitter. A go-to morning coffee.
Muglee
South Dakota
I typically use a high quality drip coffee maker and occasionally use a French press. The result is an excellent brew. This coffee is smooth and not bitter either way .
Chris B
Michigan
I will buy this product again. Smooth, low acidity and aroma
Great for every morning
Mark at coffee park
Lexington, KY
.
Mr Pony
Western North Carolina
Very good coffee. Always roasted perfectly.
I am on auto ship with Boca Java. I get one bag ground and one bag whole bean with every shipment. Always fresh and perfectly roasted.
JP
Clinton, MO.
This has been my favorite dark roast for years.
Since our work schedules are opposite we usally brew one cup at a time in a Ninja drip machine. I'm not a cold brew fan but the wife enjoys that option.
JP
Clinton, MO.
Great blend!
CO Mom of 3
Windsor, Co
I just love this coffee!
Butaflylady
Williamsburg, Virginia
Good with breakfast
Laura
Houston, TX
Excellent coffee. Very pleasing aroma and strong, bold flavor.
Steve
Gibsonville, NC
Our favorite..the perfect blend and taste.
Automatic drip
Kg
Michigan
I will buy this coffee continually - the aroma, the TASTE
Whether the filter is in or out, if you use tepid or cold water, this coffee roast is supreme!
50 yr coffee drinker
Ft. Myers, Fl
I like the taste and freshness this blend
I like the taste of Boca java
Lo
WA
Dark roast coffees with low acidity and robust flavor are my favorites. This blend fills all my criteria for a great morning cup of coffee. I have been purchasing it for many years. Always consistently good!
sleepyhead
Sacramento CA
Deep, dark roast that dances in your mouth!
It's difficult to find a really deep, dark roast that isn't bitter, but Boca Java knows how to produce great dark roasts, and this is one of them.
EHM
Halfway, OR
Have been ordering this coffee for personal pleasure and gift giving for many years. Never disappointed.
Craig
Indianapolis, IN
Light Up Las Olas Coffee
93.4