South Beach Rhythm Coffee
$5.00
$8.49
You Save: 41.11%
A dark roast coffee blend from South & Central America, with a full body, caramel and smoky notes and a smooth finish. Read More
A unique blend of prized mountain-grown Arabica coffee beans from the Andes and Talamanca mountains in South and Central America, South Beach Rhythm is a full-bodied dark roast coffee with a slight caramel flavor, a hint of smokiness and a smooth, full-flavored finish.
If you enjoy our South Beach Rhythm coffee, our Roastmaster suggests you also try our Light Up Las Olas Coffee.
South Beach Rhythm is a fan favorite of our dark roast loving Coffee Club members. Learn more about our Coffee Club & subscribe to your favorite coffee!
We won't roast your bag of Boca Java coffee until after you order it, ensuring the freshest coffee possible. Each and every time!
A Little Bit More About This Coffee
Attributes:
Varietal:
Colombia, Catura
Altitude:
1600-1900 meters
Tasting Notes:
Full Body

Caramel and Smoky Notes

Smooth Finish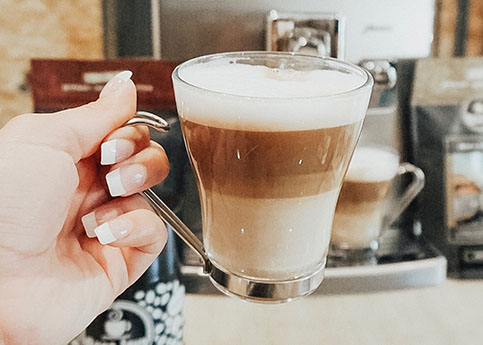 Top Selling dark Roast Coffees
Fantastic taste
ALF
Tulsa, Ok
This is my favorite "go to" coffee! I also us it as a spice on meat and fish.
Coffee Please
Lake County, IL
I have been buying this coffee for years! Love it!
I Love waking up to this coffee.
Speechie
Houston, Texas
Love Boca Java coffee! This is full of flavor!
First thing every morning this goes in my French press. In just a few minutes I'm drinking a great cup of coffee that gets my day started right!
Patty
Middletown, PA
I drink it every morning. It starts my day.
Jane
NM
I drink it every morning. It starts my day.
Jane
NM
My husband and I love this coffee so much. We always prefer dark roast and this has great flavour without being too bitter. It starts our day off properly and is always very consistent with its taste. Highly recommended.
Angie
Aubrey, TX
We love this flavor of coffee!
We brew a pot of your coffee everyday. We love that we can order online and that your site is user friendly.
Kathleen
Locust Grove, VA
This is our go-to coffee. We have been drinking it for many years and every time we try something new, we always go back to this because it is the best!
Blouise
Pittsford, NY
I love this for my cold brew?
I enjoy this as my cold brew and drink it just about every day.
Peggy
Waxahachie
I have been ordering this coffee for the last twelve years or so. I even had it sent to Afghanistan when I worked there. This is the only roast I have ever ordered because I enjoy it so much.
TKH
North Georgia
I will probably buy again
One of my go too coffee choices!!
ALWAYS FRESH! Deep flavor without being bitter!
Coffee Gal!
Lake County, IL
Brought this to work and everyone loved it.
Melinda
PA
Nice in the morning.
Shanny
Diamondhead,MS
Always include this in my order
Great with every meal
Al
Merriam KS
Wake Up to South Beach Rhythm coffee!
I love waking up knowing have a cup of delicious waiting!
Speechie
Houston Texas
Drink in the morning.
Ex. Runner
Franklin, Ky.
Always good each and every cup
I use this product at home and when camping in my camper. Best smell and taste to start the day
Sandy
Tennessee
One of our "go to" favorites
Just a really good cup of coffee. Have to include it in every order.
Dancyn
Minneola FL
I use Krups Moka Brew - coffee comes out perfect every time
elbmd
charleston
For the start of my day.
Bikerider42
Tennessee
I have been drinking this for a decade.
Everyday that starts with South Beach Rhythm coffee is a good day
Jota
Chapel Hill, NC
Another great standard dark roast
This is another standard dark roast. Great everyday coffee
KIF
Near San Francisco
I have been buying this blend of coffee since I started with Boca Java, somewhere around 2007 or 2008. When I went to Afghanistan in 2008, I had them ship it to me there. That was my one bit of luxury while there.
tkh
Chattanooga, TN
Great for your morning cup of joe!
Wendy
Grand Prairie
So wonderful and marvelous and rich and delicious. You should definitely try it!!!!
Heather Feather
Virginia
My wife started getting me this coffee years ago and it is by far my favorite brand ever! Highly recommend if you like a strong coffee.
mad scientist coffee lover
Atlanta GA
I use this product every morning.
Bikerider
Tennessee
This is one of the perfect dark roast coffees with no bitterness or burnt flavor that makes Boca Java coffee geniuses!
ehm
Halfway, OR
This is my everyday coffee
Drink it every morning..
Fussy
CO
I'm a coffee snob, and this is my favorite coffee!
I use Boca Java beans fresh ground every morning. I have a Breville Espresso Machine. Bag to bag the flavor is always consistent. South Neach Rythm is my favorite!
NanciR
Illinois
Often give this as a gift
Al
Merriam KS
Best coffee ever!!! My wife found Boca Java a few years ago as she knows how much I love coffee and I look forward to my deliveries very much. Always roasted just right and the price is amazing!
jeff the coffee king
Atlanta Georgia
Drink it everyday
Bikerider
Tennessee
Enjoying this coffee for years without getting tired of it.
Starts my day with a smile
JJ
North Carolina
I love, love, love this coffee. Best ever!
Every thing is great about this coffee.
None
Albuquerque NM
Wonderfully smooth dark roast
It's difficult to find a really deep, dark roast that isn't bitter, but Boca Java knows how to produce great dark roasts, and this is one of them.
EHM
Halfway, OR
I have liked this for a very long time, thank you.
jack
denver
dark and strong when prepared correctly and is smooth
wonderful on a morning where you want the boldness of a coffee, but you have the day off and wish to start it out smoothly in a lazy fashion.
Glenn the Grinder
Backwoods Mississippi
Dark delicious
Snoopytheferret
Illinois
I buy this coffee monthly. Very versatile from Chemex to Toddy (cold brew). Excellent smooth, rich flavor.
Mimi
Denver, CO
This is my favorite for daily consumption
We use this one daily for morning and whenever I want a full bodied coffee.
VitoC
Hartland, MI
Fresh bold smoky flavor, great start to the day!
Koop
Princeton NJ
Love this coffee over any other I have ever had.
Best coffee ever. Boca Java is a great company. Been with you for a number of years.
Val
Albuquerque NM
I grind it as I use it, and it smells marvelous when I grind it.
Jane
NM
None at this time
Sasha
New York
This is one of my favorite Boca Java dark coffees!
I love strong, bold coffee and this is great!
BC
Randolph,
One my favorites by far.
SubVet
SF Bay Area
South Beach Rhythm Coffee
94.0