Jinotega Harvest Direct Trade Coffee
This unique single origin dark roast coffee blend celebrates the best family-owned, estate grown coffees, sourced directly from Jinotega, Nicaragua. Read More
A socially responsible dark roast that's as unique as it is complex. This coffee is equal parts bold, sweet, and smooth. We spent many days, both at the farms and at the mills, relentlessly searching and cupping the best Nicaraguan coffees we could find, to develop this one of a kind, dark roast blend. A softened acidity greets you initially, only to be followed by sweet and smoky chocolate undertones. Hints of spices and molasses linger to compliment the smooth finish that dark roast lovers crave.
If you enjoy this Direct Trade Coffee, our Roastmaster suggests you also try Javanica Direct Trade Nicaraguan Coffee.
We won't roast your bag of Boca Java coffee until after you order it, ensuring the freshest coffee possible. Each and every time!
A Little Bit More About This Coffee
Attributes:
Varietal:
Java, Pacamara, Catura
Altitude:
1400-1600 meters
Region:
Jinotega, Nicaragua
Tasting Notes:
Softened Acidity

Sweet & Smoky Chocolate Undertones

Smooth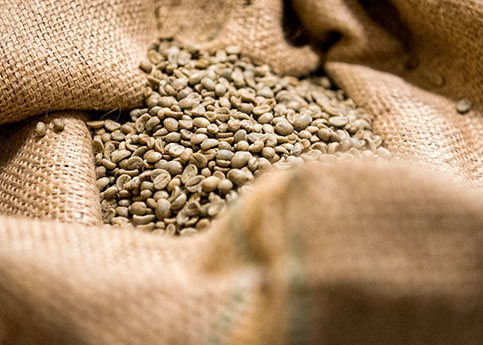 Top Selling dark Roast Coffees
Great roast! I really like it.
Blondy
Savannah, GA
We buy this coffee regularly. It is a favorite dark roast of both myself and my wife. It is not too strong, and it does not bother my stomach as much as some Coffee is due. One of our favorite dark roast coffee's from Boca Java.
Jzents
Edinburg, TX
Whipping coffee with milk or nut milk, makes it a pleasing velvety beverage!
Every day can start special
Alaska
Love the fresh aroma and flavor
Pj
Maryland
Drink in the morning.
Ex. Runner
Franklin, Ky.
member since 2012
USMC
Nevada
I purchase this over and over.
I feel good about purchasing fair trade coffee.
Deb
Commerce City, CO
Dark Roast That Is Surprisingly Smooth
I was surprised at how smooth this dark roast was. It is a plus that it is Direct Trade to boot. Been a member here for years, but really didn't give this a good enough try I guess in the past. It does help when you buy the coffee as whole bean and just grind in a Burr mill when ready to brew... that may have made the difference in this case as this was the first time I have tried this roast using this process.
Ryan
Florida
My favorite direct trade coffee
I absolutely love this coffee. I choose to get at least one direct trade coffee with every order. This one is my favorite, so far.
Cuban Chica
Gastonia NC
Great dark roast and socially friendly
KIF
Near San Francisco
Great throughout the day.
Sarge h
Marion, IN
This coffee is AMAZING!!!! So incredibly rich and dark and fabulous.
Heather Feather
Virginia
I would highly recommend this to people who love coffee
I use a automatic drip. The coffee has a great flavor.
Vandy
Detroit
Amazingly complex flavor profile and aroma. Beautiful black shiny beans. Only negative is I wish could buy larger bags so I didn't have to throw so many small ones away.
scarletandie
West Allis, WI
One of my favorite Boca Java coffees
I usually mix Jinotega and Double Dark coffees for a delicious coffee with a slight hint of chocolate
Spicecake
Alabama
Great after dinner coffee
cdl driver
Las Vegas
This is one of our favorites! We love our coffee.
Meg
Olympia, WA
Best Dark roast I have ever tried!
First time I tried this roast and I will be getting it again!
Ruggedly Handsome Robin
Traverse City MI
I would buy my selections again and again.
I mix my espresso (decaf) with Jinotega (caf), daily. Tastes great. May be making a change in the future. Just to try a taste that could be a little different.
Tom
Shepherdstown, WV
Jinotega is surprisingly not bitter considering it is a dark roast. I actually love a little bit but this is just a perfect dark roast. One of my favorites.
ccpridgen
Smith Mountain Lake, Virgina
I am not a big fan of dark roast coffee's, generally speaker. However, my trip to Italy left me craving the strong espresso that is so hard to find in the States. This coffee is very balanced and not overly bitter, which is hard to find in a dark roast. I would highly recommend this coffee to anyone who is a fan of full-bodied medium roasts.
Brian the Coffee Guy
Cincinnati, OH
tried it over and over again
great company
ed
chattanooga tn
Great taste everyone enjoyed this coffee
Every morning and for company we all enjoy your coffee
Jack
New Jersey
Mostly used as espresso, some pour over drip. Love it!
Coffee Lady
Hot Springs, SD
My reason for belonging to the coffee Club. You have to be a member to get it.
Sarge
Marion, IN
We buy several different flavors in each order and rotate them as each bag is completed. This gives us a good variety.
Tovah T
Stafford, Va
NA
Jim the Beam
Boston, MA
One of the best coffees I have had
Would buy this again. Great
sdm
KC
My favorite direct trade.
I Shared this coffee with a friend and she said she felt that she never had real coffee before her life. When I know she is stopping by I make sure a fresh pot is brewing.
Ivonnr
Charlotte NC
Wow! Wonderful flavor - and (LOL!) AWESOME coffee buzz in the morning! This stuff gets me going - and keeps me going all day! My kind of coffee!
Robin
Bothell, WA
My favorite of all Boca Java coffee
Love this blend. Very smooth. Smells delicious. Tastes as good as it smells.
Liz
New Jersey
If you like full bodied coffee with exceptional flavor, this is for you
Energized
Marion, IN
Served this at a party and it was a hit!!
Connie
DE
Been buying Jinotega for years!
Every time I give this to someone they fall in love with the smooth yet bold taste!
Tabasco
West Palm Beach, Fl.
This coffee is a dab more expensive than their dark roast blends but well worth it. I took a sip of the first cup, put my mug down and thought "Whoa". It was some seriously fabulously tasting joe. Highly recommend.
Cowgirl Lisa
East Tennessee
Absolutely love this coffee!
Teeko
Indiana
This is the best coffee I've tatsted in a long time! I will be buying again soon?
Teeko
Indiana
I have simple taste when it comes to food, but where coffee is concerned I am a big snob. This coffee is one of my favorites!
Zinga
Illinois
I ordered three different coffees from Boca Java. This was my favorite. The perfect wake up brew for a bubble bath before work. I added a dash of vanilla, and topped off with home-made whipped cream. Wonderful.
ZenDada
Austin TX
Dark roast look, medium roast taste. Lovely!
I'm a solid morning and evening coffee-drinker, and Boca Java has a number of offerings, including this one, that I definitely enjoy.
Left Coast Tim
Mojave Desert, CA
Wonderful cup of coffee, will definitely buy again!
Coffee lover
Carmel, Indiana
Great flavor. Bold and distinctive. A little sharpness. We order several flavors in our coffee club. I always look forward to opening this coffee.
Tovah
Stafford, Va
This is a very rich and full bodied coffee. Thought I'd try this in the espresso machine and what an absolutely thick, creamy an smoothe crema. I was very pleasantly surprised and it just became my go to coffee and better yet, it's direct trade.
MWL
CA
Love the aroma and distinct flavor
I feel good about this coffee being a free trade product
Lakisok
Pembroke Pines, Florida
I really like this coffee for a couple of reasons. I like coffee to taste like coffee. We do not have a fancy coffee maker but this coffee tastes like it came out of one. The bold and almost burnt taste is never bitter or does it get bitter even after sitting in the pot for half the morning. If you just like your coffee to taste like coffee and stay that way all through the morning or even evening. Then this is the one for you.
MLeBlanc
Brook Park, MN.
I love this coffee anytime of day or night. Fabulous flavor warm mellow finish, truly satisfying cup of coffee.
Stace
Palos Heights, IL
Good all around coffee
Mad Dog
Coldspring Texas
I've tried about a dozen different coffees from Boca, I have to say this is the best out there! I give this coffee to friends on occasion and they in turn have to order it for themselves. No matter how strong you make this coffee it is always smooth and never bitter!
Tabasco
West Palm Beach, Fl.
Jinotega Harvest Direct Trade Coffee
94.6