Caramel Kiss Island Coffee (DECAF)
$5.31
$8.99
You Save: 40.93%
Rich, sweet and delicious, this decaf coffee is kissed with golden caramel and is sure to evoke memories of old-fashioned caramel squares. Read More
If you like our Decaf Caramel Kiss Coffee, our Roastmaster suggests you also try our Decaf Surfing Safari Coffee.
Decaf Caramel Kiss Island is a crowd favorite among our Coffee Club members. Learn more about our Coffee Club & subscribe to your favorite coffee!
We won't roast your bag of Boca Java coffee until after you order it, ensuring the freshest coffee possible. Each and every time!
A Little Bit More About This Coffee
Attributes:
Varietal:
Catura, Mundo Novo, Bourbon
Altitude:
1400-1600 meters
Region:
Jinotega, Nicaragua, Cerrado, Brazil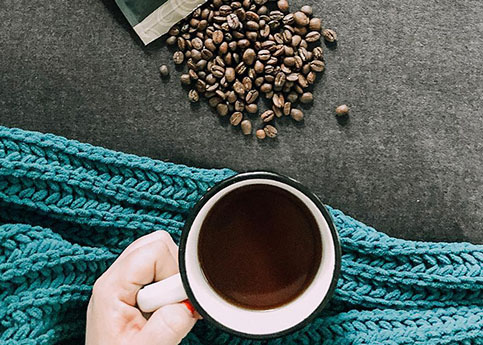 Top Selling flavor Roast Coffees
It's great to have my two favorites in one, sweet caramel and coffee!
RMD
Malvern PA
The Aroma Equals The Taste
My daughter recommended Boca Java and I am so glad she did! The Caramel Kiss is no doubt my favorite, the smell and taste are just awesome. Our other daughter switched to pods but whenever her and her husband drops in they just brag about this coffee.
backizback
Nashville
One of my favorite blends
Great taste
Dennyj
Columbus,OH
This is my favorite! Love to be kissed!
Love this company!
Butaflylady
Virginia
This will be a staple in my home!
I used this in both my French Press and in an automatic drip. Great flavor! I was so bummed when I was told I had to switch to decaf coffee, due to medical reasons, because I was not having any luck finding a decaf that tasted good and absolutely none with fun flavors. Then I stumbled upon BocaJava.com. I just opened this flavor today and LOVE it! I will be keeping this in stock at my house at all times!
Stacie
Michigan
Like this as an afternoon treat, the taste is smooth but not overly sweet.
Barb
Pacific Northwest
Creamy smooth coffee, love it.
Love this coffee, the rich caramel taste is delightful
Leesamc
Tn
I like to pour a cup mix of both the regular and decal for a 50/50 blend. For cold brew, I soak 1/2 cup in a mason jar for about 24 hours through a coldbrew screen (decantur broke) and then run through a regular coffee filter to remove sediment. yummy
Bearabull
Rolling Meadows, IL
I like to combine both the regular and decaff for a 50/50 blend
Bearabull
Rolling Meadows, IL
One of my favorites!
Dawn
Alabama
Love the flavor will reorder
Mike
Ma
Great taste
Dennyj
Columbus, OH
Decreasing my caffeine, but still enjoy my cup of joe!
Coffeelover
Malvern, PA
I use it all day after breakfast.
jimmyblue
Winchester, Va. 22601
wasn't impressed with the travel mugs that I got with my points. Drinks do not stay hot or cold very long compare to other items out there.
Bearabull
Rolling Meadows, IL
I love to mix this with the Vanilla Bean coffee that Boca Java has. It just gives it this great sweet and pleasant flavor.
vhinds34
Mountainair, NM
I buy thsi product monthly - LOVE IT
Love this product ... could stand a touch more caramel flavor but that's because I am a caramel junkie!
NoLegalities
North Carolina
This has a great flavor that's good all day long. The Aroma has people asking where I get my coffee.
Soulsis
Spotsylvania
Mix w full octane for a mild caramel flavor
1 to 4 with regular coffee for a slight caramel flavor. Great for late morning
Sandy Lu
Austin TX
I look forward to brewing this one.
Delicious always.
Liz at the keys
Castro Valley, CA
I really like the caramel flavor in this one. It is one of my favorites
Robie
Heath, Ohio
Flavorful without too much caramel, nor a bitter aftertaste. Smooth; wonderful aroma
Dan
Arkansas
We really enjoyed this flavor. It has a not too sweet caramel flavor.
Bethany
Imperial CA
Good mixed with vanilla or hazelnut flavored coffees from boca java.
Linda
Columbus GA
Good taste first thing in the morning.
Rick
Livonia, MI
Great flavor! A taste bud pleaser!
Great flavor and nothing short of a taste bud pleaser. Two thumbs up or five stars. Give it a try!
JVH
Southern Ca
I use it in a drip coffee pot. There is nothing about this coffee flavor that is not good. I loooooove it.
Kathy
Portage IN
Kiss me again! One of my favorites!
I love the rich taste!
Butaflylady
Williamsburg, Virginia
Great for breakfast, entertaining friends or just for an afternoon break. BocaJava is by far the best coffee that we have had in a long while.
Bigredone
Forest Hills, New York
Wow - what a nice surprise. This coffee is like having desert. It really satisfies the Sweet Tooth in me! I look forward to having it everyday! Love the sweet Caramel flavor it really adds smoothness to the bold coffee aroma and taste.
G
Phoenix, AZ
If you like caramel, you have to try this!
Kim
Pittsburgh,PA
This is a great after dinner coffee. Flavorful with great aroma
Laine
Arkansas
This coffee was very good, but it needed more of a carmel taste.
Elaine Shopper
Saugus, CA
great coffee
Ruth
Virgnina Beach, VA
This is good coffee for those who need to drink decaf and find the others dull. Brew it strong for more body. I like it with cream.
BB
Chanhassen, MN.
Great flavor, smooth but could us just a little more caramel flavor. Best part is you can't really tell it's a decaf, I usually don't drink decaf.
Redlne
close to the coffee pot
great flavor
Ruth
Virginia Beach
This Coffee Is All That and More
This coffee is so satisfying and comforting. I love to sit at night with a cup of this coffee, wrapped in a blanket, watching TV. I find it relaxes me also. My description in two words: LOVE IT!
Spyce46
Montville, CT
Very fresh, great flavor, smooth
kgar64
Shalimar, FL
I love flavored coffee and this is a good one.
Simone
Camden, Ohio
WORLD'S MOST DELECTABLE LATTE !
I have diabetes and a very sweet tooth. Coffee is THE reason I look forward to getting up in the morning. I've devised a magnificent skim milk latte...but it's best made with Boca Java's Carmel Kiss Island coffee. Just brew the coffee strong, add an equal amount of hot fat-free milk, sweeten with a non-sugar sweetner and ENJOY ! This also a great all-day-long drink when made with decaf and/or cooled and served over ice. This coffee is also excellent served black.
Kathie
Orlando area
Love it !!! Love it !!! Love it !!!
Have been buying this flavor for several years,and it's still one of my favorites
Melanie ,the Banker
Canton,Ohio
A rewarding smooth carmel taste blended with exceptional coffee beans and roasted to perfection to produce a cup of coffee with a smooth base and a plesent carmel overtaste.
Wildbill54
Marshalltown, Iowa
This one I like to serve over ice with a drizzle of caramel in it!
Joely
St. Petersburg, Fl.
Great taste!
B
Los Angeles, CA
I am always looking for flavored decafs and Boca Java offers many very good ones. Try this one.
Kathy
RWC, CA
Sometimes I like a little coffee at night so I purchased this in decaf. Usually decafs aren't as good as regular coffee and flavored coffees never really have all that much flavor to them, but I tried this anyways. It is lucious!! It feels like caramel just swirling on your tongue. It's smooth and just delicious. Even my 14 year old son (who does NOT like coffee) loves it. He asks me to make it all the time now. I just ordered it in non-decaf and can't wait to try it as well. Boca-Java, you hit a home run with this one! Thank you from a true caramel lover.
Coffee Mom
Ballinger, TX
wonderful in the morning
Steve the coffee drip
Houston TX
We're really enjoying the coffee
Peg
Las Vegas, Nevada
Caramel Kiss Island Coffee
92.1