Chocolate Cherry Celebration Coffee
A decadent blend of two mouthwatering flavors. Chocolate and cherry combine for one sweet medium roast coffee confection. Read More
The best chocolate cherry coffee you'll ever sip. Chocolate Cherry Celebration combines freshly roasted coffee beans with the classic flavors of juicy, candied cherries and soft, milk chocolate. This bold, sweet flavor will make you feel like a kid in a candy shop!
If you enjoy our Chocolate Cherry Celebration Coffee, our Roastmaster suggests you try our Mint Chocolate Memories Coffee.
We won't roast your bag of Boca Java coffee until after you order it, ensuring the freshest coffee possible. Each and every time!
A Little Bit More About This Coffee
Attributes:
Varietal:
Catura, Mundo Novo, Bourbon
Processing:
Blend of Wet/Dry
Altitude:
1400-1600 meters
Region:
Jinotega, Nicaragua, Cerrado, Brazil
Tasting Notes:
Full-Bodied

Complex

Bold, Sweet Flavor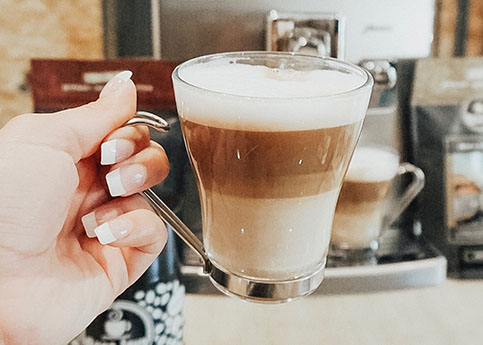 Top Selling flavor Roast Coffees
Really enjoy the flavor and aroma.
The Living Legend
Round Rock, TX
I will get this flavor again when the fall seasonal flavors!
All of the Boca Coffee I have ordered have been great.
Donna it's never a bad time for coffee.
Bremerton, WA
Rich chocolate and cherry flavor!
Love it hot or iced. I keep going back for more.
Coffee.GottaHavIt
Virginia
Will buy it again and again
I wasn't sure if I would like this flavor but decided to give it a try and am so happy I did! Normally I only buy flavors according to season but if you think about it cherries and chocolate are year round flavors. I love the flavor and intend to continue buying it.
Jen the gardner
Woodbridge, Va
I love this awesome cold coffee
cold coffee
Nancy
OH - Ohio
One of my new favorites
David
Colorado
This is one of our most favorites
We love this flavor great with breakfast snack.
Coffee Fein
Michigan
Tops off my morning at coffee time
FoghornDaddyO
Virginia City, NV
One of my favorite flavors, chocolate cherry celebration, is a very tasty and well blended. Can't mistake this flavor when opening the canister and then having that first sip....heaven in a cup.
Coolie
Bradford, RI
The name describes it perfectly! You definitely can taste both the cherry and the chocolate and the flavors mingle well together. I will be buying more of this.
Gina
Wisconsin
Sweet-tooth Satisfaction!
Pair this with Coffee-mate's Coconut Creamer and it tastes like a delicious candy bar!! A great way for those health-conscious to conquer that sweet-tooth without caving to the extra calories!! I like to mix mine with a dark roast in the mornings to give it a deeper bolder flavor (with the extra caffeine). First time I purchased this, it was a risk, as neither of us would have chosen this flavor. We decided to give it a go, and now it is one of our favorites! I buy this now both for the office and keep a bag at home as well!
Angie B
Phoenix, AZ
Cherry and chocolate flavor go very well together. Definitely taste both flavors.
BigB
Denver, CO
My favorite candy now in my coffee
I love a cup in the evening when I sit and read.
Dr Mom
Angelus Kansas
Morning coffee
Naders
Altadena, Ca
Love to buy this coffee around the Holidays. A pleasant treat for everyone.
Irv
Manistee, MI
Chocolate-Cherry flavor, a match made in coffee heaven!
Roger3
Northern Neck, Va.
I make this coffee when I need a morning treat.
Carly
Buckeye AZ
Love this coffee! It has a light cherry taste and a light chocolate taste. But light doesn't mean weak or bad. It's perfect and I'll buy this forever!!
Lauren
NH
Delicious smell and taste.
NJW7
Riverside, CA
It's like dessert for breakfast!
I love all the flavors but this one is special! I set the timer and it's ready when I wake up. The subtle smell permeates through the house so it makes you jump up and run to get that first cup. Seriously!
Keep it Red
Texas
morning coffee
john
claymont de
Love love the flavor, but has a slight after bite. I add cream to cut it. :)
Shar
Springfield, Mo
Would definitely buy again
Enjoy most mornings
Shellie
Coventry, R.I.
Nice. Very flavorful. Even my boyfriend loved it
Super flavorful
Annmarie
Kingston NY
Great morning coffee
DC
Lee, NH
I haven't had a chance to try this one yet but it smells,great! All of your coffees have been wonderful so far!
DollyG
NJ
Excellent tasting coffee.
Great full flavored coffee.
Monkey
Iowa
Do not knock a fruit flavored coffee until you try it! This one was such a pleasant surprise!
happyhousewife
NY
Full flavored.
Monkey
Iowa
This flavor will always be my favorite!
This flavor is typically my first choice every morning! The smell is fabulous! The taste is even better!
Momzncharge
Oklahoma City, OK
Def would buy again . Awesome!!
Awesome flavor.
Brian
Schenectady, NY
A coffee worth celebrating
Filled these reviews before have yet to see any 15% discount.
Nats fan
Northern Neck Virginia
Can't go wrong with chocolate and cherries!
Coffee Fairy
California
Great Coffee!!
Luan
Casper Wyoming
Great coffee
JL
Hillsboro, Ohio
SPECIAL SUNDAY MORNING TREAT
Delightful coffee with just the right amount of CHOCOLATE and CHERRY.
Smilemaker
Orlando, fl
The best chocolate coffee I've ever had!
We all enjoy this one! Some creamer and chocolate syrup and you've got the perfect cup
JenE
Ohio
This one is my favorite.
Jude
Bangor, Maine
I wish I bought more already
The aroma is amazing, and adds flavor without the need of syrup or sweetener.
BasicCoffeeGirl
Killeen, Texas
just love the taste
kbailey
port richey fl
This is one of my two favorite flavored coffees.
I love everything about this coffee. When I open the bag I have to take time to smell the coffee before I ever start making it and after. It smells so yummy! The smell of the flavoring isn't overwhelming so the fresh coffee smell is still wonderful. I really love this coffee! I think I'll go make a pot now.
Rita
Ohio
Definitely one of my favs.
Zekeski
Mukwonago, WI
I drink this daliy
Mike
Goodyear, AZ
Fantastic flavor, I will buy again
Great for when you ladies have a chocolate craving.....the cherry makes the chocolate VERY satisfying!
Snakecharmer
Arcadia, Indiana
What's not to love? I can drink everyday!
I brew this coffee a lot! Great for breakfast, lunch, dinner, anytime. I have always loved chocolate and cherries together....and I have always loved coffee, See where I am going with this? It is one of the best flavored coffees around.
"C"
Highwood, IL
I have a coffee ninja and make my own lattes. This coffee has its own flavoring so I do not need to add much except for the foam and milk. Great cup of coffee and you can't beat the price!
CPAmom
Orange, CA
This is one of my favorite coffee. I would buy it every time
I love the chocolate flavor of this coffee. It is one of my favorite.
candycane
Virginia Beach, VA
The is excellent.
Robyn
MI
Very pleasant tasting... kind of a dessert for me as I enjoy a good cup after dinner. This does the trick
Paula
RI
Chocolate Cherry Celebration Coffee
94.3