Deep Blue Blueberry Coffee
Catch the wave! Mouthwatering blueberry flavor combines with our medium-roast coffee for one tasty treat. Read More
Bursting with delicious blueberry flavor, our Deep Blue Blueberry flavored coffee is made with the Top 2% of hand-picked Arabica coffee beans and the juicy, sweet tartness of blueberries. It has a base that's full-bodied and complex, and its intense berry flavor is both unique and delicious at the same time.
If you enjoy our Deep Blue Blueberry flavored coffee, our Roastmaster suggests you try our Chocolate Cherry Celebration Coffee.
We won't roast your bag of Boca Java coffee until after you order it, ensuring the freshest coffee possible. Each and every time!
A Little Bit More About This Coffee
Attributes:
Varietal:
Catura, Mundo Novo, Bourbon
Processing:
Blend of Wet/Dry
Altitude:
1400-1600 meters
Region:
Jinotega, Nicaragua, Cerrado, Brazil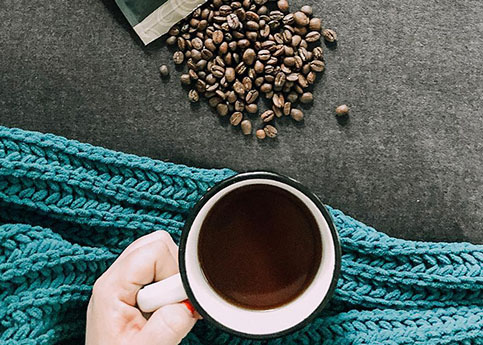 Top Selling flavor Roast Coffees
Great blueberry flavor one of the best
Ricko
Texas
I love this flavor it's one of my favorites that I order every month.
Savali
Aurora, CO
This is our absolute favorite flavor, we order it every single time.
Kaybe
Colorado Springs, CO
Love the blueberry aroma and flavor
JT Baker
Nevada
The best blueberry coffee I have ever had. Lots of flavor. Love it
Linda
Pittsboro North Carolina
Best blueberry coffee ever!
I have loved every single boca java coffee I've ever gotten. This blueberry is the best blueberry coffee I've had. It's one of the best smells to wake up to! And it tastes amazing and smooth.
Lauren
Virginia
The Blueberry is amazing. It's the best. Heard about you guys on Rush.
Jason
Bluffton Indiana
Love this coffee!!
Lisa
Colorado
New FAVORITE!!! Soooooo good. :)
Tanya
Melbourne, FL
BEST COFFEE WE'VE EVER HAD!!!
My fiancee and I LOVE blueberries and the coffee has a great aroma and taste. I always have to order 2 bags so that we have one in both houses.
Tim
New Jersey
Another perfect mid-morning refreshment!
DaddyO
Near Virginia City, NV
Will definitely order again!
Matt
Boulder City Nevada
I just pour some of it into a reusable k-cup pod and pop it i to the Keurig and brew. Fresh delicious blueberry deliciousness!
Brit
Cincinnati, OH
I happened across the blueberry coffee while searching for a gift. I decided on the other brand and was not excited about it so I tried Boca Java and have no need to go anywhere else. It is smooth, pleasingly fragrant and the only coffee that I could drink without cream. It is so tasty!
BusyMom
York PA
We love this coffee! Can't get enough of it! I would really love it if it was pumped through my veins...We use automatic drip and its aroma wakes infuses the house and wakes us each morning. Please don't ever stop making this flavor. We have tried other companies blueberry, but it just doesn't measure up! Thanks!
Blueberry Fanatic
Bynum, AL
Bought this for my wife, she loves it!
Nice coffee, great flavor
mlaf6942
Las Vegas NV
My favorite blueberry by far
Ami S
Indiana
This coffee is delicious and flavorful. A like to add it to my normal coffee to liven it up. Or I use it to cover of the taste of my average, bad tasting coffee.
Ness the Ness
Cypress, CA
I make this every weekend! I love how it makes my house smell! It is such a smooth light taste that wakes me up in the morning!
Mel the girls who runs on coffee
Dallas, Texas
Drink as my treat on weekends after working hard all week
Sam
Big Lake, MN.
Grind and press
Sgailbart
Jaffrey NH
I purchase this all the time I love the blueberry coffee
I was searching for blueberry and someone at boyers told me about Boca java glad I found it
Tulo
Thornton, Colo
Love it, love it love it!
very good!
Kake
Mount Shasta CA
This is my most entising for its AROMA!
I treat myself to this flavor on weekends only!
Sam
Big Lake, MN.
Your whole house will smell amazing for hours!
Brandon
Holmes, NY
If you like blueberries you'll enjoy this blend. You'll feel like you are in the country picking blueberries. Try it. You'll like it
Bonnie
California
love this it is awesome smells so good brewing
i highly recommend getting some of this
jackie
Indiana
Such a good strong blueberry flavor
Connie
Colorado springs
I love this coffee! My favorite used to me Folgers berry cobbler, but it was discontinued. I have tired other blueberry/berry coffees, but nothing has been as good as this one! I'm not a plain coffee drinker so I do use sugar, but only a little is needed for this one to bring out the best flavor.
MDN
Evansville, IN
I would purchase this product again
Good product could use a bit more blueberry flavor
Kris
WI
This is one of the best flavored coffee's I have ever had. I highly recommend
B.J.
Milwaukee, Wisconsin
Delicious smell and taste.
NJW7
Riverside, CA
Best blueberry coffee I've had!
I love fruity coffees, but sometimes the flavor overpowers the coffee and tastes "fake". This is a perfect blend of blueberry and coffee. Love the smells from my kitchen as it's brewing. Will buy again!
Susan
Tinley Park, IL
Delicious with a wonderful aroma
I relax and enjoy a cup
Kristine
Cable, WI
i buy this again and again
I use it everyday for my first cup of the day to my last cup of the day it is the only coffee I drink and I give the baby Boca java's as gifts to friends so they know about and can get your products
jewels
bridgeport washington
enjoy!
Boston - we just win
MA
When you first open the bag, the blueberry aroma is amazing! The brewed coffee has just the right amount of blueberry overtone that it's not overwhelming. It's coffee with a hint of blueberry rather than blueberry with a hint of coffee!
Keep It Red
Texas
I haven't had a bad coffee from these guys ever!
Love the selection and prices
Bubba D
Lansing, mi
Blown away with blueberries
The smell of this takes over your house like you just made muffins. I took this to work and my co workers loved it.
Bon Bon
Streator
This is my favorite coffee flavor.
Steve the taster
Lubbock, Texas
My husband and I are addicted to this flavor.
My husband and I would seek out 7-11 stores because we really liked their blueberry flavor, but we found this flavor and it's even better. The blueberries are wild in the morning when we brew it.
Heceta_head
Bakersfield, CA
Great taste and aroma to start any morning. Already round is easier for us and keeps freshness.
Blueberry King
Bynum,AL
This is my second time purchasing this roast
Always delicious, especially grinding with a darker roast.
AJMelot
Buckeye Arizona
Have it in the morning. Very good.
Kake
Mount Shasta CA
Never liked coffee until I tried the Blueberry coffee!
This is my morning go to coffee, it is so delicious and very smooth
Shorty
Jacobus, Pa
i would buy this product again
great in the morning, the whole kitchen smells of blueberries.
none
Honolulu, Hawaii
Very good. Would buy again.
Good morning coffee. Good hot or cold.
Linda
Machias NY
just use the coffee
julie
bridgeport, washington
Deep Blue Blueberry Coffee
93.7