Chocolate Hazelnut Heaven Coffee
Rich milk chocolate coffee with notes of creamy toasted hazelnut. Read More
This gourmet flavored coffee is inspired by decadent truffles coupled with one of coffee's most classic flavors, Hazelnut. Our Chocolate Hazelnut coffee is always fresh roasted and simply delicious.
If you enjoy our Chocolate Hazelnut Heaven, our Roastmaster suggests you try our Hightide Hazelnut Coffee.
Do you love having flavored coffee in your pantry? Check out our Gourmet Coffee Club, we fresh roast all sorts of flavored coffees for our club members every day, and ship it directly to their door.
We won't roast your bag of Boca Java coffee until after you order it, ensuring the freshest coffee possible. Each and every time!
A Little Bit More About This Coffee
Attributes:
Varietal:
Catura, Mundo Novo, Bourbon
Processing:
Blend of Wet/Dry
Altitude:
1400-1600 meters
Aroma:
Chocolate Hazelnut
Region:
Jinotega, Nicaragua, Cerrado, Brazil
Tasting Notes:
Rich Milk - Chocolate Coffee

Creamy Toasted Hazelnut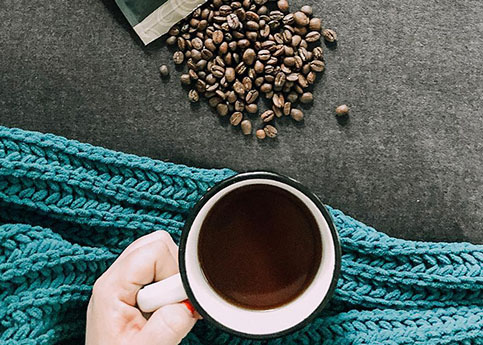 Top Selling flavor Roast Coffees
This coffee has a delicious flavor.
Catmom
Sayreville, NJ
This flavor is wonderful by itself.
Melissa
Denver Colorado
Very good coffee
Shuvonna
Harrisburg PA
Each morning I grind these delicious, aromatic coffee beans and make myself a couple of cups of coffee.
Each morning I grind these delicious, ar
Sayreville, NJ
Oh heck yes. Perfect name
This is named correctly it is the best mocha or chocolate coffee I have ever had. I mix it once in a while with brew of bravery Excelent.
Disciple
Arizona
Chocolate hazelnut heaven
my wife and I really like the flavor.
Rob
West Chester PA
Very smooth. Not bitter or too much chocolate taste
Overall great taste!
Sweetnsc
Decatur Alabama
This is my morning cup of coffee, and it's always a treat. It smells delicious and tastes great.
Andrea Todd
New Haven, CT
Love it! It's a regular at our house
I mix all the flavored coffee that I buy half and half with boca sunrise. One will be regular and one decaf so I'll have 1/2 caf! ?
Shawna
Missouri
Chocolate Hazelnut Heaven
Lives up to it's name "Heaven"
Lila
Boynton Beach, Florida
Love this one! Tastes like dessert. A perfect evening brew
leighlu
Florida
Good taste!
Phil
Aurora,Colorado
Competes my morning at coffee time
FoghornDaddyO
Virginia City, NV
So Delicious!! My favorite right now!!!!
Love this coffee!!!!!
Ro- Ro
New York
This is my second favorite coffee.
I add a shake of cinnamon to the grounds before brewing it. Delicious!!
None
Ohio
Drink as my treat on weekends after working hard all week
Sam
Big Lake, MN.
I love this flavor - best one yet!!!
I usually save flavored coffee for just a few days out of the week. Since discovering this flavor I find myself reaching for it again and again and can't wait for that first coffee of the day!
T
Missouri
Great smooth taste
Lovie
Washington, DC
Delicious flavor!!! Will defiantly reorder!!!
Rob J
New York
I normally prefer unflavored coffee however this has ended up becoming a favorite of mine. I am obsessed with coffee in general and so I take great care in what I choose to drink and I look forward to getting this coffee every month. I love how it smells and it tastes great!
Jacque
Kansas city mo
I love this coffee, in the afternoon or decaf in the evening. This is part of almost every order I make. Its been an appreciated gift a number of times as well.
Andrea
Pacifica, CA
Chocolate Hazelnut Heaven
This is my personal favorite! Love the combination of chocolate and hazelnut!
Sue
Natural Bridge, NY
Best chocolate hazelnut coffee there is!
My favorite coffee right behind Kona.
Rick
Jacksonville, FL
I've been buying from Boca Java for years and will continue!
My favorite coffees all under one banner. From my flavored chocolate-hazelnut to Jamaican Blue Mountain to the best there is, Kona.
Rick
Jacksonville, FL
Very Flavorful Chocolate Hazelnut Heaven
I will be buying this again...and again.
Carol
Tacoma, WA
I love the flavor! My husband doesn't like coffee and he said he would drink this one! High praise from him.
Mom of 4
Brighton, Colorado
This is good at anytime of the day
Stephen
New Ipswich NH
Good flavor - definitely one of our favorites!
Nice change from regular coffee
Dee
DFW
Great taste never bitter my granddaughter favorite.
Bill
Mtn. Home Idaho
Love your coffee. A forever customer.
Michelle
Louisiana
My favorite flavored coffee!
If you don't grind your beans yourself you are losing some really good flavor.
Rick & Carol
Jacksonville, FL
This coffee is my new chocolate flavored coffee. Thanx Boco Java.
Richard@59
Littleton Co.
Great coffee
Rick
Jacksonville, FL
Our go to favorite for company, special occasions or just a weekday treat.
debrit57
Montreal, MO
My favorite flavored coffee.
Best coffee around.
Rick
Jacksonville, FL
I enjoy this coffee
Phil
Aurora Co
Great smooth flavor
Railgo
Wyo
I look forward to getting up in the AM
Jill
Warwick, RI
Great aroma & taste, A favorite I have enjoyed for years!
Give yourself a treat, Enjoy this great coffee
Lila
Davie Florida
The best flavor profile to me. It's great!!!
The blend of chocolate and hazelnut is like the perfect marriage of flavors.
Rick
Jacksonville, FL
Superb taste great coffee
I've been brewing in a chemex..... delicious.
Lynn
Chambersburg, PA
Has been one of my favorites for years.
One of my all time faves. I have been buying this since I first started with Boca. The hint of Hazelnut and chocolate is awesome. I drink this as one of my regular coffees. I would serve it to anyone proudly.
Rick in Jacksonville Florida
Jacksonville Florida
Love this product so much! Delicious!
Love this for my espresso machine!
Angela
Corpus Christi, TX
Chocolate AND Hazelnut, what's not to love?
W.B
Arizona
I love hazelnut, but this coffee provided great hazelnut WITH great chocolate notes. This will be one of my regular choices from Boca Java !
Debeblueyes
Clayton, NC
Heaven is absolutely right
With heaven in its name it's perfect I was afraid there be too much chocolate but it is a perfect blend so smooth and a wonderful indulgent treat
Heidi Arana
Antioch TN
We love all the Boca Java flavors we've tried, but this my favorite!
Reese
Okathe, Kansas
Great flavor.
Jem
Las Vegas
My favorite. This is a smooth all day drink.
Pamela
Crestview Fla.
Chocolate Hazelnut Heaven Coffee
93.5