First Snow Coffee
A confection infused with sweet coconut, this gourmet coffee combines exotic vanilla with rich caramel for a memorable holiday treat. Read More
There's something purely magical about the first snow of the season! So go ahead, dive into a giant snowdrift and warm yourself up afterwards with a delicious cup of First Snow coffee. The whole beans in this coffee actually look like they, too, have been covered in a layer of pillowy snow for an added treat. (Note: if you order this coffee ground, your coffee will not have the white appearance.)
If you enjoy our First Snow flavored coffee, our Roastmaster suggests you also try our Tropical Kiss Coffee.
We won't roast your bag of Boca Java coffee until after you order it, ensuring the freshest coffee possible. Each and every time!
A Little Bit More About This Coffee
Attributes:
Varietal:
Catura, Mundo Novo, Bourbon
Processing:
Blend of Wet/Dry
Altitude:
1400-1600 meters
Aroma:
Sweet Coconut, Exotic Vanilla, Rich Caramel
Region:
Jinotega, Nicaragua, Cerrado, Brazil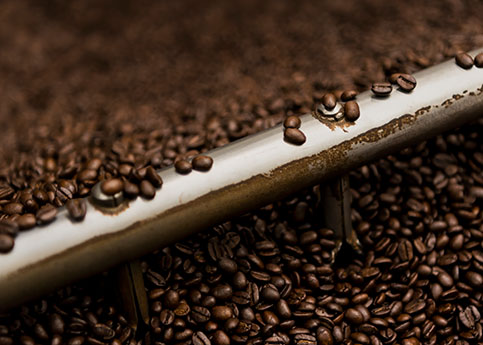 Top Selling flavor Roast Coffees
My favorite holiday coffee. Simply the best.
Golfing Legend
Round Rock, TX
Love this coffee!!! Wish it was available all year!!!
I do use sugar and creamer but with First Snow, I dial it down alittle and it is wonderful!!
Nat
Indiana
I really love this coffee. It has a unique and pleasing after taste of coconut and when drinking it, you get the caramel and vanilla tastes. I was convinced because of the name of the coffee, that the vanilla would be the leading flavor, and almost have a very creamy and smooth vanilla taste, but it did not.
Mickie the Roach
Southwest City, MO
Look forward to December every year, especially to get First Snow! Love this blend.
Granny
Homer, La
As always Boca Java has one of the most favorful coffee. I have ordered the seasonal flavor for many years and they still taste great. I have to applaud you on not changing the recipes for your coffees as other companies have done!!!
maggieann64
Nebraska
This is our favorite Christmas coffee
Really nice coffee.
KC
Maine
Great Coffee
The Living Legend
Round Rock Texas
I will definitely buy this product again
Love love love. So glad for the Christmas in July sale so I didn't have to wait until close to Christmas to have this coffee again
Kat
TX
This is a favorite of the household. Has also been gifted to friends.
Sara
Florence SC
Coconut flavors are perfect!
Wish it was a year round offering...And iwould be available in decaf.
5 Star Grammie
Rochester MI
Good Seasonal flavored coffee...
I get this coffee every winter when it is offered. I get whole bean and it is interesting with the "white powdery" look to the beans as if they were covered in snow. It has a great flavor. Not too much. Very balanced and smooth.
MikeP
Bethlehem, PA
Wonderful taste and aroma . . .
Nkblan
TEXAS
The coconut flavor is exceptional
GREYCELCHELLE
Brooklyn, NY
Love my morning coffee
Mountain Sue
Ellijay, GA
A nice change, worth a try!
This is a nice change from your everyday coffee. The coconut comes through just enough. A perfect cup of coffee for a morning pick me up or an evening by the fire.
Java Julie
Arvada, Colorado
First Snow is our family favorite. We wait all year for this flavor to return. I always buy several bags.
CLC78
New York
I would definitely add this to my selected deliveries!
It is a fantastic start for any day! I normally order different flavors for routine delivery, but should add this because it's such a doecial treat!
Joannie
Alexandria, Mn
We love First Snow, we buy every chance we can!
Don't have any accessories
CaptPete
Lamar, South Carolina
Love, love this flavor. Thank you sooo much for Christmas in July sale!!
Granny
Lisbon, La
One of my must have Christmas flavors!
I love the flavor! But because it's not svaliable in decaf, I add (4 scoops like) to my decaf (6 scoops) blend, for my heart health.
5Star Grammie
Rochester Hills MI
Great coffee anytime of year!
Great flavored coffee - not too heavy - very good blend.
Tim
Lansing, MI
Great all year around coffee
Just love this flavor
Flower girl
PA
To me this is the best holiday flavor. It is my favorite and wish they'd have it year round!
Magee
VA
This is the first coffee I have ordered from Boca Java and I love it and am hooked!
T Fo
Prescott, Az
Love Boca Java coffee but this needs more flavor.
rebel
Ga
Can't wait for Christmas time each year to get First Snow! It just tastes like Christmas.
Granny
Homer LA
Amazing flavor
Bri
Hampton Virginia
This is one of my wife's personal favorites. She drinks it every morning, and honestly I love the way it smells myself!
Java Soldier
Baldwin, GA
This coffee is delicious! The coconut is balanced perfectly to give it such a wonderful taste, without being too sweet. And the coconut dusting on the beans is such a treat!
Lovessquishykitties
Colorado
My favorite Seasonal coffee.
Great for morning, afternoon and evening. Especially good first thing in the morning. I also like this coffee as desert in the evening.
Cher the Sheriff
Dixon, CA USA
Amazing! This has a hint of coconut but not overwhelming!
I love this, such a good change and pleasant aroma and taste.
Jamie
Springfield, CO
First Snow Makes the Season Perfect
I love First Snow! it's perfect with a little half and half and sugar. I use an electric whip and make it frothy. My husband loves it right out of the pot, just as it is. For us, it makes sitting down and enjoying the paper a true blissful experience.
Bren
Schertz, Texas
First Snow all year round
First Snow is. the seasonal flavor my kids lovingly refer to as the Snickers bars coffee. It's just a shame it isn't available all year round.
Miss Petula
Ohio
This is truly a great conversation starter - I like to show everyone the snowy white coffee beans and the great smell!
Mark
Belle Fourche, SD
love the taste
DT
Ft.Laud,FL
comforting coffee to have
jo jo jo
maine
Love the flavor of the coconut and vanilla. As all of your coffees are, the taste is smooth and never bitter.
Debby the grandma
New Stanton, PA.
I drink several cups a day. I really enjoy.
Lady
Brooklyn,NY
Very good seasonal coffee
This was the first time I tried this coffee and I really enjoyed it and would definitely buy again! I did end up buying more and bought some as a Christmas gift
Weekend Coffee Snob
Pataskala, OH
Absolutely love this coffee!!
Jennifer Wadenstorer
Hernando Beach, Florida
Best coffee i have ever had
Amazing coffee only problem is limited time to buy. K cups would be nice as well
Johnny cocobeans
Denver, Colorado
Perfect for the Holidays!
I've always been a flavored coffee fan and this one does not disappoint! Perfect blend of aromas, definitely a nice pick me up on a cold morning!
S.Johnson
MA
The only thing keeping this coffee from being perfect is that it's seasonal.
Fiona
Brooklyn, NY
It smells and tastes like an Almond Joy!
I love it! One of my coworkers found out that I love coffee, he recommended Boca Java. I bought three different flavors. I love coconut and this one tastes like coconut! I was so surprised! Most flavored coffee I buy is not this flavorful. Even my mom (who hates coffee) said after she smelled the coffee that if she were to start drinking coffee First Snow would be the one she would go with.
Jillie Bean
Atlanta, GA
Makes Me Think of Snow Country
Whenever I drink this, I think I'm in snow country (LOL).
RRSHRINK
Atlanta, GA
I would buy this product again and again.
Grind and use everyday
Littledee
Illinois
This flavor is amazing!!! I can't wait until the holidays again to get more!
KeeshaKoffee
Orlando, Florida
My very favorite Boca Java coffee
Since this is a seasonal product I always have to stock up on it whenever it becomes available. Wish It was in stock all year around. It's such a special treat & love the blue color of the beans too.
Snowy Owl
Miles City, Montana
all these are great I can`t reveiw all of them
GREAT ALL OF THEM
NONE
LAKEVILLE CT.
I would buy this product again and again.
I love the aroma and taste. Wish I could order it all year around.
Gramma Kathy
Portage, IN