Mint Chocolate Memories Coffee
Mint Chocolate Coffee. Need we say more? Read More
Cool mint and milk chocolate coffee is a gourmet coffee experience like no other!
If you enjoy our Mint Chocolate Coffee, our Roastmaster suggests you also try our Chocolate Cherry Celebration Coffee.
We won't roast your bag of Boca Java coffee until after you order it, ensuring the freshest coffee possible. Each and every time!
A Little Bit More About This Coffee
Attributes:
Varietal:
Catura, Mundo Novo, Bourbon
Processing:
Blend of Wet/Dry
Altitude:
1400-1600 meters
Aroma:
Milk Chocolate, Zesty Mint
Region:
Jinotega, Nicaragua, Cerrado, Brazil
Tasting Notes:
cool mint
rich and creamy chocolate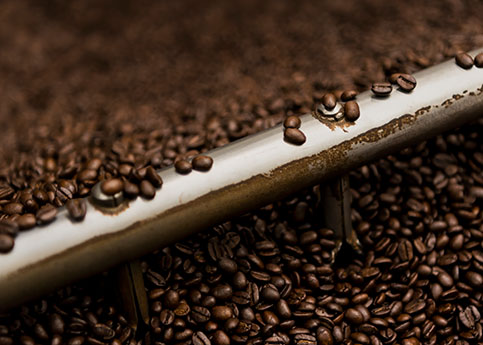 Top Selling flavor Roast Coffees
This coffee had such a great taste. Just as good iced as it was hot.
Dbackbear
Phoenix,AZ
Love this flavor!
sunestaples
New Jersey
I especially like this as a dessert coffee in the afternoon and evening.
BABS
Florida
Will definitely purchase again
Love all coffee that I have purchased
J
South Carolina
This flavor is great both hot and cold. It works really well as cold brew and the mint makes it refreshing in the Summer.
Steve
Brooklyn, NY
Mint and Chocolate, what's not to like?
We use it for a morning brew.
Jedi Coffee
Maryland
If you like chocolate mint.....
I am an everyday, several cups a day coffee drinker. Sometimes I like to pep up my "regular" coffee with this Chocolate Mint Memories for an extra special treat.
BABS
Jacksonville, FL
I've been drinking this on and off for years
One of my favorite flavors of Boca Java, which, by the way, is the only company I buy from.
SueC78
Dahlonega, GA
Not the only Mint in Denver!
Just the right flavor to sweeten your breath
Roger2
Northern Neck, Va.
Delicious smell and taste.
NJW7
Riverside CA
Mint Flavored Coffee Actually is Good!
The thought of mint coffee sounded strange enough for me to actually try it. I was pleasantly surprised, it's really delicious. The aroma while it's brewing is heavenly!
TammyC
Lamar, Colorado
I like the convenience of delivery
Great coffee
Murray Kentucky
I would purches this product again love the flavor
Love all of your coffee Have for 10 years
Missy Jo
Albuquerque NM
Love the taste nice flavors
Coffee needs to have a little bit more of a Minty flavor otherwise it is a good coffee
Carmen
Belvidere il
2nd time for this flavor too !
Mixes well with Double Dark !
Bigshow
Philadelphia PA
Great smooth taste! More mint than chocolate but still great!
Brian
Schenectady, NY
My second favorite flavor!
The mint flavor is just perfect!
Reese
Olathe, Kansas
I love the mint and chocolate flavors in this coffee. I do put one drop of Peppermint Essential Oil in it, but you can still taste the mint without it.
Robie
Heath, Ohio
My wife even uses this for making cold brew.
Steve
New York
very good coffee, a nice surprise with the hint of mint
Cold in Minnesota
MPLS, MN
I make ice coffee with it. But, if you don't like mint, I would not recommend it.
Krysta
PA
Another fav of mine!
Zekeski
Mukwonago, WI
Awesome Chocolate/Mint Taste!!
Best coffee to wake up to in the morning. Wonderful chocolate with a refreshing serge of mint flavor.
Homeschool mom
Atwater, California
This is our favorite coffe
Consistently great coffee, we can't get enough
The White House
Williston VT
One of the best blends for turning into ice coffee
I use this to make into ice coffee in the summer.
Krysta
Drexel Hill, PA
I use the Mint Chocolate as a breakfast coffee, to help get me going in the morning.
Spicecake
Huntsville, AL
Cool taste on a warm night!
Best ground and served fresh!
DudleyR
Montross, Va.
One of my favorite flavors!
I have a hard time choosing my favorite flavor. But, I order this one more than most!
Teresa
Olathe, KS
I LOVE Mint Chocolate Memories Coffee
I LOVE Mint Chocolate Chip ice cream so I thought I'd try this. I was sceptical at first but...I order 3 whole bean bags per shipment. It is the best coffee. I only use sugar no creamer. It is like eating my ice cream for breakfast...It is the best coffee!!!
Parker
Rotterdam, NY
Love my morning chocolate!
Love getting my hint of chocolate in the morning.....and I do not have a sweet tooth!
Yoli
Las vegas
I especially like this particular flavor of coffee during the Christmas holidays, but it is good any time of year,
BABS
Jacksonville, Florida
I really like the minty flavor in this, but since I like mint and chocolate together, I really really like this. I do add a drop of mint essential oil to each cup I drink just so I can have more mint. but a person should like it just the way it is if you don't want that much of a minty taste.
Robie
Heath, Ohio
Can't get enough of this Coffee!
This coffee is our go to...we brew it 4 days a week and really enjoy everything about it. If you like mint flavored coffee, this is the one to beat!
Dugger
Williston, VT
My favorite ice cream is mint chocolate chip, so when I found this coffee it was a no brainer!!! This is my standard order. I love this coffee!
Parker
Rotterdam, NY
Reminds me of Girl Scout Thin Mint cookies without the crunch or calories
vlpnails
Mauldin, SC
this was awesome, just great flavor and so rich. This is so perfect for this time of year. Great price also.
Sandra
Missouri
nice flavor , pleasing to the mouth
very nice relaxing coffee
Krub
Woodland Park Co
I buy this product again and again
I drink it all day long
vlpnails
Mauldin, SC
Best smell in the AM
Coffee Guy
The Northern Neck Va.
Great morning coffee-mild and satisfying
This coffee is a very mild and delicious start to the day!! I even have a cup befr before i go to bed.
PegA
Cleveland
Great coffee for morning or an afternoon cup.
Tink
Lumberton, MS
I love the aroma when I wake up in the morning
Vicki
Mauldin. SC
It is a great coffee to have after dinner.
Bigredone
Forest Hills NY
Excellent flavor and aroma and as I mentioned previously, you need to use less in the single pod in order for it to drip through the pod without clogging or splashing everywhere.
Dotty
Rockville, MD
Mint Chocolate Memories Coffee
This is the first time we have bought this one and we love it! Not overwhelming with mint.
Louise S
Tucson, AZ
I use the coffee as one of my two cafinated coffess for the daytime. This coffee is simply wonderful for awakening the taste buds in the morning and satisfying the urge to let it all happen slowly as you wake up with a great cup of coffee in your hand.
Java Dragon
Northern California
This is a great minty coffee without being overwhelming. Very tasty with cream in it, and the chocolate gives it a nice smooth sweetness. I made this in a French press, so the flavor was very bold but the mint is delicious and it can even be called 'refreshing'.
Rachel
Pennsylvania
I have always loved chocolate and mint together, make a coffee with this flavor? Even better!!!!! I only wish I could get it in decaf! I try to avoid caffeine so can't enjoy my coffee as often as I would like..... Just a tip, Mint chocolate memories tastes REALLY good with an Irish cream coffee creamer ;)
Andrea
Henryville, Indiana
Mint Chocolate Memories Coffee
80.0