Spiced Vanilla Bean Coffee
Our Spiced Vanilla Bean coffee unravels the soft, luscious vanilla flavors with added swirls of exotic Asian cinnamon. Read More
This gourmet flavored medium roast coffee is made with the Top 2% of hand-picked, 100% Arabica coffee beans. Our coffees are always roasted only after you place your order, to guarantee the best fresh experience once your coffee arrives to your door.
If you enjoy our Spiced Vanilla Bean Coffee, our Roastmaster suggests you also try our Vacation Villa Vanilla Coffee.
We won't roast your bag of Boca Java coffee until after you order it, ensuring the freshest coffee possible. Each and every time!
A Little Bit More About This Coffee
Attributes:
Varietal:
Catura, Mundo Novo, Bourbon
Processing:
Blend of Wet/Dry
Altitude:
1400-1600 meters
Aroma:
Spiced Vanilla Bean
Region:
Jinotega, Nicaragua, Cerrado, Brazil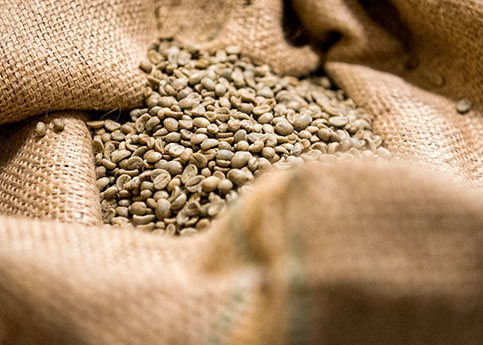 Top Selling flavor Roast Coffees
This coffee was so good. Great hot and even better as iced.
Dbackbeae
Phoenix,AZ
I really enjoy this flavor
My husband and I enjoy having our coffee while we watch our morning TV shows. I wait for his comments on his brew for the day and I usually get a "That's Delicious Honey " which pleases me to no end.
Tazolie
Santa Clara,CA
Adding this to our list of favorites!
I'm not usually a vanilla flavor fan - but this spice added just enough this to delightful coffee for me to really enjoy it!
Reece
Olathe, KS
..continue enjoying this lightly spiced coffee weekly..
several times weeklly
aloha Lynn
Greenville, NC
I am not a big Vanilla flavor fan but after reading the description of the coffee decided to try it. I really liked it and have continued to buy it.
Hyper Jen
Woodbridge, Va
I would buy this product again. Great flavors!!!
I love all their coffees that I have gotten.
Bubbadrake
Idaho
This is one of the best vanilla coffee flavors I have ever had the pleasure to taste. I think the blend of flavors takes vanilla to the next level!
Sonja Marie
Massachusetts
consistent flavor from brew to brew, purchase to purchase
garden lady
NC
Love this hot. Not sure how it will be iced but will for sure be giving it a try!
Nuclear Nic
Fort Worth Tx
This has always been our "go to coffee" it is the very best you can have!!
Mama
Florida
I would definitely buy this one again, it's my favorite
Great Aroma great flavor
Carole
Virginia
I usually mix this 50/50 with Boca Mocha Java and the two together are really good together.
Taz
Santa Clara, CA
Love the coffee...just the right amount of spice...
Steelerfan
Ravenna OH
Goes GREAT! with CoffeeMate Cinnamon Vanilla Creamer!
I was pleasantly surprised when I made this coffee for the first time. It has a hearty vanilla flavor that is not sickening sweet nor overpowering. It is wonderful as a stand alone cup or with a creamer. It truly blends perfectly with CoffeeMate Cinnamon Vanilla creamer. This coffee will be one of my regular flavors, now.
CoffeeContessa
San Antonio, TX
Great way to start out my day. Perfect blend of flavors... just enough to give it some punch, yet not so much that the coffee taste is lost. I'm so hooked on this!
it's me
home
Enjoy very much and will buy again
Do not have any accessories
Palletman
Houston, Tx
I buy this product in my auto ship! Love it
I get the whole beans and use it every morning.
Babs
Marietta, Ga
Have been a member of the Gourmet Coffee Club for more years than I can remember - always share coffees with friends & family.
Momma Jane
Country Kitchen
I just love the flavor and it make my house smell so good brewing. Great Coffee to wake up to.
Rhonda
Poplar Bluff, Missouri
Such a surprise of flavor. Enjoy drinking anytime
Skk
Dallas Texas
I like the flavored coffees most of the time and this is a good one!
Woodworker
Knoxville,Tn
Love the spice of cinnamon and the smooth flavor of vanilla together! great flavored coffee
Sonja Marie
Massachusetts
..this coffee has been our favorite for a long time!
Frequent first cup of the day.
Lady Lynn
North Carolina
just love this yummy coffee
moondust
Kelseyville, Ca
I love the flavor, but it could use more of it.
Janie
Illinois
honestly this coffee is good anytime...however the flavor makes you want to open gifts!!
roba
Indiana
I would buy this all the time so delicious
I would buy this all the time so delicious
michael chiropractic
Burbank
My Favorite-Spiced Vanilla
Whenever I have company, and make coffee, my friends always love the BocaJava.
Mimster8
Bedford, TX
Good balance of vanilla and spice!
jar
michigan
Smooth balanced and perfectly roasted!
Cape Coral coffee
N ft Myers FL.
Excellent flavor. A great way to wake-up in the morning!!!
Overall a great coffee for any ocassion!
Fish
Omaha, NE
This is an exceptional coffee with a hint of cinnamon and a wonderful aroma and flavor.
Michael
Jacksonville Florida
One of our regular 'Got to have' flavors!
If we only could have only one flavored coffee, this one is it.
Sue
Natural Bridge, NY
I would buy this product again. I love Boca Java.
I use this flavor almost every morning for both my husband and I.
Candycane
Virginia Beach, VA
This is my favorite after dinner coffee!
Nikki
Greenville, SC
I drink several days aweek & offer it to guests
JR the coffee Hound
Franklin, NC
Daily favorite :-) Whatever other flavors I order, this is always at the top of the list as a must-have!
DianeAuthor
Cape Coral, FL
I love the Spiced Vanilla Bean
Use this product every morning with breakfast.
candycane
Virginia Beach, VA
THIS IS THE COFFEE YOU NEED TO WAKE UP TO
NOTHING as pleasent as this waking up
Michael
Charlotte, nc
I've bought this before and will buy again.
Visaya
Long Island, NY
Love this in the morning.
This is the perfect start to my day.
Ritago
Rural Ohio
We purchase this one often. Always a great taste and aroma.
JM
Haysville, KS
I love the spices that was used in the spicy vanilla.
Beth
Buffalo N.Y.
great
shar
Marblehead, OH
Great tasting coffee. Just wish it was a little darker roast.
cougsrah
Olympia, WA
I love this flavor!!!
ToniS
West Henrietta, NY
I love this coffee, have been buying it for over a year,
Mimi
Bedford, TX
I enjoy several flavored coffees but this one is the one I keep coming back to
CoffeeGuy
New River, AZ
Spiced Vanilla Bean Coffee
88.8