Surfing Safari Coffee
$5.00
$8.49
You Save: 41.11%
Gourmet vanilla coffee, coffee liqueur coffee flavor and caramel coffee come together in this flavorful coffee. Read More
Do you love vanilla coffee? Coffee flavored liqueur? Caramel coffee? Surfing Safari is our most popular flavored coffee with all of your favorites combined. This gourmet medium roast is delicately flavored, full-bodied and available in whole bean coffee and ground coffee.
As Surfing Safari becomes one your favorite coffees, be sure to join our Gourmet Coffee Club, so you can have fresh bags of coffee delivered straight to your doorstep!
If you like Surfing Safari, we suggest you try Tropical Kiss, a coconut and chocolate flavored coffee.
We won't roast your bag of Boca Java coffee until after you order it, ensuring the freshest coffee possible. Each and every time!
A Little Bit More About This Coffee
Attributes:
Varietal:
Catura, Mundo Novo, Bourbon
Processing:
Blend of Wet/Dry
Altitude:
1400-1600 meters
Aroma:
Vanilla, Caramel, Kahlua
Region:
Jinotega, Nicaragua, Cerrado, Brazil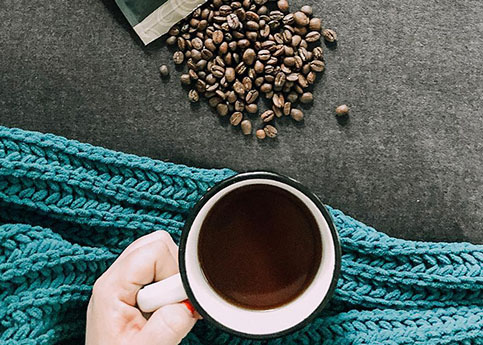 Top Selling flavor Roast Coffees
I enjoy this flavored coffee as a special treat for my taste buds!
Di
Laurelton
Best coffee to be had !!
Donna
Jacksonville, Fl
Nice light coffee for warm mornings.
In summer, I prefer my coffee a little lighter and this is perfect.
NJW
Riverside CA
bee buying this for many yrs. won't stop
the smell of that fresh aroma wakes me up.....no wait...get up and it's ready.
Algae
Ferndale Wash.
This is my Favorite Boca flavor!
Have only used the ground with automatic drip, but love the aroma and flavor!
Laurie
Chandler, AZ
The Best Coffee Out There...
I always look forward to purchasing this coffee. Love the flavor and how it is blended. This is my go to coffee and it never disappoints! It always makes my day a little better no matter what is going on. I ran out after your unfortunate fire and a friend gave me some of hers until I could order again. I was so happy to not have to do without. Try it if you haven't already.
Kathy
NC
This is definitely our favorite blend of any brand coffee. We have ordered it with our last 3 orders. Thanks for making such exceptional tasting coffee at an affordable price!
Sooner Gal
Tulsa, OK
A favorite! That Kahlua flavor and aroma is wonderful!
We almost didn't find this one because the flavor is not in the title! Once we found it though, it has been one of our favorites.
Coffee.GottaHavIt
Virginia
This is my all time favorite
Coffee addiction
Utah
Excellent coffee for special occasions, friends or just a morning cup. Wouldn't use a pod, but it good to brew any other way.
Jim
San Jose, CA
Delicious I will definitely buy this again!
The aroma and flavor of the coffee is excellent. I like a little flavor in my coffee and this delivers.
Sewright
Texas
We've tried other flavored coffees, but always return to our favorite Surfin' Safari! Consistently satisfying flavor that we enjoy!
sherrymg
New Freedom, PA
definitely would buy again
Regular breakfast brew
valley girl
burson ca
I usually buy caramel which I love but also trued this it is really good what flavor I'm happy now to want to try other flavors very fresh I don't like coffee that's old sent to me I have had a few companies do that this is good coffee
Margaret
California
Will buy again until Holiday flavors are available
Great taste, aroma
KT
Tampa Fl
This is my favorite coffee from Boca Java
You van really taste the flavors of this coffee. It is delicious
Yeagerbomb
Northeast Oklahoma
gr8 robust flavor and not harsh...sweet to the taste
3 cups in the morning gets me going...gr8 flavor.
algae
Ferndale wash.
Great taste
Farmgirl
Scurry tx
Looking forward to my next shipment
I have to wake up to a cup of coffee So far all of the Boca Java flavors I have tried have made getting out of bed a bit easier! Find myself brewing an extra cup as a "pick me up" when I get home from work.
Ducky
wisconsin
Great start to my morning
valley girl
bursion ca
I order the coffee for my dad as a gift and he absolutely l
Every am
Karen D
Frederick, MD
No accessories
Kimo
Hilo, Hawaii
I love this so much, I keep ordering it!!!
I alternate this blend with a pot of Death Wish coffee
Fishyman
El Paso
I will be buying this flavor again!
I drink this every morning!
Jen
MN
Wow! I was pleasantly surprised by this coffee. I usually just drink vanilla coffee and I will now always drink Surfing Safari.
Jim
Denver, CO
This is my favorite coffee through Boca!
Not only is the smell amazing, but the taste as well, and it is my fav flavored coffee at Boca -- I include it with every order!
Laurie
Chandler, AZ
This is one of the coffees that I order all the time. It's easy on the stomach & a smooth taste. Although it is a flavored coffee, the flavor is subtle - not overwhelming.
Lisa
FL
We frequently take this to share w/ neighbors
We enjoy the aroma as it drips
aloha Lynn
Greenville, NC
I Buy this Product Again and Again
I have ordered this coffee for many, many years and just love its freshness and great taste! There is no comparison to grocery store brands or even the coffee house brands in my opinion. I look forward to getting it and it always makes my day more special. It is my go to coffee and it is such a pleasure. The blend of flavors I cannot fully describe how delicious it is. Give it a try and I don't believe you will be disappointed, you will be pleasantly surprised.
Kathryn
Fayetteville, NC
Surfing Safari is a monthly staple, I always alternate other flavors but this one is a must.
Jared
Lafayette Louisiana
Boca has become my trusted coffee source, and over the seasons, I have tried the different flavors pairs with different additives. The Surfin' Safari is probably at the top of my list for flavor. The flavor mixture is just a very pleasing every day trusted source for me. It is easily paired with a basic creamer, or even a flavored creamer for added intense taste. I always mix my flavor roast with a dark bold roast to a bit more kick also. If you haven't given this flavor a try, make sure you do so! You won't regret it!
Angie B
Gilbert, AZ
Keep on making excellent coffee Boca java
Cookie
Oklahoma
Here is how much I like this coffee.. By the time I get it I've paid nearly 20 bucks for one lb. I figure if I were to buy cups at a store I would pay this much and more. The bottom line is I've tried to find a flavored coffee that tastes like this and so far I've found nothing that tastes like Surfing Safari. I've been buying it for years now.
Yardakay
Columbia MO
I love the flavor of this coffee! I just wish it was a bit stronger.
Shy1
Ohio
I would buy this product again.
I drink this for my main breakfast brew. I also make it for dinner guests and I always get great reviews from them on the great coffee brew.
Leo the runner
Houston, Texas
Excellent Coffee....Great taste and it smells so good. My favorite!!
jerseygirl8479
New Jersey
Another great blend of coffee with exceptional flavor.
Nita
Atoka, OK
This is one of my favorites
Really great coffee
Lynne
Yukon, OK
I enjoy this coffee in the evening when I am wanting something sweet.
Tmay
Fayetteville, NC
It was great!!
Gabby
Buffalo, NY
will keep on buying this product
a good wake me up
Algae
ferndale wa.
I've tried several of the flavored coffees. This is the best
Good way to start the day.
Boca Java Fan
Georgia Mountains
Absolutely love this coffee!!
I have been ordering from Boca Java for years & Surfing Safari is my all time favorite coffee. I'm old school & like grinding the beans fresh & using a drip style coffee maker. It makes a perfect cup of coffee.
Kat the thrifty
Lincoln, CA
This is my favorite so far!
Love this coffee! Smells and tastes wonderful! My favorite!
In Luv W/ Coffee
Port Huron, MI
Drinking this at work made everything more tolerable. The aroma and smooth taste made it too easy to consume quickly. Dies not leave you with an acid stomach. Smooth finish does not leave you with the coffee breath flavor in your mouth.
Gina
Wisconsin
My absolute fave flavored coffee!!!
If you're "on the fence" about this flavor or Boca Java, in general, GET OFF OF IT. This coffee is amazing. I drink tons of coffee and am extremely picky. This flavor is my absolute fave and in my top 3...permanently!
Tanya
Melbourne, FL
I rotate flavors weekly
KT
Tampa, Fl
I buy this product with every order!
For my morning coffee on a daily basis.
Laurei
Chandler, AZ
My favorite and favorite of those who have this coffee in my
Amazing flavor...
Diane
NW New Mexico
My favorite brew I gift it to all my friends
This is my #1 favorite and I highly recommend it
Karen
Las Vegas
Surfing Safari Coffee
95.7