Boca Sunrise Coffee (DECAF)
A medium roast decaf coffee blend from Africa, South & Central America, with a full-body, citrus fruit and honey notes, sparkling acidity, & a clean finish. Read More
A Boca Java signature coffee, Decaf Boca Sunrise is a delicious blend of Arabica coffee beans from Africa, South and Central America.
Full-bodied and complex, it offers hints of sweet citrus to round out an extremely bright coffee blend, producing a clean, exceptionally satisfying finish.
If you enjoy our Decaf Boca Sunrise coffee, our Roastmaster suggests you also try our Decaf Ocean Drive Coffee.
Decaf Boca Sunrise is our most popular coffee subscription by our Coffee Club members. We freshly roast every bag of coffee, and deliver it directly to your door at a frequency of your choosing.
We won't roast your bag of Boca Java coffee until after you order it, ensuring the freshest coffee possible. Each and every time!
A Little Bit More About This Coffee
Attributes:
Varietal:
Catura, Colombia, Bourbon
Altitude:
1600-2000 meters
Tasting Notes:
Full-Bodied

Citrus Fruits, Honey

Sparkling Acidity

Clean Finish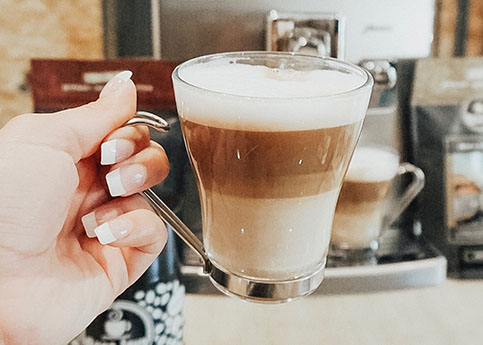 Top Selling medium Roast Coffees
My husband loves to wake up to the fresh smell of this coffee
Kat
Pigeon Forge,Tn
yes I will buy this again!
a but more robust but lovely flavor
ck
st . louis MO
My fiancÚ and I have fallen in love with this coffee blend. It's hard to find a good light or medium roast decaf and this one fits the perfect blend of flavor, and affordability! We continue to keep this one in our subscription!
D. Andres
Soquel, CA
I buy this coffee frequently
This coffee has a well-rounded flavor that is balanced, flavorful and smooth. It always tastes great! I buy it frequently because it is just that good.`
BCBeautyPro
Battle Creek MI
Boca Sunrise Regular Coffee has been my favorite for over a decade. The doctor said to reduce caffeine intake - period! The decaf Boca Sunrise s good enough not to even notice that it isn't regular coffee.
Backpacking Ron
Baltimore Metro, Maryland
I continue to buy this product for years
I like to pour a cup mix of both the regular and decal for a 50/50 blend. For cold brew, I soak 1/2 cup in a mason jar for about 24 hours through a coldbrew screen (decantur broke) and then run through a regular coffee filter to remove sediment. yummy
Bearabull
Rolling Meadows, IL
I get this every order. I love the rich taste for afternoon
afternoon break
CHris
St. Louis MO
Decaf with good flavor so I can drink coffee after 5pm. No after taste, I can usually tell if its a decaf coffee not this one.
JoJo Coffee
San Tan Valley, AZ
This coffee blends well with Boca Java and Double Dark. Love it.
jccswens
Hillsboro, OR
I buy this product everytime it's that good.
Mostly drip coffee maker
Bob
Newark,DE
great dress coffee
mike
az
Carmel notes make this my favorite
Love Love this coffee. We do half reg and half decaf and it is perfect
Chris
St. Louis MO
Great Grinder
Mike
Goodyear, AZ
I use boca sunrise, high tide hazelnut and surfing safari together.
Annette Stoker
Senath, Mo
I buy this blend every time,sooo good and very fresh.
Perfect Cup Every Time!!! :)
Kathie
Franklin, TN
Again this decaf flavor is smokey and Carmel like flavor
coffee is great been a member forever!
chris
st. louis mo
I drink this coffee daily with nothing added. Hot and black, this is wonderful coffee. I have been a fan for many years.
Terry
Shenandoah Valley, Virginia
This is my go-to coffee in the morning
Lee
Hartford, CT
This is our favorite all around coffee!
I've used this in our regular drip coffee maker and a French press. It works great with both!
Shawna
MO
I've tried a few different types of this coffee. This one is absolutely perfect for my taste. I've finally converted my husband from a tea drinker to a coffee drinker. I find the best way to use this coffee is an old-fashioned coffee pot that you perk on top of the stove. Tastes so much better than just hot water over grounds - actually perked!!
Shunie
Greenville SC
good tasteing coffee
rich
Poplar Bluff, MO
Every morning I grind this bean for starting my day. We enjoy every single drop. I could go on all day about how important it is we have this coffee every morning, but try it for yourself.
PJ in KC
Missouri
Simply perfect! :)
Kathie
Franklin TN
I mix a bag of regular with a bag of decaf -- all beans, so I have the freshest flavor with each morning grind. Once in a while I'll try another brand if I run out. When I get back to my Boca Sunrise, I have that 'ahhh' moment when I realize the difference (again). Boca Java has been my staple for years!
Melodie
Portland, ME
Only Bean to Wake Up With
Use my auto grind and brew with this coffee every morning of the week. BEST coffee bean out there!
PJ in KC
Missouri
Great for drinking after dinner. Love to sit around the table with coffee, conversation , and dessert.
Golfbabe
Minnesota
This is a good coffee to start my day. I need to stick with a mild blend, so this is a great choice.
D man
Gibsonia PA
I buy this flavor all the time
Our favorite coffee
Bob
Newark,DE
Don't use it just at sunrise!
I make this flavor any time of day. Some days, I een drink it iced.
Bev
Sayre, PA
I mix the regular and the decaf 50-50 and drink it in the morning and chill some for iced coffee later in the day.
dreammakervip
Summerville, SC
Great coffee for every morning...works perfect when you blend it with other coffees. For example, use half boca sunrise and half mexican for a perfect flavor. I use the decaf boca sunrise with other coffees to give me half the caffeine. Boca sunrise is the best I've found to combine with other blends because of its even flavor.
alscafe
willow grove, PA
When I need a little lift or feel that I've had too much caffeine for the day I add this decaf to my regular coffee to give me the exact taste and boost I need without being awake all night or too jittery.
Susie
Redondo Beach, CA
I love this Boca Sunrise.
Annette Art Teacher
Senath, MO
I love this coffee. Im spoiled to boca sunrise. no other coffee compares to it.
coffee lover!
Senath,MO
LOVE this coffee!
tcprst
wilmington, nc
best aroma to wake up to.
coffee nut
Texas
always the same great taste
Bob
Newark,DE
Good size packaging. I like strong coffee with out bitterness and this fits the bill.
Ellie
Southern California
this great coffee
greenrose
lakeland, fl
I have searched for a coffee that is smooth, not bitter and doesn't hurt my stomach or leave my heart racing. This is It!I'll never buy another kind.
CATPAVPUB
FAYETTEVILLE, NC
I buy this flavor every time
I have ordered this flavor for several years and it never dissappointes
Bob
Newark,DE
I wake up to this every morning!
I mix these beans 1/2 and 1/2 with Boca Sunrise decaf. beans.
Melodie
Portland, ME
I love this coffee. It has never had a bitter taste. Always smooth.
Coffee lover
Covington,IN
I mix the whole bean de-caf and regular and it is greaat!
lake lover
bonham, texas
Best moring coffee aroma there is
I love my Boca Java coffee but i am getting duplicate shipments. I've called about this before. Please check my account and see what we can do to clear this up. Thanks for keeping our troops with Boca Java too.Shirley Sclafanisclafans[@]
Mornings are good
Carrollton, TX
One of the first I bought from Boca Java
One of the first flavors I ordered from Boca Java and still my favorite.
Bob
Newark,DE
best aroma for the mornings
I mix it 50/50 with Boca Sunrise regular.
Sunrise fan
Carrollton, TX