Pure Peruvian Organic Coffee
This single origin, Organic Peruvian coffee has a mild acidity, chocolate and roasted nut flavors, and a sweet finish. Read More
Our single origin, 100% USDA Certified Organic coffee from Peru is an exquisite light to medium roast coffee. Always a fresh roasted coffee, Pure Peruvian Organic is made from the highest quality coffee beans. It has a nutty character and aroma with subtle hints of chocolate and a smooth finish.
A portion of proceeds from each of our Peruvian single orgin and coffee blends sold will benefit the rebuilding of the school in one of our Peruvian farming communities. To learn more about the project, please visit theschoolthatcoffeebuilt.com.
If you enjoy our Peruvian coffee, our Roastmaster suggests you also try our Panamanian Rainforest Coffee.
We won't roast your bag of Boca Java coffee until after you order it, ensuring the freshest coffee possible. Each and every time!
A Little Bit More About This Coffee
Attributes:
Varietal:
Catuai, Catimor, Typica
Altitude:
1250-1800 meters
Region:
Amazonas, San Martin, and Cajamarca, Peru
Tasting Notes:
Mild Acidity

Chocolate & Roasted Nut Flavors

Sweet Finish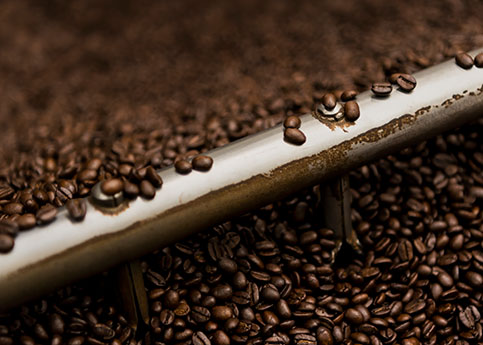 Top Selling medium Roast Coffees
No accessories needed
Joyces
North Carolina
Love this coffee
sunestaples
New Jersey
!I would buy this coffee again!
Make coffee
None
Chandler, AZ
So smooth and yummy! Love this coffee!
One of my faves. I'd recommend it daily!
Keri
Andrew's, Tx
I start my day with Boca Java coffees
CSM
Marion, IN
I was pleasantly surprised with this coffee. The taste is amazing and after reading the sticker on the front, a portion of my purchase goes towards building a school in Peru. How cool is that?
Manny
Erie, CO
Favorite brew
Discodeacon
Ann Arbor, MI
Pure coffee natural nutty flavor
I'm not a fan of "citrusy" overtones on coffees. Much prefer natural nutty aroma and flavor. This organic Peruvian delivers! Classy coffe flavor makes great lattes and cappuccinos.
NaplesJava
Naples, FL
member since 2012
USMC
Nevada
This is the coffee I always keep on hand.
This coffee has been my go-to selection since I first tried it. It works for every occasion. I use a French press exclusively, so I can't speak to other methods....but I cannot imagine a bad cup of coffee no matter what prep method is used. This selection is mellow, smooth and, well....just perfect. Thanks Boca Java!
Midwestern Farmer
Iowa
I buy at least one a month!
I have been grinding my Boca Java for 9 years! Love !
Garnet
Colorado
Sent as a gift to a coffee lover
Used in auto drip maker Delivery coffee
Ruey
Pittsburgh
This organic, Arabica, which is harvested in Peru, excels all high-quality coffees that I've purchased either locally or online. Buy a bag (or two) and see for yourself.
Coffee Conniseur
Pensacola, Florida
This has become my daily! I absolutely love dark roasts, but the depth of flavor in Pure Peruvian has won me over to the lighter side. The balance of flavor is incredible. Even after reheating, I don't find this coffee bitter. Strong enough to bring out a bit of chocolate and nut flavors, but not overpowering.
CoffeeSnob
Columbus, Ohio
Always try and keep some organic coffee on hand and this is one of the best I've tried. Pulls an excellent shot with my Slayer espresso. Pronounced chocolate flavors come out in milk based drinks
Jeremy
Waco
My absolute favorite coffee from Boca Java
My absolute favorite coffee from Boca Java. I like a coffee that is between a medium and dark roast. This coffee fits the bill. It has a wonderful rich aroma, but is not overly bitter. Smooth taste with no after taste. Both my husband and I LOVE it!
Alikat380
Pennsylvania
A staple in my coffee cupboard
This coffee is just excellent and a staple in my coffee cupboard supply. It hits all the right notes for me, and I never get tired of it.
Indygochild
Iowa
One of the best coffees ever
Absolutely delicious and smooth tasting coffee. Great flavor and aroma.
Kathy
Miami, FL
I love this coffee from Peru-it's absolutely my favorite!
Coffee-is-not-a-drug-it's-a-vitamin
UpstateNY
Love this stuff. A favorite. Great cup every time.
Tesgin
PA
Smooth rich taste. Love the smell of freshly ground coffee.
pj from Ohio
Ohio
If you are looking for a great, tasteful, organic and amazing coffee try this one, you will love it!!
Vanessa
District Heights, Maryland
This is my favorite so far. I will buy it again!
I have not purchased any of accessories at this time.
Java hunter
Effingham KS
Buying this one again. I recommend this one!
Don't have any
KrazyKat57
Effingham KS
Best coffee, I will buy this every month from now on.
I use a French Press. Grind the beans myself. Love this product.
Mclili
Riverhead, NY
I would buy this product over and over, sooooooo good
Great product, drink about 2-3 cups every morning
surfscape
surfside Beach, SC
The best tasting organic coffee. I LOVE it!
Kat
Miramar, FL
I am buying this product on a regular basis.
I was a Gevalia customer for many, many years and purchased their Peruvian Organic Coffee. They discontinued that product and replaced it with one I did not like. I went on a search and gratefully found your coffee. It is smooth, aromatic and flavorful. I am so glad to be your customer.
Rosie
Medford, NJ
love the slight hint of chocolate
jimbo
boston
so good it is one of my permanent buys
morning wake up,brewed strong ,carried later all day as ice coffee
ezmanre
new orleans,la
The best coffee I have every tried
this is the only coffee that I will drink, my whole family is hook on this brand, not only that it is organic it has the best mild smooth flavor to it. Please don't stop selling this brand because I have tried several of coffees you offer online, but none of them come close to the organic Peru coffee.
Stella
Hurley, va.
By far my favorite coffee on this site. Perfectly balanced. Not to acidic like some of the others I've tried. And it doesn't come out of the french press looking like Guinness as so many store bought coffees do. Highly recommend.
SuperDad
Oregon
the best all around smooth coffee and roast you will find
great coffee any way you do it .
chuck
n ca
I ;ove this PERUVIAN COFFEE the most !
Expresso French Turkish AMERICAN BREWS
aceusa
Florida
You can taste the effort that went into this coffee
Pure and organic are two words that come to mind
chuck
n ca
Nothing more to say
Coffee isn't a drug it's a vitamin
Upstate NY
Fantastic cup of coffee with a chocolate nutty finish.
I make this coffee using the pour over method and the result is outstanding. Very smooth with a chocolate and nutty flavor. Best coffee I've had in a long time.
kgracew
Ft. Lauderdale
I use EZ cup with filters that fit my single serve Keurig coffee machine
Deeter
Land of many lakes, MN
Best coffee I have had. It's organic as well. Awesome!
Kat
Miramar, FL
We grind it fresh daily and brew in a french press!
Maggie
Schenectady
Peruvian coffee has, for me, the right balance.
Jim
Radnor PA
Smooth and sweet taste. Awesome organic coffee. The best coffee that Boca Java sells. This is really great stuff.
Kat
Miramar, FL
I have been searching for the perfect coffee for years, until I found the pure Peruvian organic coffee and now I do not drink any other type, one thing I like about it is, the coffee beans are organic and you are not putting all that other chemicals inside of you body, Sure it might cost alittle more but it's worth it, because the taste Is so creamy and smooth, you don't even need to add creamer.
Stella, heavy coffee drinker
Hurley, Va.
always part of my standing order
use the product in an expresso machine .. but usinworks well great flavorg 8-10 oz water .
jim
boston MA
We drank it plain and also mixed it with the Pumpkin Spice to increase the depth of the Pumpkin Spice. Delicious!
Orchid Girl
Miami
Rotate this with a couple of other favorite coffees during the week. Have really come to appreciate this coffee.
Vicki in Virginia
Virginia Beach, VA
Takes you to the top of Machi Picchu
This coffee is great to share with friends (or not - it is so good)!
Waterman
Torrance, CA
I use it an expresso achine . Very smooth taste
jim in Boston
Boston Ma
for a clean and wonderful flavor
this is my favorite coffee to start the day with
deanman
Ft. Worth, Tc
The best smooth coffee ever. Delicious with a hint of sweetness.
Kathy
Miami, FL
Pure Peruvian Organic Coffee
90.3