Caramel Kiss Island Coffee
Rich, sweet and delicious, this coffee is kissed with golden caramel and is sure to evoke memories of old-fashioned caramel squares. Read More
If you like our Caramel Kiss Coffee, our Roastmaster suggests you also try our Surfing Safari Coffee.
Caramel Kiss Island is a crowd favorite among our Coffee Club members. Learn more about our Coffee Club & subscribe to your favorite coffee!
We won't roast your bag of Boca Java coffee until after you order it, ensuring the freshest coffee possible. Each and every time!
A Little Bit More About This Coffee
Attributes:
Varietal:
Catura, Mundo Novo, Bourbon
Processing:
Blend of Wet/Dry
Altitude:
1400-1600 meters
Region:
Jinotega, Nicaragua, Cerrado, Brazil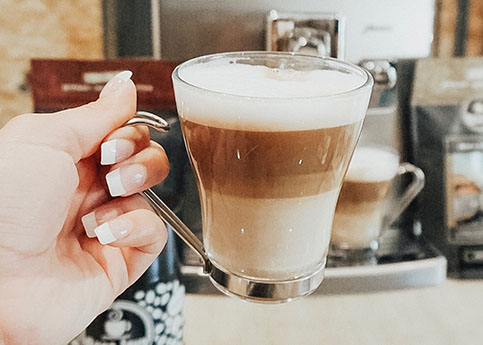 Top Selling flavor Roast Coffees
Caramel flavor just right!
One of my favorites! It is every order I make.
Sharon
Fort Morgan, Co 80701
The coffee grounds smell like candy. I was expecting the coffee to be extra sweet but it wasn't. It had a slight sweet flavor. It tastes very smooth, not bitter at all. I would definitely buy this again. This review was collected as part of a promotion, and the thoughts and opinions are my own.
Glemon
Bonita Springs, FL
This was my first time trying fresh roasted coffee, it was delicious!! I love this flavor. I will definitely be buying more!!!
R3dAng3l
UTAH COUNTY, UT
Family came in and I made coffee but couldn't keep it on hand. Great taste was what they kept saying.
Sarge
Gravette, AR
The aroma from this coffee really adds to the flavor! I've purchased a lot of coffee from Boca Java and this is one of my favorites!
CR2020
Hilo, HI
I have bought this 2x more already
The flavor is light and wonderful.
Coffee girl
Ohio
Boca Java caramel kids Island taste amazing! I love that it comes with a sticker telling you when it was ground, its so fresh and has such a nice subtle taste of caramel. I will definitely be replacing my normal coffee with this one for now on! This review was collected as part of a promotion, but the thoughts and opinions are my own.
allboymom
Washington,nc
I have used this flavor for years. Now I make it as a cold brew and love it that way also!
A Waterbug
Vero Beach, FL
My favorit new coffee- Caramel Kiss Island!!
I recently tried Boca Java's artisan roasted coffee in Caramel Kiss Island. I LOVE it!! The coffee has a wonderful creamy caramel flavor that is sweet and smooth without being overpowering. The coffee as a whole has a rich aroma and has a fresh roasted quality that pairs well with the caramel. The product itself comes in a resealable pouch to " lock in" that just roasted flavor. This review was collected as part of a promotion, and the thoughts and opinions are my own.
Bee the Baker
Granville Ohio
This is a very good caramel flavored coffee
Jersey Woman
verona, nj
You can't go wrong with caramel!
My second favorite coffee. I recommend Boca Java to everyone I know.
Bee
Jacksonville, FL
In my French press and my own pods for my coffee maker
Mame
Rocky River OH
A new flavor try that doesn't disappoint.
Valerie
SoCal
I order this every time for the past 15 years
FNP
Heath, TX
I would buy this product over and over again
right after I wake up, I go and brew this coffee
jojo
Holiday, FL
Love the flavor and all their coffee is never bitter!! By far the very best coffee!!
Donna
Jacksonville, Fl
Been getting this in delivery for nearly 20 years, always part of my on going order which I modify monthly. A great balance, a subtle flavor not to overwhelming, I generally drink iced all year long (Live in Phoenix), my wife drinks it hot in the Winter (Dec & Jan, if below 50 @ 8AM; go to have rules). Don't know what I'd do without it.
Tcubed
Phoenix, Az
Nice aroma of caramel.
NJW
Riverside CA
This is our favorite coffee, hands down.
Bob the builder
Dothan Alabama
First Time Trying This One; We Love It!
This was our first time trying this one and we loved it. It smells wonderful and tastes even better. It has just enough caramel so that it's not so overpowering. I'll order this one again....until our absolute favorite comes out in the fall.
Dan
Arvada, CO
I mix with a regular coffee to make it better only since boca java had a minor break 2 their fire ? but I'm so glad you're back in business and I can't wait until it's my turn to order again Ill definitely buy this again to use all on its own!
Max likes her coffee
Earth
Great coffee!
EDC
Indiana
I have been a customer for over a decade. The only coffee I have found that isnt excellent was a Holiday flavor from years ago. This one I order every month.
MrMorgen
Arizona
Caramel Kiss Island is one of our year-round favorites. It tastes as wonderful as it smells! Before discovering Boca Java, we were often so disappointed in other "flavored coffees" we had tried that smelled so good-but then didn't taste at all like their aroma. This is never the case with all the varieties we have tried with Boca Java.
gina
Pennsylvania
I will buy this product over & over again
Wonderful aroma when coffee beans are ground then even better aroma when brewing.
Susanne
Sidney, OHIO
I have bought this coffee again and again
I love this coffee, I buy about 4 or 5 different flavors and switch off, this is one of my favorites.
prindy
LaPorte, In
Excellent taste. Will buy this product again
Rai
Harvey Illinois
My all time favorite coffee
I have been ordering this flavor for at least a decade now. Still look forward to this just as much now as I did my first cup.
Jenny
Hampton Roads, VA
It is fresh wonderful flavor and aroma yes I will buy again
Not old coffee I hate buying coffee that is gourmet and it's not fresh this is and I like that you put the name of the person who roasted it
Margaret
California
I love this as an alternative to bold, afternoon or evening
Esther
Bloomsburg PA
Great product and great taste.
Just plain with cream and imitation sugar.
Sarge
Gravette, AR
Great taste in the morning
I will repeat my purchase
Lincoln
MN
No accessories
Dbackbear
Phoenix,AZ
A standard favorite of mine!
Has become a standard favorite of mine!?
Cocoa
Virginia
My office really loves this flavor. It's always gone by noon. It's smooth and has a pleasing taste.
Savali
Aurora, CO
This coffee makes a smooth delicious cup of coffee. I use a percolator and it tastes great!
Shuree
WI
I don't use accessories.
Joe
Portage, MI
This is by far my family's favorite.
This is the only coffee that is always on my order.
Jeannine
Cleveland, Ohio
I keep the coffee in the refrigerator to keep it fresh
Clc
Canoga Park Ca
I keep coming back to this among other flavors. It's so delicious!
glossand80s
Virginia
I buy coffee flavors according to the season and this reminds me of summer even though Carmel could be classed as a year young flavor.
Jen the walker
Woodbridge, Va
I like the Boca Java flavors! They don't taste fake like many other brands! Just a delicious cup of coffee!!
Shuree
Green Bay
Absolutely delicious! I use whole bean ground fresh every morning for the perfect cup!
GymRatRed
Arkansas
I love this coffee!! I drink it in the morning and the kitchen smells amazing. The flavor is to die for because if you love caramel, then you'll love this coffee. You can taste the rich caramel flavor and I also add a caramel flavor creamer to it and I'm in caramel heaven.
More2Luv
Dayton, Ohio
As a pleasant addition to my day.
Star
Leicester, NC
Great aroma.
Coffee Joe
Bear, DE
One of Boca Java's finest flavored coffees
This is an exceptionally flavored coffee - the flavor accents the coffee in a way that is just right.
Coffee Fan
California
Rotate it weekly with other flavors
KT
Tampa, Fl
Delicious! I would definitely buy this flavor again.
I put this in my automatic drip before work. I enjoy this on my drive to work. I add a bit of creamer as to add a little but not toouch flavor that might inhibit the true roasting flavor.
Jill
Auburn NY
Grinds and makes coffee
Sgailbart
Jaffrey Nh
Caramel Kiss Island Coffee
92.1