Bananas Foster Float Coffee (DECAF)
A decaf medium roast, dessert flavored coffee, with flamed banana, cinnamon, brandy and brown sugar flavors. Read More
Inspired by the international favorite and New Orleans original, this is a triple-treat pleasure! Our Decaf Bananas Foster Float coffee combines 100% Arabica coffee beans with the iconic dessert flavors in a cup, minus the calories.
If you enjoy our Decaf Bananas Foster Float flavored coffee, our Roastmaster suggests you also try our Decaf German Chocolate Cake Coffee.
We won't roast your bag of Boca Java coffee until after you order it, ensuring the freshest coffee possible. Each and every time!
A Little Bit More About This Coffee
Attributes:
Varietal:
Catura, Mundo Novo, Bourbon
Altitude:
1400-1600 meters
Aroma:
Banana, Cinnamon, Brandy, Brown Sugar
Region:
Jinotega, Nicaragua, Cerrado, Brazil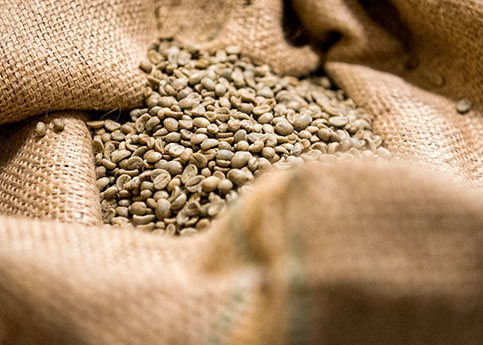 Top Selling flavor Roast Coffees
Great coffee for after dinner, evening.
Jim Bob
Knoxville, TN
Made this using a cold brew technique, great way to enjoy the smooth banana flavor.
Liz
Pennsylvania
Everyone love Bananas Foster Float. It amazes me how varied my coffee friends and family drinker are, yet no one turns this one down. It's got a distinct taste and aroma, but isn't sweet or overly done. The coffee is perfectly mild and delish and the flavoring balanced just right.
Olivasayana
Charlotte NC
great product many complements from friends
I use it for my staff gatherings and friends that drop in
Tom
farmington mi
Might be the best coffee ever!
Bananas Foster is has surpassed the Boca Moca as my "go-to" coffee. I drink only decaf and am blown away by the quality of the decaf coffees from Boca Java.
Thumb
Nashville, TN area
Great after dinner coffee without worries!
I don't know why we waited so long to try this popular flavor! Love the decaf for after dinner and the regular roast is going in my order this month! LOVE this coffee
Sonja Marie
Massachusetts
I like this about as well as the caffeinated. For health reasons, I alternate between the two.
na
Penn Valley, CA
I am caffeine sensitive person, so I ordered always decaf. This is my 3rd time(maybe more) I ordered this coffee. I love aroma & flavor. Keep ordering again and again. Just black is nice, you can put milk, it will be a nice night cap. add a bit of brandy and cream also nice :)
decaf lover
los angeles ca
Fantastic aroma and great taste
Nice to wake up to the wonderful aroma!
Wally
Bracey Virginia
Great for breakfast and dessert
Simply one of my favorites. I like to adjust the strength and body by adjusting the grind and the amount of coffee. This coffee is easy to adjust the way I'd like it for rich late night dessert or for a light breakfast. And, anywhere in between. I drink coffee all day (always buy the decaf) and given the amount i consume, the Bananas Foster is a treat.
Thumb
Nashville, TN
I would definitely buy this product again.
I've loved Boca Java coffee since I first tried back in 2007.
Ant
Houston
I use during the day.
jimmyblue
Winchester, Va, 22601
Very unique design.
Cyndi-rae
Maryland
one of my favorite flavors
funny man
deerfield beach fl
Just use it as my regular morning blend ... And what a great way to start the day!!
Coffee Paul
Ontario, California
This is my wife's favorite flavor coffee
I mix the decaf and regular and enjoy a flavorful cup of coffee black.
Lou
Wayne, NJ
Never going to let this one run out...
As a daytime treat or dessert with guests. Rich, luxuriously smooth, and truly reminiscent of the dessert it's named after.
MFD
Indiana
You will go bananas
Witze
Smithtown, NY
Wow, great flavor! Is also good in a mix such as combining with the Caramel Kiss or Hazelnut. Can only speak for myself, but what a taste bud pleaser.
JVH
Southern CA
I have but one word for this coffee...BOING!!!!!!!
This is a very interesting and unusual flavor for a coffee, but one I really liked.
The Rock and Roll Shrink
Atlanta, GA
Bananas Foster Float coffee
Wonderful coffee !
Lisa
Wisconsin
another really good flavor,friends love it,don't know its decaf
lilly
sarasota,fl
Wonderful taste. Smooth and rich aroma
J & R San Jose
San Jose, CA
the best flavor available that I've had
Rich
Lower Gwynedd, PA
This is one of my standby favorites. It has a very light flavor and light roast, which is my preference. I am trying to cut back on caffeine, so I recently discovered that mixing 3 scoops of this coffee with 1 scoop of the Atomic Peanut Butter makes for a wonderful peanut butter, chocolate, banana treat! I am so glad this one comes in decaf. It makes a nice dessert.
Kat
Overland Park, KS
This coffee is like dessert in a cup! I'll hav a cup of this coffee instead of a brownie or a cookie- (it also is good with dessert) ;)
Abdriver
Henryville, IN
I first purchased this out of sheer curiosity. It did not sound tasty to me at all. However, it has quickly become one of my favorite flavors, and I've stocked up on it. I highly recommend it!
SMP
Massachusetts
I used to work in a coffee roasting room and this coffee is the closest I have found to the coffee I used to buy!!!!!
Jules
Brooklyn MI
This is a really yummy flavored coffee! Once brewed the banana flavor blends to perfection with vanilla creamer. If ever there could be a cup of bananas foster in a cup, this is it!
Susan
Austin, TX
This flavor is so good on its own or mixed with unflavored coffee. I am amazed at how good the decaf tastes, as well.
Trouties
Crawfordsville, IN
Gentle, creamy banana aroma and flavor... Seems an odd combination, but it works! This is my favorite of all flavored coffees.
AcornNancy
Winston-Salem, NC
Yummy, Just like the dessert!
Kim
Pittsburgh, PA
Moving to decaf for health and sleep issues and needed something flavorful and interesting. doesn't need much cream or sweetener either. I like being able to grind from whole bean too.
Cardinal Grannie
St. Louis, Mo.
the flavor is intense and wonderful. the aroma is fab
na
bklyn, new york
who n\would have thought Baananas? But its my favorite now.
WalMack
Budd Lake, NJ
FLAVOR GOOD
GAIL
GREENVILLE, SC
My favorite flavor of all time!
This is my all-time favorite flavor that I have ever had for a coffee. Not that I am a huge bananas foster eater. I probably can count on one hand the number of times I have had it for desert (I'm almost 42). However, I greatly enjoy this coffee flavor. I would drink it exclusively, but for the fear of getting tired of it (not sure that would happen, but I use some others just in case). When it is time to rotate back to a banana foster flavor, I am very excited!!! I use both reg and decaf and can tell no difference between the two. I'm not even a big chocolate fan, but there is just something about this flavor!
Nathan W
Temple, TX
EXCEPTIONAL FLAVOR AND WONDERFUL AROMA...LOVE IT
MA SONIA
BKLYN, NY
Taste better then you could believe
This is a very supprising flavorful coffee. I just enjoy this, day after day.
Have to have my coffee
Cedar Falls, IA
The banana aroma is marvelous
mkirkle
GA
Banannas Foster is deliciuos!
I do not normally care for flavored coffees as the added syrupy flavor is nauseating to me, and the chemicals used to create the "flavor" displease me as well. However, "Bananas Foster" is amazingly rich in flavor without having a manufactured taste; it has a captivating aroma and a, surprisingly, natural banana taste. I ordered this in decaf to serve as a night-time dessert replacement and it is perfect. I, personally,find it to be too sweet for a morning cup, but it is very smooth and lovely. I highly recommend this coffee for flavored coffee lovers and skeptics alike.
Salom's thoughts
Illinois
I don't usually like flavored coffees but this will be a favorite.It has a subtle flavor that is great hot or cold and is full bodied for a decaf>
AMW snowbird
Fort Myers,Fl.
Tastes like a banana split!
Tastes like I was drinking a banana split & a coffee together! Very unique blend. Kinda like a dessert coffee.
Barbie
Dundalk, MD
One of the best overall coffees that we have ever tried
Wally
Albany, NY
great for a dessert compliment or night time cup of goodness
Yesh
Grand Rapids, MI
i absolutely adore this product.
This is my favorite coffee and I really look forward to having it each morning before I leave the house.
conscious
Fort Lee, NJ
Like bannana bread in a cup
Jayne the Payne
TX
My husband absolutely LOVES Bananas Foster over all the other flavors. As for me, I'm not that fond of bananas to begin with, but this coffee is actually very good. I don't brew pots of flavored coffee - I make espresso exclusively, with steamed milk for lattes. This added with Boca Java Espresso (Contento or regular) is simply delicious!
Clove Smokes
Miami / Homestead, FL
Love the taste and smell.
conscious
Fort Lee, NJ
Fabulous Flavor with my breakfast.
Elaine Shopper
Saugus,CA
Bananas Foster Float Coffee
96.1