Brew of Bravery Coffee
A medium roast coffee blend with a full-body, citrus fruit and honey notes, sparkling acidity, and a clean finish. Read More
A bright and subtly sweet medium roast coffee with a blend of Arabica coffee beans from Africa, Central and South America.
As a part of our troop donation program, every bag of Brew of Bravery that is purchased is matched with the donation of a bag of coffee to our troops serving overseas.
If you enjoy our Brew of Bravery coffee, our Roastmaster suggests you also try our Kenya Cruising Coffee.
To learn more about how you can help to support the troops, please visit bocajava.com/troops.
We won't roast your bag of Boca Java coffee until after you order it, ensuring the freshest coffee possible. Each and every time!
A Little Bit More About This Coffee
Attributes:
Varietal:
Catura, Colombia, Bourbon
Altitude:
1600-2000 meters
Tasting Notes:
Full-Bodied

Citrus Fruits & Honey

Sparkling Acidity

Clean Finish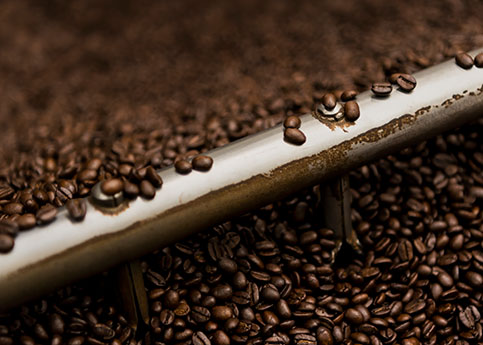 Top Selling medium Roast Coffees
Favorite morning coffee...
jwc
kansas
Nice and bold
Plant Chef
Springfield Oregon
Nice change of pace from our regular grind.
Plant Chef
Springfield Oregon
Use it in a drip roaster, daily
traveler
SW P
This is great tasting coffiee\\\ee
Drink it every day
Dood
Westminster co
Brew of Bravery - the gift that keeps on giving
I have replaced almost all the coffee I used to use with this. Much better that what is sold in stores in vacuum bags.
old_yeller
Brookings, SD
It's just good
Tomasiewicz
Michagain
We are the land of the free because of the brave!
This coffee is what started my journey with Boca Java. I wanted to support a company who supported our troops. Once I tasted their wonderfully fresh roasted coffee I was hooked. Support our troops and have some great coffee for yourself you'll be glad you did.
Lkay
Kentucky
I do buy this again and again
Is one of my main morning coffees. I usually grind enough for 4 cups and start the day!!
Grams
KCMO
I always make sure this is in my monthly order
Great coffee to drink every morning. Balanced, not too light or heavy with a nice flavor.
Cigar man Dan
Union NJ
Every day use
grandpa larry
corpus christi,tx
This coffee has such a good smooth flavor.
I love the fact that I am drinking wonderful coffee and at the same time helping our troops enjoy the same great start to their day. I pray they will be encouraged to do their best.
Chacha
Alamo, Texas
member since 2012
usmc
Nevada
It's everything they say. My son's favorite so far.
Nat
NY
Great coffee
Java Don
Michigan
Great enough to buy again
Best tasting coffee
Rose are red
Wisconsin
As a previous subscriber while deployed I always come back to the Brew of Bravery
Dougie D
Ocala, FL
My absolute favorite coffee.
We order several varieties, but always get more of this one. We've been ordering our coffee from suppliers like Boca Java for about 30 years now. We love that Boca Java roast the day before they ship. Brew of Bravery has a delightful taste and aroma. I like strong coffee and my husband prefers milder coffee, so this coffee satisfies us both.
Narda
Alamogordo, NM
I receive this monthly in the coffee club
Makes a great cup of coffee
Maddog
michigan
I purchase his coffee every time I order
This is my morning coffee
crailey
TEXAS
I know that Brew of Bravery is the same coffee as Boca Sunrise so I like to order both just to see if anyone is paying attention. I used to laugh when I filled orders with both
Howdy
Westminster co
I just Brew this like any other coffee in a good ol' drip brew. I LOVE the coffee with it's smooth flavor, pleasing aroma that leaves no after taste. I have to be careful, because I could drink a whole bag worth of bean in 2 days. When I want to drink coffee and relax, I go for the Brew of Bravery. You won't be disappointed!
Joe
Port Trevorton, PA
very pleased with our selections, and receive many compliments when serving guesst
JWC
KS
Great product with a great purpose
This is a wonderful medium roast that has been enjoyed by everyone that I've shared it with.
Kelpie
MacDill AFB
I was a little skeptical trying a different company. I admit I was totally hooked once I opened the bag and the wonderful aroma hit me!!
vachefjohn
Norfolk, Virginia
Absolutely my favorite medium roast
My only con is that I always run out soon.
Joe
Port Trevorton, PA
My favorite medium roast coffee.
I have nothing negative about this coffee besides I seem to never have enough on hand.
Joe
Port Trevorton PA
I have purchased this product for years and will continue to
I use this blend as the base for a latte every morning. the taste is unique and flavorful. Plus, the fact that it is the Brew of Bravery means a lot to me.
Pat the old soldier
Evergreen, CO
This is a great all around coffee
This is my second most favorite Bocajava coffee.
Rsoyars
Reidsville, NC
Our favorite blend. Rich and smooth. Perfect morning coffee
Susan
Colorado
For those quiet mornings that you desire a smooth, very enjoyable cup of coffee on the front porch, this is that roast. By far my favorite roast.
Joe the farmer
Port Trevorton, PA
This is one of the coffees I brew daily, it is an excellent coffee
Shooting The Country
Pgh, PA
Smiles for miles
Johnny Bravo
Boston mass
Excellent coffee.....great flavor
This is annoying.
Mrsferg
Colorado Springs
My wife's all time favorite brew,,
jwc
Ks
best way to describe this coffee..."real good cup o joe" you can also get one for the troops
roba
Indiana
Very smooth and flavorful cup of coffee!
I got the whole beans and medium ground them. The flavor was exceptional. I used my keurig and a reusable pod to brew. It made my mouth, mind, and body happy!
Pontiacjane
Petoskey, MI
A great give and get brew
get a great brew for you and a pleasant surprise for our troops.
JL
Hillsboro, Ohio
Give and get with one great brew!
A great brew that gives back to our troops - Best of both worlds, generous and selfishness.
JL
Hillsboro, Ohio
Good flavor, satisfying to drink
We have enjoyed
N/A
Midlothian, TX
Been buying this roast constantly since I first tried it.
One of my favorites.
Pittsburgh Racer
Pittsburgh, PA
This is one of my all-time favorite Boca Java coffees, and my daughters favorite, too. I am not into the language of coffee nuances, but I know a great cup when I have it! This fills the bill.
Michigan Fran
Harrison Township, Michigan
Every morning, it's a great way to wake up.
Amy
Brandon, MS
Hi. To be honest I purchased this product because it represented our military and when I got home I was extremely impressed with the flavor of the coffee, then I started Reading your website about the things I'll do for the military and that has sold me, I have since sent a customers that I know work to purchase your coffee.
TamTam
Brownwood Tx
By far one of my favorites
I LOVE this coffee. It's bold and smooth and delicious! The smell is fantastic too. It's my go to in the mornings.
Julie
East Brunswick, NJ
I like this coffee very much
This coffee is very smooth tasting and not bitter. I like to have several different coffee's on hand. This is one of my favorites
rsoyars1
Reidsville NC
Every morning, this is a no fail cup of joe
Sir Charles of Gregory
Michigan
I would buy this product again.
Good as an espresso blend too!
I love the smell and taste of this coffee! I grind it to use in an espresso machine. It goes great with a caramel sauce! I have a latte every morning with this coffee and I save about $3.00 a day!
Pat
Evergreen, CO
Brew of Bravery Coffee
96.8