Baby Boca Flavored Coffee 30-Pack
Includes 30 2 oz flavored coffees Read More
Our Baby Boca Flavored Coffee 30-Pack comes with a total of thirty 2oz sample (trial size bags that we refer to as Baby Bocas). Each bag brews one full pot of coffee (8 cups) and is made with the top 2% of Arabica specialty grade coffee beans from our Direct Trade farm called the Hacienda La Esmeralda Family Farm in Nicaragua.
Flavored Coffees
German Chocolate Cake (3) chocolate cake & coconut create our most unique, dessert-inspired coffee
Caramel Kiss Island (3) a Creamy caramel coffee that evokes memories of old-fashioned caramel squares
Bananas Foster Float (3) banana, cinnamon, brandy and brown sugar flavors - dessert turned coffee
White Chocolate Raspberry Reef (2) they're made for each other: white chocolate & raspberries
Chocolate Hazelnut Heaven (3) two classic favorites finally combined: Chocolate & Hazelnut
Maple Bacon Morning (3) sweet & savory, maple & bacon. You're welcome.
Surfing Safari (3) our most popular flavored coffee - hints of sweet vanilla, caramel and rich Kahlua
Mint Chocolate Memories (3) rich milk chocolate and cool, zesty mint
Irish Creme (2) combines the flavors of Irish creme liqueur and sumptuous chocolate
Hightide Hazelnut (2) smooth & creamy coffee satisfying the palate with hints of toasted hazelnut
Vacation Villa Vanilla (3) exquisite sweet french vanilla coffee
The Baby Boca Flavored Coffee 30-Pack is a great gift to share at the office with 30 full pots of coffee, a new one almost every day of the month! These coffees ship ready to gift-and-give in an elegant black glossy box adorned with a stylish bow.
We won't roast your bag of Boca Java coffee until after you order it, ensuring the freshest coffee possible. Each and every time!
A Little Bit More About This Gift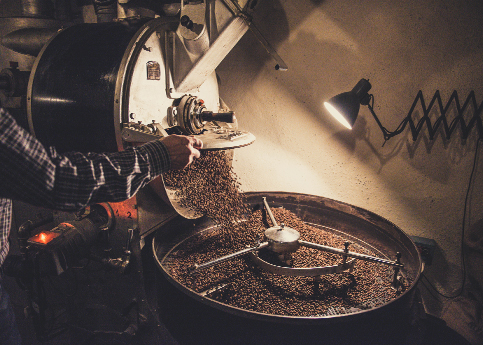 Top Selling Roast Coffees
Great way to try the different coffees
David
Colorado
Morning wakeup. The aroma is so enticing. Love my BocaJava!
jocko
New Haven,Ct
I gave this as a gift to my mom. She loved it!
BB
Columbia, SC
I like the mix of flavors to try. Price is right too.
Coffee Queen
Mansfield, OH
An Adventure for everyday
I have enjoyed sharing the flavors that I had more than one of with church friends and family.
Judy
Burlington, CO
I ordered this as a birthday gift for my brother, who is the hardest person in the world to buy for. It worked out fantastic, and every time he opens a new flavor he calls me t me. It is soooooo cool, considering he is my favorite brother and is always doing nice things for others. A true treat for me to be able to find something like this that he really enjoys. Thank you for making my day as well as his :)
Irma
Fort Worth, Texas
I purchased this as a Christmas gift for my boss. It came already wrapped which was a nice touch. The gift went over extremely well, and the office staff had a great time looking at the great diversity of flavors and reading the descriptions of each flavor. I would most certainly buy this as a gift again!
Krisco
Michigan
Hard to choose between flavors
I have recently bought 2 of these samplers; one I had sent to my boyfriend, who has yet to find a flavor he doesn't like. I ordered another for myself; the hardest part is choosing what flavor I want to make. So far my favorites are the chocolate, the Tropical Kiss, and the Hazelnut. One really good thing about the sample size is that it allows me to choose new flavors without having to buy a regular sized package; that way if I don't like it, I don't have a lot of coffee wasted.
TC
Kansas City, KS
The coffee packets are perfect for a 10-cup coffee maker. All the flavors are rich and full bodied - as good as any that I have had!
Dan the Travel Man
Boston, MA
i LOVED SAMPLING SOME FLAVORS i MIGHT NOT HAVE TRIED i LIKE TO CLOSE MY EYES AND SURPRISE MY SELF WITH A NEW TASTE OF THE DAY. EACH PACK HAS THE QUALITY i EXPECT FROM BOCA JAVA i LIKE PACKING A BAG WITH MY LUNCH AND TREATING MY COWORKERS- THEN TELLING THEM HOW EASY IT IS TO ORDER FROM bOCA jAVA.
LKRM
STARKE,FL
Have sent as gifts to at least 6 friends and family. They have all loved them.
Ardy
Clearlake,CA
I've sent a few of these to my sister and she adores her time with her cup of coffee.
Ardy
Clearlake,CA
I am a new mom (again!) and rarely get "me" time anymore. I take it where I can get it, and a wonderful pot of coffee is an easy, real indulgence. I loved this package!
stxgal
bulverde, tx
A great gift for a coffee drinker
This was bought as a gift for a supervisor. She was thrilled and has liked 95% of the flavors.
kikm
Belle, MO
I got this as a birthday present a few weeks ago, so I haven't had time to try all the flavors yet. So far I've liked the chocolate hazelnut flavor the best. The caramel-vanilla-Kahlua one was okay, but I think the Kahlua component gave it a funny aftertaste that I didn't love. Overall I've noticed some acidity (this seems to be common in flavored coffees) but not enough to keep me from drinking it!
Caffeinated College Student
Tuscaloosa, AL
Great way to sample flavors
I really liked most of the flavors, there were a couple I hope to never have again though.
Lulu2013
East Tennessee
I haven't yet purchased this set, but HAVE purchased almost all of the flavors, and they are excellent! I am writing this review to BEG the powers that be to OFFER THIS IN DECAF!!! Some of us are on medications requiring we have only decaf, and something as wonderful as this offer should be available to us! Thank you!!
Mom of Many who's a Grammie of Many
Williamsburg, VA
I love the variety of flavors!
I wish the packages were for a 12 cup coffee maker instead of 8 cup.
Queen Bee
Indianapolis, Indiana
The flavors are bold and recognizable, and the coffee has a rich texture to it. So far I've really enjoyed the flavors I've tried in the sampler, even ones I thought I wouldn't like (like the Orange Creamsicle). I kind of expected different packaging, that would close in some way - I realize the sampler is small, but I live alone and can't always drink even a sampler packet's worth of coffee on my own... but once you tear open the bag there's no real way to use only some and keep the rest fresh. I realize it's technically nonperishable, but since Boca Java makes a point of roasting and shipping it fresh, I think that should be taken into consideration. My only other complaint is that the sampler was supposed to include 2 of each flavor, and instead I got 1 Bananas Foster and 3 of another flavor, and I would like to have gotten to taste it again to see if I liked it as much the second time and would order the flavor again.
Sessa
Houston, TX
Need Decaf and stronger coffee base
Need to run coffee through coffee maker twice to increase flavor. Like the variety. Needs to come in Decaf.
no name
Littleton, Colorado
Baby Boca Flavored Coffee 30-Pack
100.0